As tensions continue to simmer between Russia and NATO, the Eurofighter Typhoons of the British Royal Air Force (RAF) have been relocated to a forward base in Finland for training with Finnish F/A-18 Hornet fighter jets under the banner of 'Exercise Joutsen Strike.'
US Rockets, Czech Choppers & Russian Targets: Ukraine Spotted Using Powerful Hydra Rockets In Combat
In an official statement published by the UK Ministry of Defense (MoD), the RAF said: "Royal Air Force Typhoon fighter jets that were already deployed in Eastern Europe temporarily relocated to Finland to practice air-to-air combat with Finnish F-18s and strike ground targets using precision bombs."
The Typhoon FGR4 aircraft already stationed at Amari Airbase in Estonia for the NATO Baltic Air Policing exercise were reportedly forward-deployed to Tampere Airbase in Finland. This is significant as Finland became the 31st member of NATO, despite repeated Russian warnings against the alliance's expansion.
In what could be seen as an attempt at brushing up its combat readiness against NATO arch-foe Russia, the RAF team quickly built a Forward Arming and Refueling Point, or FARP, which served as a launch pad for arming and refueling the aircraft. The jets then flew 50 miles away from the FARP to launch precision-guided Paveway IV bombs on their targets.
According to information provided by the RAF, the Finnish Air Force's F-18 Hornet jets and the Typhoon front-line fighters participated in basic fighter maneuvers. "This element of the Exercise showcased the RAF's ability to engage effectively and defeat peer-level airborne adversaries," the RAF noted.
RAF Typhoons deployed to Finland for Ex Joutsen Strike to practise combat with 🇫🇮 F18s and strike ground targets with precision Paveway IV. The team built a Forward Arming and Refuelling Point to make it possible.
https://t.co/qkQCLymBAU
#WeAreNATO@NATO @JEFnations pic.twitter.com/HqrgBVRisy

— Royal Air Force (@RoyalAirForce) July 31, 2023
The Joint Expeditionary Force, also known as JEF, is an organization led by the UK that consists of 10 NATO members from northern Europe: Denmark, Estonia, Iceland, Latvia, Lithuania, the Netherlands, Sweden, Norway, Finland, and the UK. Its mission is to uphold regional security.
Exercise Joutsen Strike allowed the RAF and their Finnish counterparts to evaluate their planning abilities and for aircrews and ground staff to exchange best practices and improve procedures. It also mimicked the type of reaction that JEF could be required to undertake in the event of a contingency.
📝NATO 🇫🇮 Vowing to protect newest ally Finland, NATO holds Arctic military drills involving 7,500 troops:

For the first time, NATO's rookie Finland hosted the bloc's joint exercise.

Nearly 1,000 allied forces from the US, Britain and Norway, and also from Sweden, NATO's… pic.twitter.com/GDSEA5PvSX

— 🌐World News 24 🌍🌎🌏 (@DailyWorld24) June 1, 2023
These drills are not the first that are seeing direct participation by Finland since it joined NATO. In late May, Finland hosted the Northern Forest drills in which all the NATO members vowed to protect their newest member against all potential security threats.
The latest exercises, however, come at a time of increased military tensions between Russia and NATO in recent days as military aid continues to flow into Ukraine. The aid is seen as an encouraging move for Ukraine to attack Russian territory, which is considered a breach of red lines by the Kremlin. EurAsian Times explained this inexorable escalation in a detailed article.
The two sides have been inching closer to an unwarranted escalation. Last month, Ukraine crossed a red line when for the first time, it struck Crimea with the long-range UK-supplied Storm Shadow cruise missile. Hitting back, Russia struck Ukraine's Reni port on the Danube, close to NATO state Romania.
Although military watchers have emphasized that a confrontation between Russian forces and NATO is far-fetched, both sides have been preparing for it. For instance, Russia is upgrading its military and introducing newer upgrades to its combat aircraft to tackle the omnipresent threat.
The Russian United Aircraft Corporation recently handed over a new batch of upgraded MiG-31 fighters to the Russian MoD to base these jets on their permanent airfields. Not just that, Russia has also threatened to intensify its military activity close to the border with Finland.
In mid-May this year, satellite images of the Olenya Air Base in Russia's Kola peninsula revealed that about 16 strategic bombers had been deployed to this air base close to the NATO countries Finland and Norway. The development, although aimed at launching attacks on Ukraine, rattled Helsinki.
Moreover, on its part, Russia has vowed to "strengthen its military potential" along its border with Finland. Russia's Deputy Foreign Minister Alexander Grushko said, "If forces and assets of other NATO members are deployed in Finland, we will take additional steps to ensure Russia's military security reliably."
Since Finland joined NATO, the country has been making concerted efforts to bolster its military, with Russian threats to NATO refusing to die.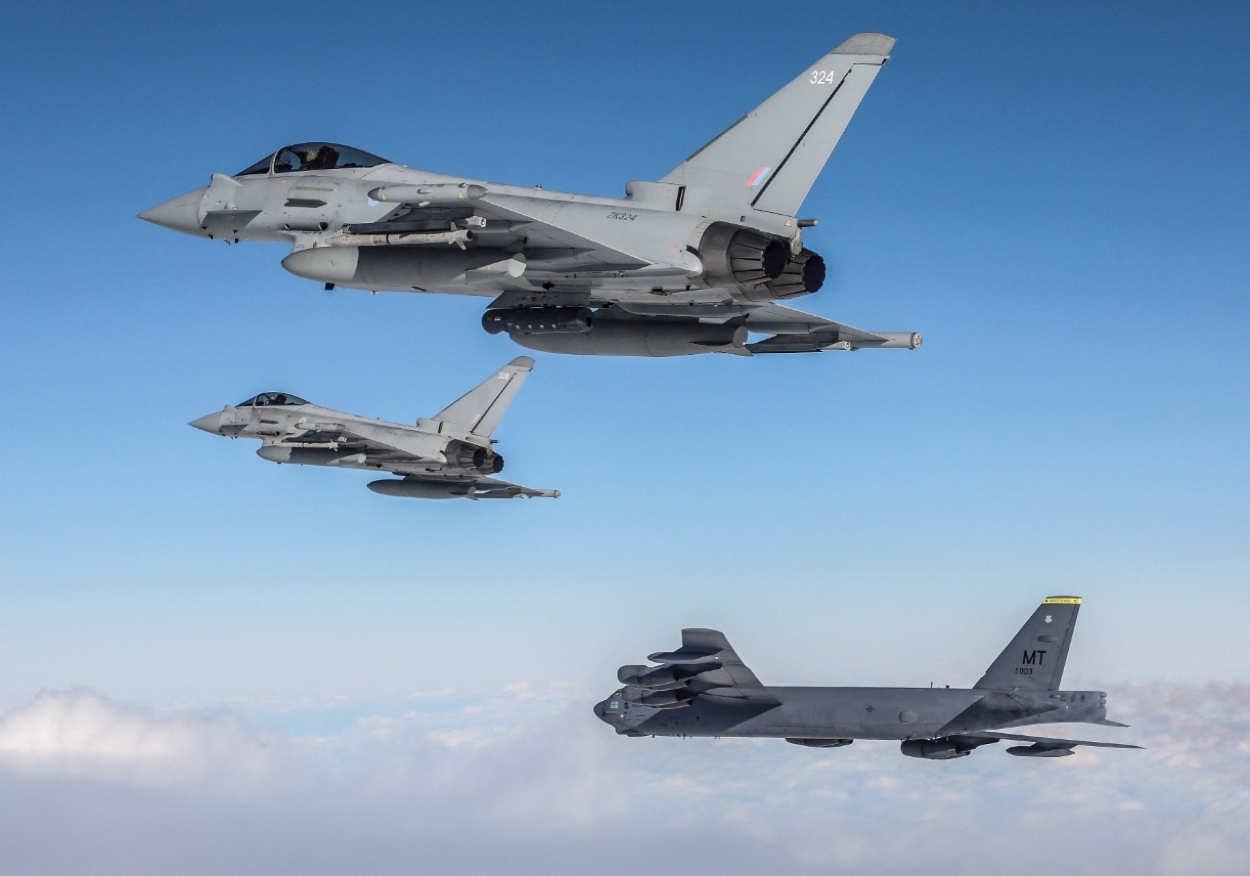 Finland Is Deterring Russia And How!
The Russian invasion of Ukraine changed the security and territorial calculus of Finland. Not only has the country that preached neutrality joined NATO, but it has also opened its territory to NATO.
For instance, Helsinki was reportedly working on a rail project to smoothen the connection from NATO's Atlantic coastline in Norway to its new border with Russia.
Access to these new territories and their infrastructure allows allies to watch and contain Moscow and an unprecedented opportunity to treat northwest Europe as one bloc, nearly two dozen diplomats and military and security experts told Reuters.
Helsinki is purchasing the appropriate resources, particularly fighter jets, to add value to (the) northeastern defense and, frankly, put Russia at risk in a conflict.
Finland finalized its $9.4 billion purchase of 64 Lockheed Martin F-35s and support services, signing a letter of offer and acceptance last year. The deliveries will be completed before 2030.
Additionally, the US State Department is said to have authorized a proposed Foreign Military Sales (FMS) to Finland to purchase an M270A2 Multiple Launch Rocket System (MLRS) upgrade and related equipment. The purchase will cost an estimated $395 million to the Finnish administration.
A day after joining the alliance, Finland announced it would purchase the US-Israeli David's Sling long-range air defense system for €316 million (US $345 million). This purchase was attributed to Finland's attempt at deterring Russia in the face of intensified Russian military activity near Finnish borders.
After Finland joined NATO, Kremlin spokesperson Dmitry Peskov warned that Russia would be "watching closely" what happens in Finland, describing NATO's expansion as a "violation of our security and our national interests."
Finland shares a 1,340 kilometers border with Russia.
Contact the author at sakshi.tiwari9555 (at) gmail.com