Russian officials and military bloggers have recently claimed that their troops managed to destroy a German IRIS-T air defense system in the Kherson region, a feat hailed on social media as a huge combat win for Moscow.
A regional emergency official stationed in the Kherson region announced that the Russian forces destroyed two Ukrainian boats and an IRIS-T missile system and killed 10 Ukrainian soldiers in the Kherson Region on August 1, state-owned TASS News Agency reported.
The official reportedly specified in a statement that "Over the past 24 hours, fire weapons hit <…> and eliminated a boat and five militants of the Ukrainian armed forces near Proseretsky Island, one more boat and another five Ukrainian militants near Damansky Island, and an IRIS-T system near the Mirnoye settlement."
On the same day, a video was published on the social media site 'X' that showed the destruction of an IRIS-T battery air defense system battery in an attack by Russia's Lancet-3 loitering munition. As soon as the video surfaced on the internet, it went viral, sparking an intense debate about Russia's claims, mostly dismissed as 'dubious' by netizens.
As the video garnered interest, several OSINT and war-tracking military bloggers reported that the system shown in the video was a decoy launcher rather than a real IRIS-T system launcher. As seen in the video below, a different drone zooms in on the target, and a loitering munition rams into it, blowing it apart.
Although the vehicle looks somewhat realistic, due to the slightly incorrect proportions, antenna differences and lack of secondaries as the launch tubes are smashed and torn apart, we can state with high confidence that it is a decoy.

— 🇺🇦 Ukraine Weapons Tracker (@UAWeapons) August 1, 2023
'Weapons Tracker Group' which closely documents weapon systems in the war, emphasized that the system being struck was a decoy and said, "Although the vehicle looks somewhat realistic, due to the slightly incorrect proportions, antenna differences and lack of secondaries as the launch tubes are smashed and torn apart, we can state with high confidence that it is a decoy."
Moreover, several other netizens noted that the system seen in the video wobbled on impact, indicating that it was not an actual Surface-to-Air missile launcher.
⚡️This morning, there was footage released showing what looks like a Lancet drone striking a decoy IRIS-T air defense system.

However, new high quality reconnaissance UAV pictures shows a big dent in the same system where the lancet hit, which leads us to believe its not a decoy pic.twitter.com/kkZKeQ0sup

— War Monitor (@WarMonitors) August 1, 2023
A few hours after the video was published, another set of pictures increased online. Some pro-Russian military blogger accounts stated that high-resolution images they obtained indicated that it was not a decoy. A Twitter account called 'War Monitor' claimed: "New high-quality reconnaissance UAV pictures show a big dent in the same system where the Lancet hit, which leads us to believe it's not a decoy."
Some pro-Russian bloggers went so far as to say that the drone struck the SAM launch containers, but the container was empty, which allowed the vehicle to survive and relocate. The bloggers also added that they tracked the system to its new position.
EurAsian Times could not independently verify these claims. The military watchers we spoke to believed that the location of IRIS-T was previously reported to be Kherson which could be the basis of the claims. However, the footage shows that wooden pieces are thrown everywhere on impact, pointing towards the likelihood of the system being a high-quality wooden decoy.
Moreover, it has been noted that Moscow's troops have specifically been trying to target Western air defense systems deployed by Kyiv's forces. The IRIS-T, for one, is known for its spectacular performance against Russian aerial targets.
IRIS-T's Spectacular Combat Performance
Following a Russian missile attack on Ukrainian cities in October, Germany gave Ukraine the first IRIS-T air defense system. The first evidence of its deployment was recorded just days after its delivery, with visual evidence making rounds on social media.
Germany delivered the second IRIS-T to Ukraine in mid-April this year. Less than a month later, the commander of the Ukrainian Air Force, Lieutenant General Mykola Oleshchuk, claimed in a Telegram post on May 3 that a division of the IRIS-T air defense systems had eliminated more than 60 hostile aerial targets over Ukraine since October 2022.
A video showing the system in action was also subsequently shared by the commander. "Everyone had a great impression on the first day of using the system," said another Ukrainian military officer, nicknamed 'Jeweler,' who is the deputy commander of an anti-aircraft missile unit. "First of all, because they shot all (targets) down," he said.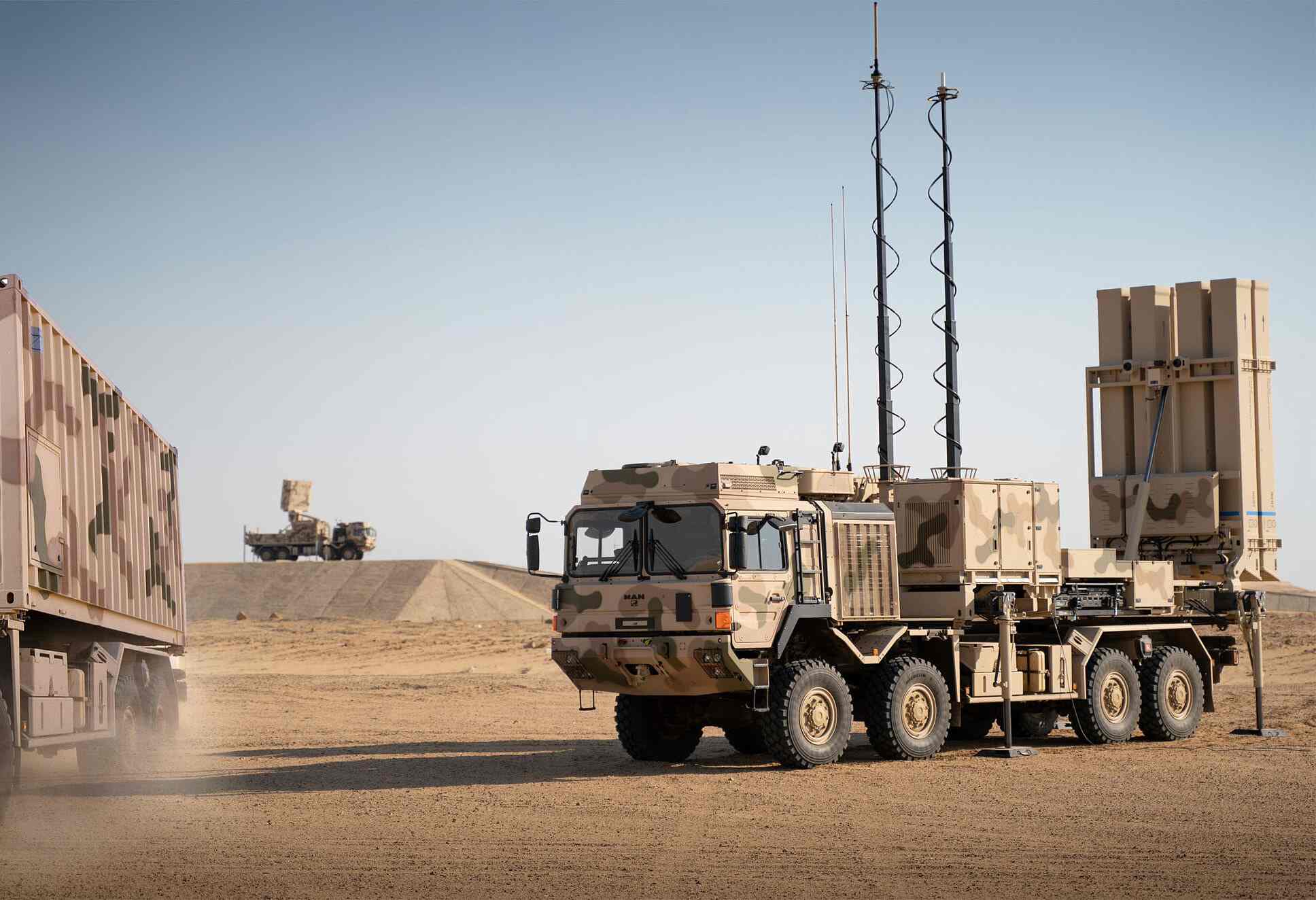 Several system operators in Ukraine have noted on different occasions over the months that the IRIS-T is a great asset because it can share data from its radar with "neighboring" air defense systems and allows smooth air defense tracking and, as a result, neutralizing enemy targets.
Since it was used in combat for the first time, Ukrainian operators have hailed it as a remarkable defense against Russia's continuing drone and missile attacks. During Ukraine's first operational use of the system in January, the Ukrainian military claimed that the IRIS-T successfully downed every incoming target, as reported by the EurAsian Times.
"The German system is modern, powerful, and effective. Even during its baptism of fire in October, it shot down all targets, mostly cruise missiles," explained an IRIS-T operator earlier.
The truck-mounted missile system is intended to take down combat aircraft, attack helicopters, drones, anti-radar missiles, cruise missiles, bombs, and drones. It also includes a multipurpose radar that can track multiple targets simultaneously, allowing them to detect and eliminate Russian aerial targets.
The Russian military has been trying to disable these systems by exploiting their focus on faster, more immediate airborne threats, such as conventional missiles or aircraft. This is potentially why a Shahed-136 or a Lancet-3 is frequently dispatched to hunt down one of these Western air defense systems.
Contact the author at sakshi.tiwari9555 (at) gmail.com