With Russia's continuous use of its strategic bombers, including the Tu-95 and the Tu-160, for launching conventional stand-off attacks on Ukraine, satellite images have revealed that there has been an unexpected surge of these bombers in Russia's north close to the NATO border.
A fresh set of satellite images of the Olenya Air Base in Russia's Kola peninsula revealed that about 16 strategic bombers had been deployed to this air base close to the NATO countries, Finland and Norway, The Barents Observer reported. The air base is located in the closed town of Olenegorsk-2, which is an hour's drive south of Murmansk.
The base currently houses 14 Tu-5 bombers, two Tu-160 bombers, and two Tu-22M bombers, besides other heavy transport aircraft, as could be shown in the satellite images.
Two Tu-160 are positioned at the southern end, while at all other aprons large enough for heavier aircraft, 14 Tu-95 could be seen positioned side by side. The Tu-22M aircraft are relocated to the parking grounds in the air base's northwest.
The revelations come when several reports have indicated that Russia was launching attacks on Ukraine with its bombers from the Murmansk region of the Kola Peninsula.
Over the past week, a high-frequency radio observer monitoring the operations of Russia's strategic aviation forces has recorded almost daily flights from Olenya Air Base. This covers combat missions that fire on targets in Ukraine and training flights over the Murmansk region.
??OLENYA AIR BASE??
0.5M? from 7 May 2023 of the flight line. For anyone that follows @olga_pp98, you would know that Tu-95 aircraft from Olenya have been involved in recent missile launches into ??. pic.twitter.com/HKLqZO5hPj

— MT Anderson (@MT_Anderson) May 10, 2023
Bombers have typically been deployed to carry stand-off missile strikes on Ukraine from within Russian airspace. The Tu-160 can carry up to 12 Kh-55 series cruise missiles or an equal number of the more modern Kh-101/102 variants. The Tu-95MS can carry eight Kh-101/102s or 16 Kh-55s.
Earlier, the runway at Olenya Air Base was used by a small fleet of outdated Tu-22M supersonic bombers, a few MiG-31 interceptors, and a few An-12 military transport aircraft. However, with Russia launching an invasion of Ukraine last year, the air base has been used for forward deployment and launching attacks on Ukraine.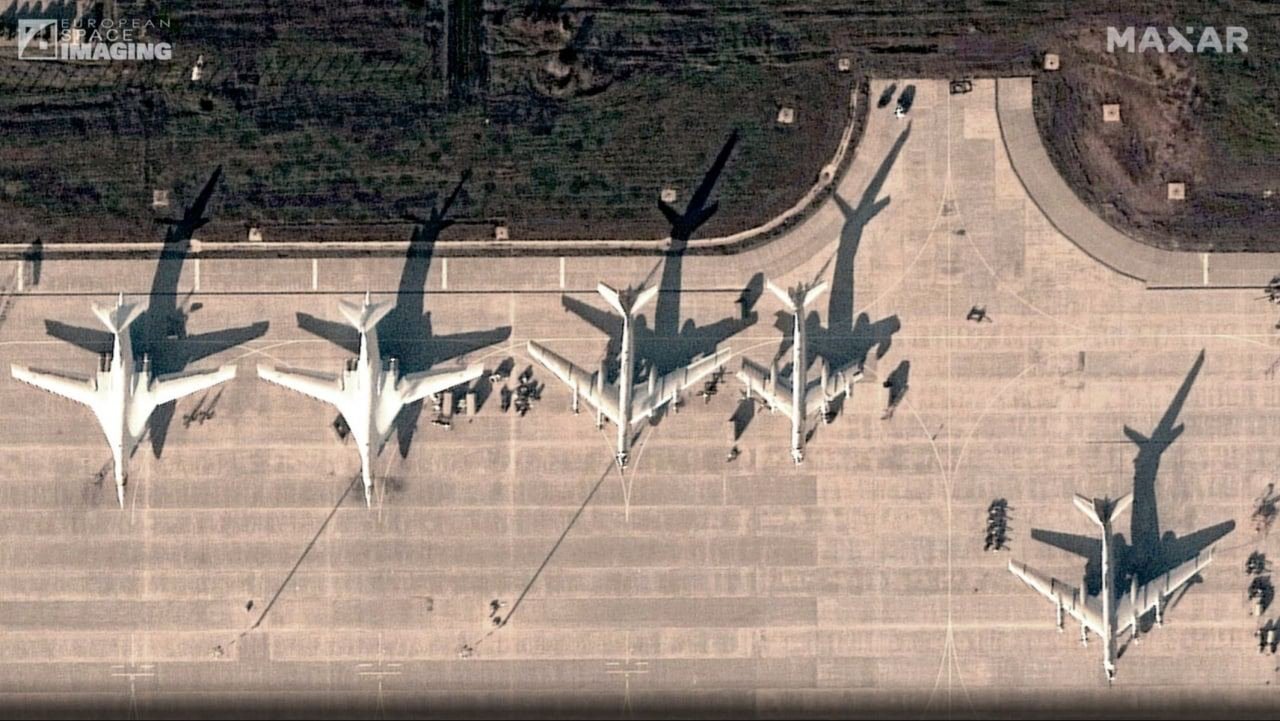 This is not the first time an airbase has seen an increased presence of strategic bombers.
In December last year, the Engels Air Base in Russia's Saratov region saw a sudden surge in these bombers, hinting that a massive aerial raid was on the cards.
However, shortly after, Russia's two air bases (Engels Air Base and Dyagilevo Air Base) housing these bombers came under an unprecedented drone attack. This has also been understood as a potential reason for Russia moving its bombers far away to the northern part of the country where Ukrainian drones or missiles can't reach them.
Russia's Bombers Moved To Safety
In the wee hours of December 5, two Russian Air bases housing its Tu-95 and Tu-160 bombers were attacked by a Tu-141 Stizh drone, allegedly modified and sent by Ukrainian troops to carry out this high-value attack.
Although officials in Kyiv never claimed responsibility for the attack, they did give statements hinting that it was their 'master plan.'
The drone traveled hundreds of kilometers away from the Ukrainian borders to Russia's Saratov and Ryazan regions in the first demonstration of Ukraine's long-range attack capability. The incident resulted in the loss of a Tu-95, which was then sent to the repair hangars. The attack came as a big setback to Moscow.
However, most importantly, it exposed the vulnerabilities of Russian air defenses, particularly Engels Air Base.
Shortly after, the bombers were relocated from the Engels Air Base, just about 600 kilometers from Ukraine's borders, to other locations. Earlier, Ukrainian government sources claimed that at least six Tupolev Tu-95 "Bear" aircraft from Russian Aerospace Forces (VKS) Long-Range Aviation (LRA) had been transferred from Engels-2 Air Base to Ukrainian-Seryshevo Air Base, which is 6,000 kilometers away from Ukraine.
As seen from the satellite imagery, the Olenya Air Base was one such location. The Director of the Nuclear Information Project, Federation of American Scientists, wrote on Twitter: "After the Ukrainian drone attacks on Russian bomber bases in southern Russia, Olenya airbase on the Kola Peninsula has become an important refuge for Russian bombers."
After the Ukrainian drone attacks on Russian bomber bases in southern Russia, Olenya airbase on the Kola Peninsula has become an important refuge for Russian bombers. We also document bombers at Belaya in our latest Nuclear Notebook. https://t.co/ISsMxFzQel https://t.co/hA29yb9KBS pic.twitter.com/uXaKlabKRU

— Hans Kristensen (@nukestrat) May 13, 2023
The first four Tu-160 strategic bombers arrived at this air base, located close to the NATO border, in August. However, by October, the number of Tu-95 and Tu-160 bombers had swollen to ten.
The sudden movement of nuclear-capable bombers close to the NATO border was alarming as Russia's frequent nuclear saber-rattling accompanied it. The concern was exacerbated as Russia's central storage for nuclear warheads, Bolshoye Ramozero, is reportedly just 10 kilometers from Olenya Air Base.
At the time, nuclear experts and military watchers noted that the deployment of the nuclear-capable bombers close to the NATO borders was more of "signaling" and did not suggest any "possible threat" to NATO's security.
However, the experts noted that deploying these bombers so close to NATO states would undoubtedly mean that the NATO countries would have a shorter window of time to intercept Russian bombers in the international air base compared to when they are flying from the Engels Air Base.
Contact the author at sakshi.tiwari9555 (at) gmail.com