As the Ukraine war is fast approaching the two-year mark, Russia has signed a new arms agreement with India to fend off Pakistan and China. At the same time, Pakistan is believed to have signed a deal with US-based companies to send weapons to Ukraine in its war against Russia.
Russia has signed a deal to supply India with Igla-S hand-held anti-aircraft missiles and to permit the Igla to be produced there under license, according to a top arms export official quoted by the Russian state news agency TASS on November 14.
Alexander Mikheyev, head of the state arms exporter Rosoboronexport, said, "We have already signed the corresponding document, and now, together with an Indian private company, we are organizing the production of Igla-S MANPADS in India."
The Igla-S is a man-portable air defense system (MANPADS) that essentially forms the final line of defense against flying objects in a multi-layered air defense system. It is specifically designed to attack low-flying aircraft.
When faced with air targets such as UAVs and cruise missiles, the Igla-S can identify them directly and retreat at any time of day despite background clutter and decoy flares, sometimes known as jammers. It can engage all sorts of visually detectable aircraft and helicopters.
It is a more combat-effective version of the Igla MANPADS, especially for shooting cruise missiles and identifying targets. The missile has a novel two-channel optical seeker fitted with a logic unit.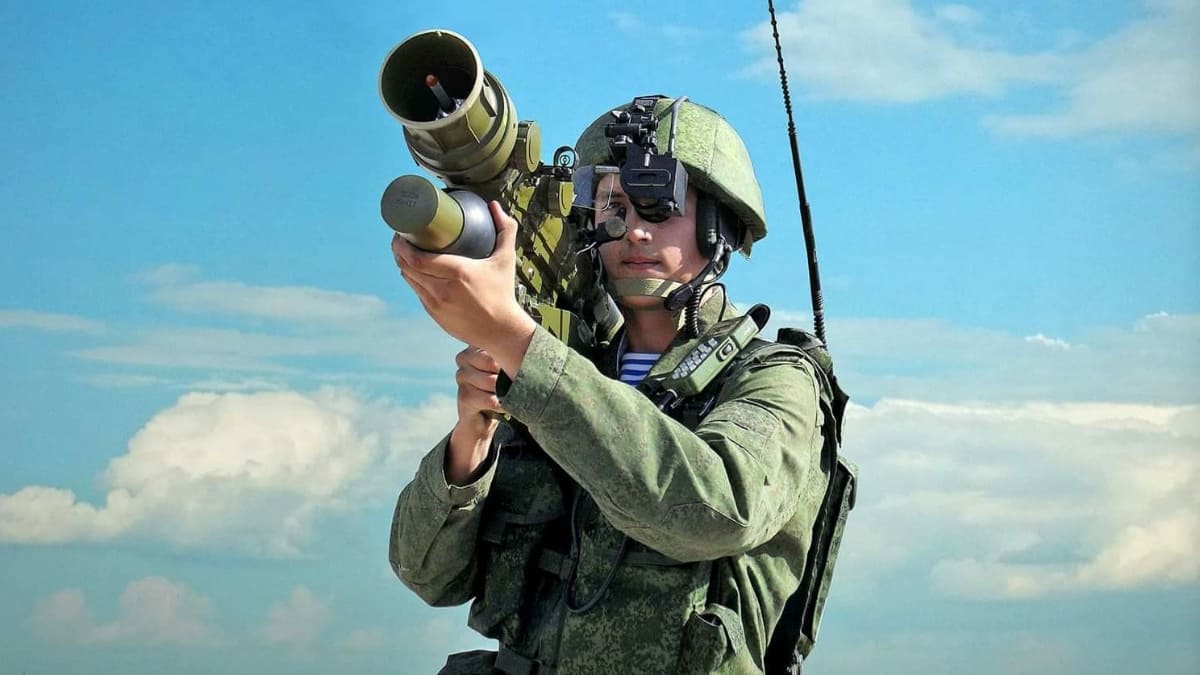 Enhanced cruise missile firing and target detection capabilities make it a more combat-effective version of the Igla MANPADS.
The lethality of the Igla-S is further enhanced by its bigger warhead, proximity fuse based on a laser, algorithm-based optimal moment of explosion, and exceptional precision. The warhead also features an increasing number of fragments and explosive charges.
During the Army 2022 International Forum in Russia last year, Dmitry Shugayev, the Federal Service for Military-Technical Cooperation's then-director, informed TASS that the two parties were working on a project to supply and produce portable air defense systems under license.
The recent contract for local production comes months after Russia indicated during the Aero India 2023 exhibition that an agreement for Igla-s was in the works with India. The Deputy Director of the Federal Service for Military-Technical Cooperation, Vladimir Drozhzhov, said, "We expect the decision of the Indian side on signing the contract on supply and licensed production of Igla-S man-portable air defense systems." 
India already has Igla-S in its inventory. After purchasing multiple Igla-S systems from Russia through the emergency procurement route, the Indian Army finally inducted them in April 2022. The Defense Ministry, however, has been considering a more significant contract for Igla-S systems as part of the Very Short-Range Air Defense (VSHORAD) deal.
Against that backdrop, the latest agreement has come right in time before the end of this year. Mikheyev also told another Russian publication, "Rosoboronexport is working with Indian private and public enterprises to organize joint production of aviation weapons and integrate them into the existing aviation fleet in India." The Indian companies engaged, and the estimated production start date was not disclosed.
In the meantime, another set of reports is making rounds. According to recent reports, India's rival and bitter adversary across the border, Pakistan, signed a contract with US-based companies last year to facilitate an arms transfer to Ukraine.
These accusations contradict Pakistan's geopolitical calculations since the nation has been trying to avoid upsetting Russia by walking a tightrope.
Pakistan's Secret Uncovered?
According to a detailed report by BBC Urdu released on Tuesday, Pakistan signed a US$364-million arms sales contract with two private US companies last year. These arms are purportedly being sent to Ukraine for use in its conflict with Russia.
Pakistan entered into two agreements to sell 155mm ammunition to American firms called "Global Military" and "Northrop Grumman." According to the BBC Urdu report, which used information from the American Federal Procurement Data System, these weapons were purchased from Pakistan. The contracts were signed in August 2022 and were explicitly connected to the acquisition of 155mm rounds.
It further stated that Global Military was given a US$232-million contract, and Northrop Grumman and other parties signed a US$131-million contract. "These agreements expired last month, i.e., October 2023," the publication noted.
EurAsian Times report in October last year said multiple flight-tracking websites had revealed since August 2022 that the UK's Royal Air Force has been flying frequent sorties of C-17 Globemaster heavy lift aircraft from Romania to the Nur Khan airbase in Chaklala, Rawalpindi.
This was also noted by the BBC Urdu report, which alleged that a British military cargo plane from Nur Khan Air Base made five landings in Rawalpindi before making the supplies.
The first of these aircraft touched down in Rawalpindi on the same day that Lt Gen. Qamar Javed Bajwa, the former head of the Army, promised to elevate relations between Pakistan and the United Kingdom to "historic heights" in a speech at the passing-out parade at the Royal Military Academy in Sandhurst.
The United States and its European allies have struggled to supply 155mm shells to Ukraine for several months due to the difficulty of ramping up production. For this reason, the US is believed to have turned to its Asian allies. For instance, South Korea signed an agreement to lend the shells to the United States in April. These shells were to be diverted to Kyiv.
These allegations may present a dicey situation for Pakistan as its Foreign Office has rejected any sales of weapons or ammunition to Ukraine, claiming that Pakistan remained "strictly neutral" in the conflict between the two nations and did not supply them with any such materials.
However, similar allegations have been made intermittently this year. An investigation by the American nonprofit news organization, The Intercept, revealed how the United States brokered a deal by which secret Pakistani arms sales to the US helped to facilitate a controversial bailout from the International Monetary Fund.
The detailed report states that on May 23, one month ahead of the IMF's June 30 deadline for reviewing a proposed billion-dollar payment, Assistant Secretary of State Donald Lu and Pakistan's ambassador to the US, Masood Khan, met at the State Department in Washington, D.C., to discuss how Pakistan's arms sales to Ukraine could strengthen the country's financial standing in the eyes of the IMF.
The Intercept said, "Lu told Khan at the May 23 meeting that the US had cleared payment for the Pakistani munitions production and would tell the IMF confidentially about the program."
#Ukraine: Yet more ammunition made by 🇵🇰 Pakistani Ordnance Factories (POF) in the hands of the Ukrainian Army – this time 122mm Yarmuk HE-Frag rockets for the BM-21 Grad.

These rockets are analogous to the Soviet 9M22U, with a 20.5km range, and were procured via a third party. pic.twitter.com/SDM749o9B8

— 🇺🇦 Ukraine Weapons Tracker (@UAWeapons) March 25, 2023
There have also been instances where some Pakistani ammunition has been photographed in Ukraine despite claims to the contrary. For instance, in March this year, images of Ukrainian troops firing Pakistani-origin Yarmuk rockets surfaced on social media and soon went viral.
A Twitter account named 'Ukraine Weapons Tracker' that follows arms being used on the battlefield tweeted: "Yet more ammunition made by Pakistani Ordnance Factories (POF) in the hands of the Ukrainian Army — this time 122mm Yarmuk HE-Frag rockets for the BM-21 Grad. These rockets are analogous to the Soviet 9M22U, with a 20.5km range, and were procured via a third party."
However, despite many reports appearing online, the official Pakistani position has remained that of neutrality, with the Foreign Office ridiculing and refuting all allegations of an arms transfer to Ukraine.
Contact the author at sakshi.tiwari9555 (at) gmail.com