In a dazzling display of technological prowess, the Dubai Police took center stage on the opening day of the Dubai Airshow 2023, revealing a formidable array of cutting-edge equipment.
The official X (formerly Twitter) account of the Dubai Police became the virtual gateway for enthusiasts and the public, offering an exclusive sneak peek into the high-tech showcase.
The video released by Dubai Police highlighted critical moments from the inaugural day of Dubai Police's participation at the prestigious event. 
From the sleek Audi RS e-tron GT to an advanced helicopter and state-of-the-art drones, the footage underscored the Dubai Police's commitment to staying at the forefront of innovation in law enforcement.
Dubai Police released a statement that said Lieutenant General Abdullah Khalifa Al Marri, the Commander-in-Chief of Dubai Police, visited the Dubai Police booth at the Dubai Airshow 2023. 
Highlights from day one of #DubaiPolice's participation at the Dubai AirShow 2023. pic.twitter.com/YI9J6JuTPP

— Dubai Policeشرطة دبي (@DubaiPoliceHQ) November 13, 2023
During his visit, Al Marri examined the M02, a self-driving innovative vehicle developed by the Research and Development Department of Dubai Police. 
This smart patrol vehicle, designed for local community use, incorporates advanced artificial intelligence technologies such as facial recognition, license plate and suspect recognition, behavior analysis, motion detection, and the capability to identify and analyze suspected individuals.
The M02 can operate continuously for 15 hours and features a high-definition 360-degree camera and sensors, allowing it to navigate its surroundings, halt, and alter its course in response to obstacles.
Additionally, the Dubai Police exhibit showcased the Italian-manufactured vertical aircraft, "AW 139," designed to support security, traffic management, rescue missions, and vital transportation operations.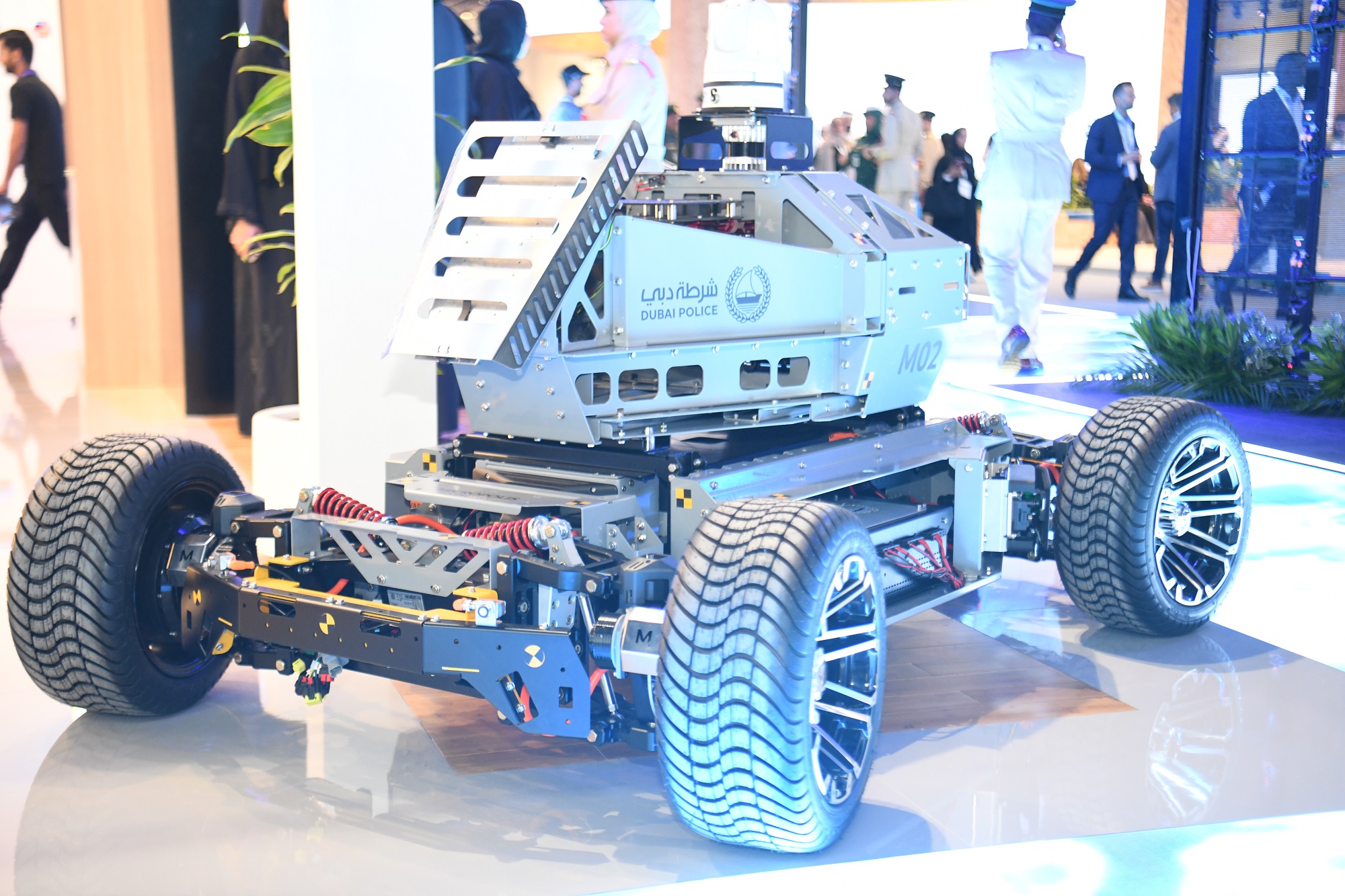 The AW 139 facilitates swift security services for the community and rapid deployment and rescue operations using a crane.
This versatile aircraft is equipped to perform various tasks, including air ambulance services, transportation of specialized teams, and search and rescue operations, ensuring prompt emergency response. 
Notably, the AW 139 is also employed for VIP transportation, featuring a long flight range, high speed, and advanced cameras for live streaming to the Dubai Police Command and Control Room. It is also equipped with tools and devices for medical transportation, enhancing its performance in operations requiring helicopter support.
Dubai Police Force's Impressive Patrol Cars
The Dubai Police stood out as a proactive entity in integrating cutting-edge technology for law enforcement. A notable example of this commitment was evident at a police conference held in Dubai in March, where the latest technologies designed for future security forces were showcased.
That conference, typically away from the public eye, offered a rare insight into the array of tools now accessible to law enforcement agencies. The exhibited technologies included advanced surveillance systems with enhanced capabilities, making detection more compelling and challenging to evade. 
The Dubai Police have a unique and fancy way of doing law enforcement. They're known for being good at their job, using high-tech surveillance tools. However, when it comes to patrol cars, only a handful of police forces globally can likely rival the impressive fleet maintained by the Dubai Police. 
Dubai Police has an extraordinary fleet of patrol cars, and the legendary Bugatti Veyron leads this impressive lineup. Recognized for its unparalleled top speed exceeding 400 km/h, the Bugatti Veyron symbolizes Dubai's ambitious spirit and the police force's commitment to excellence in every facet. 
Adding to the arresting collection is the Lamborghini Aventador, a high-performance sports car that mirrors Dubai's modern and luxurious image through its sleek design. 
Its incredible speed makes it suitable for patrolling highways and significant events. The Aventador's presence is a powerful statement of authority and capability.
The Ferrari FF joins the fleet as a grand tourer that seamlessly blends elegance, performance, and versatility. With its four-seater capacity, the FF allows Dubai Police officers to transport multiple individuals comfortably. The car is equipped with a powerful V12 engine and an all-wheel-drive system.
Dubai Police has recently also strengthened its lineup with 100 Audi RS e-tron GTs, showcasing the force's embrace of all-electric vehicles and cutting-edge technology provided by Al Nabooda Automobiles.
Adding an air of exclusivity is the Aston Martin One-77, one of the rarest supercars globally, with only 77 units ever produced. This high-performance masterpiece aligns with Dubai's vision of being at the forefront of innovation and progress, symbolizing sophistication and limited exclusivity.
The Mercedes-AMG GT, a stylish sports car with high-performance capabilities, is a versatile addition to the Dubai Police fleet. The Mercedes-AMG GT is capable of Handling both urban and highway duties. 
The Dubai Police has the Chevrolet Camaro SS, an American muscle car known for its bold design and aggressive performance.
The Chevrolet Camaro SS's powerful engine and eye-catching looks appeal to car fans and regular citizens, making it a standout and unique addition to Dubai Police's varied lineup.