In its war against Russia, Ukraine has predominantly received large amounts of ammunition and combat systems from the US and its NATO allies. However, Pakistan, surprisingly, has also become a supplier of ammunition to Kyiv.
---
Russia and Ukraine are using massive amounts of artillery ammunition in the conflict, underscoring the continuous demand for such weapons. As a result, both countries are looking for ways to replenish their ammo supplies. 
The significance of artillery rounds was underscored in June by Vadym Skibitsky, the deputy chief of the military intelligence of Ukraine, who said, "This is an artillery war that we are losing, [as] Ukraine has one artillery piece to 10-15 Russian artillery pieces and we have almost used up all of our ammunition."
Only a few months into the conflict, Ukraine had depleted its supplies of Soviet-era artillery and was largely reliant on the ammunition provided by its allies. This was made clear by Skibitsky's earlier statement that Ukraine is now almost entirely dependent on western armaments to keep Russia at bay. 
He also stated that Kyiv is utilizing 5,000 to 6,000 artillery rounds a day. Even though the United States and its allies in Europe were already shipping shells to Ukraine, they also noticed that their own supplies were running out at a worrying rate.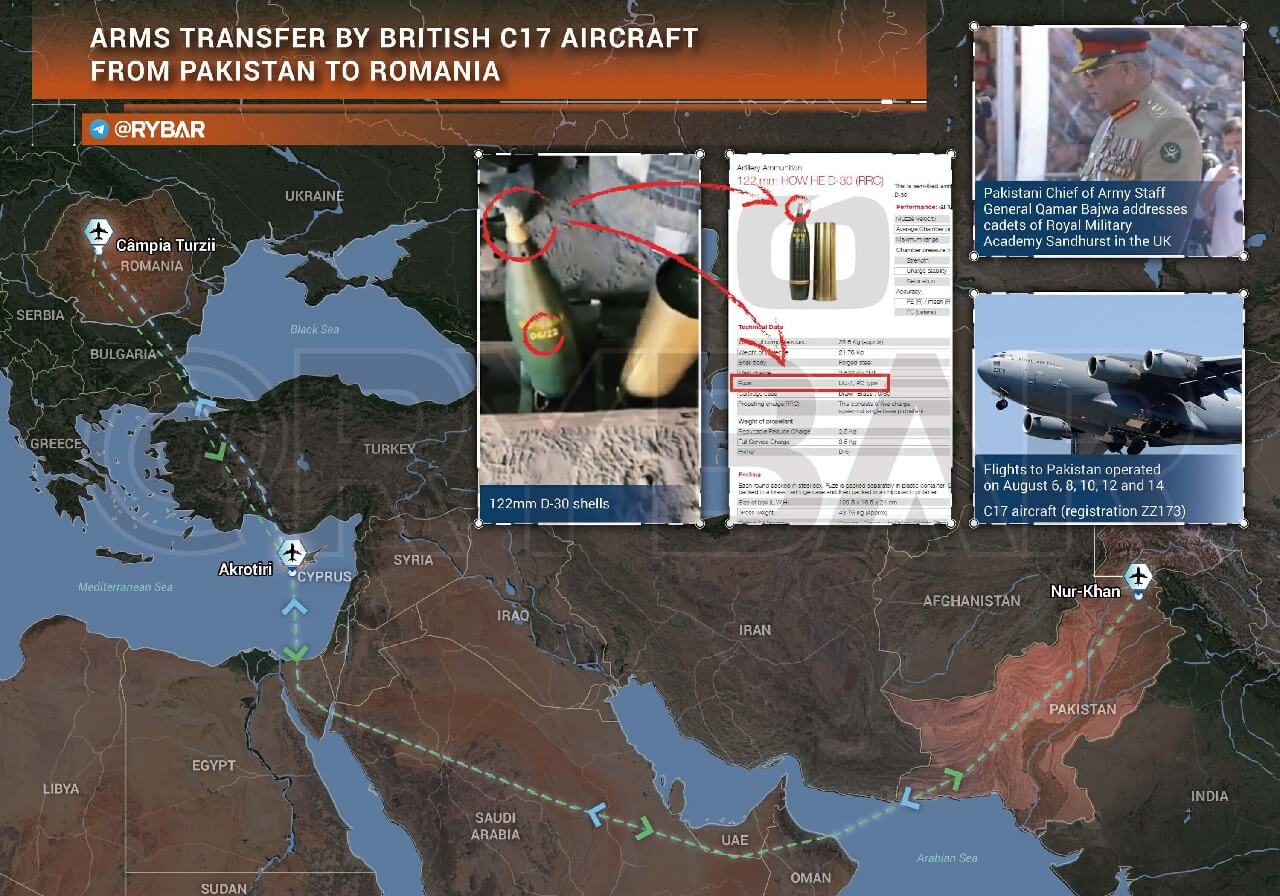 Since August 6, 2022, multiple flight-tracking websites have revealed that the UK's Royal Air Force has been flying frequent sorties of C-17 Globemaster heavy lift aircraft from Romania to the Nur Khan airbase in Chaklala, Rawalpindi.
English version: showing Pakistan army chief at Sandhurst and dates on shells with type of fuze. pic.twitter.com/bKpzsbODpH

— ST (@aviation07101) September 2, 2022
This incident occurred a few days after Britain declared it would provide Ukraine with more than 50,000 artillery shells resembling those used by the Soviet Union.
General Qamar Javed Bajwa, the chief of the Pakistani Army, also recently traveled to the UK as part of his official foreign visit, although the nation's economic crisis is getting worse.
The C-17 Pakistan-Romania airlift mission accomplished a total of 12 sorties over 15 days. According to the experts, this implies that the United Kingdom was delivering military supplies to the Ukrainians.
Between August 6 and August 15, the air bridge is said to have transferred weapons via West Asian airspace while avoiding Iranian and Afghan airspace. Since August 22, there have been no flights detected between these cities. 
What Weapons Did Pakistan Send To Ukraine?
According to reports, the aircraft was transporting 122mm HOW HE-D30 artillery munitions made by Pakistan Ordnance Factories (POF). In August, a video that went viral on social media showed the unpacking of POF 122-mm ammunition. 
They can be recognized based on several factors, such as the company's regular usage of British-style steel boxes and the LIU-4 type fuzes that are unique to POF's Soviet-style 122mm artillery.
#Ukraine: The massive needs of the Ukrainian Army when it comes to artillery are being met from some unorthodox sources- Ukrainian artillerymen were spotted using 122mm HE artillery projectiles made by Pakistani Ordnance Factories (POF) ??. pic.twitter.com/Uu8X1zT6wi

— ?? Ukraine Weapons Tracker (@UAWeapons) August 30, 2022
The POF, Pakistan's largest defense supplier and industrial complex manufactures the Soviet-era 122mm HOW HE-D30 round, which fulfills NATO standards. The projectiles are semi-fixed howitzer ammunition. 
It has a maximum range of 9.5 miles and a muzzle velocity of 2,270 feet per second (690 meters per second). The total weight of the round, including the projectile and shell, is approximately 28 pounds.
The Pakistani military previously contracted Okroboronprom to upgrade their T-80UD tank inventory. In 2021, Pakistan and Ukraine decided to deepen their military cooperation, particularly in intelligence sharing and counterterrorism operations.
Pakistan was allegedly eager to improve defense cooperation with Ukraine in the future through technology transfer and joint ventures, as both parties may gain from one another's experience.
Between 1991 and 2020, Ukraine signed arms deals with Pakistan, totaling roughly $1.6 billion.
In August, the foreign minister of Ukraine commended Pakistan. In a news conference, Ukraine's FM Dmytro Kuleba stated that bilateral relations between the two nations have "big potential" and that "we expect greater solidarity of Pakistan for Ukraine."
The French media also reported that the United States, Pakistan, and the United Kingdom might have established a trilateral agreement to sell ammunition to the United Kingdom over the summer.
The decision to establish a trilateral agreement might be reached in exchange for the clearance of an IMF loan of $1.2 billion to Pakistan. Furthermore, these developments coincide with the Biden administration's approval of a potential sale of the F-16 fleet sustainment package to Islamabad despite India's strong objection.