The US is waging an undeclared war against Russia and Belarus, Russian Security Council Secretary Nikolay Patrushev said, Tass reported.
"The US is waging an undeclared war against Russia and Belarus, aiming to destroy the national identity and the people of our countries. Today, Western politicians state this openly and point this out in their documents," Patrushev said.
US and UK governments are using NATO, EU, Ukrainian neo-Nazis, and NGOs, as well as Ukraine's puppet government, to weaken Russia, the official believes.
Meanwhile, a recent drone attack on residential areas in Moscow, the first of its kind since the invasion of Ukraine, was carried out to target Russian intelligence officers' homes, reported NBC News, citing multiple sources familiar with the matter.
The attack is seen as the most recent move in a psychological campaign against Russia to challenge and undermine President Vladimir Putin's regime.
The attack was carried out on May 30, representing the first instance of an assault on a residential area in the capital since Russian forces invaded Ukraine on February 24, 2022. 
The report claimed the Moscow attack was far from a random act targeting a wealthy suburb. Instead, the attack was part of the psychological warfare tactics in the ongoing Russia-Ukraine conflict. 
Russian authorities have accused Ukraine of orchestrating the drone attacks. The attack in question involved eight unmanned aircraft and resulted in minor damage to several buildings in the targeted area. 
Contrary to Russian authorities' claims, Ukrainian officials have categorically denied any responsibility for the assault.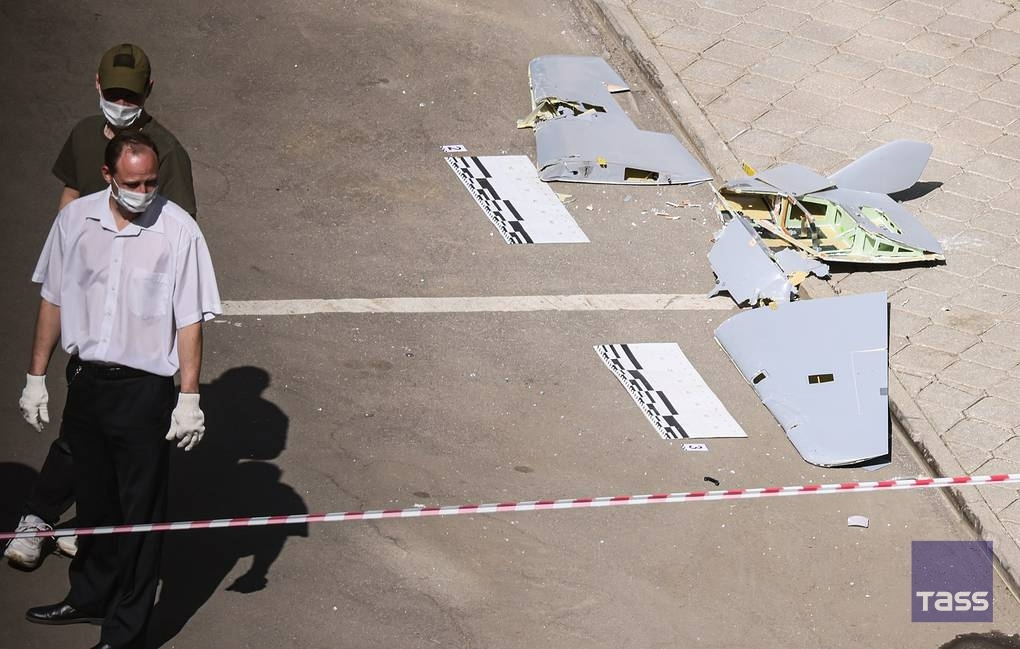 Strider Technologies, a Utah-based strategic intelligence business that leverages open-source data, told NBC that at least one of the apartment complexes struck by the drone attacks has connections to Russia's Foreign Intelligence Service, the SVR. 
The building was owned by a state budgeting agency of Russia that had agreements with a military unit that was thought to be a front for the Foreign Intelligence Service.
It was unclear whether SVR officers' homes were destroyed or if the officials sustained harm.
Last week, Mykhailo Podolyak, an adviser to the Ukrainian president, made statements regarding the drone attacks, asserting that Ukraine had no direct involvement in the incidents. 
However, he expressed satisfaction in witnessing the attacks and predicted a potential escalation with increased aggression. 
Drone Strikes Inside Russia
In recent months, Russia has experienced a growing number of attacks within its borders, specifically through drone strikes directed toward its crucial infrastructure and military bases.
Last month, a cross-border incursion from Ukraine into Russia's Belgorod region triggered intense fighting until Russian forces regained control of the situation.
The drone strikes in Moscow have effectively brought the Ukraine war into the heart of the Russian capital, causing embarrassment for Putin's government. Government officials faced sharp criticism from pro-war Russian bloggers in the aftermath of the attacks. 
Yevgeny Prigozhin, the Russian paramilitary Wagner Group chief, accused the country's military leaders of inadequately protecting Russia against unmanned aerial vehicles, further intensifying the internal scrutiny and blame game surrounding the incident.
According to CNN, Ukraine has allegedly established a network of agents and individuals sympathetic to their cause within Russia. The purpose of this network is said to be coordinating acts of sabotage against Russian targets. 
Furthermore, there are claims that Ukraine has started supplying these agents with drones, which they use to carry out attacks. These allegations suggest a growing covert operation conducted by Ukraine within Russian territory, further fueling tensions between the two nations.
The report said that pro-Ukrainian agents operating inside Russia were responsible for a drone attack targeting the Kremlin in early May. 
US officials believe that Ukraine has developed "sabotage cells" inside Russia, comprising a combination of pro-Ukrainian sympathizers and skilled operatives well-versed in this type of warfare. 
Furthermore, Kyiv is suspected of supplying these cells with drones of Ukrainian origin. But, there is no evidence indicating the use of US-provided drones in any of the drone strikes.
While the precise method by which Ukraine manages to transport the drones into enemy territory remains unclear, it is reported that well-established smuggling routes have been established. 
These routes could be used to smuggle drones or drone components into Russia, where they can be assembled and utilized for operations. 
Kyrylo Budanov, the chief of Ukraine's military intelligence, has been known for putting forth audacious plans for operations against Russia, often emphasizing the importance of symbolic actions.
Earlier this year, confidential Pentagon files published online indicated that Budanov planned to launch an attack on Moscow on the anniversary of its invasion of Ukraine, but he postponed the plot under pressure from the CIA.