In an unexpected turn of events, Russian troops reportedly shot down an Iranian Mohajer-6 drone deployed over Crimea after mistaking it for one of the many Ukrainian combat drones that make frequent trips to the Crimean peninsula.
The Russian state media reported on June 6 that the drone intercepted over Crimea was a Ukrainian combat UAV. However, after the photographs of the drone went viral, the authorities acknowledged that it was an Iranian 'Mohajer-6' drone that remains in service with the Russian military.
Pro-Ukraine social media accounts and local Ukrainian media were quick to mock the incident, labeling it as an error by Russia's "demoralized forces." The drone was downed in the eastern part of Crimea, and the kill has been attributed to Moscow's formidable Electronic Warfare (EW) system.
"In the eastern part of Crimea, enemy UAVs were jammed and landed by the EW system. There are no casualties and no destruction. I ask you to keep calm and trust only verified sources of information," said Sergey Aksenov, head of the local administration.
The downing of Mohajer-6 by Russia comes at a time when Ukraine is believed to have launched a counteroffensive against Russian troops. Media reports suggest that both sides are raining down drones and missiles on one another, with both parties also claiming that a majority of these hostile aerial assets approaching their respective positions are shot down.
Russian Forces allegedly SHOT DOWN their own Mohajer-6 UAV

Acc. to local authorities, the Iranian-made Mohajer-6 drone was jammed by Russian electronic warfare systems and was forced to land in eastern Crimea.#Crimea #Mohajer #drone #UAV #UCAV #unmanned #Russia #Ukraine pic.twitter.com/AqAOjOnX14

— EurAsian Times (@THEEURASIATIMES) June 7, 2023
Although the incident might have left the Russians red-faced, friendly fire incidents have not been uncommon in the ongoing conflict.
In a similar blunder, the Ukrainian Air Force also mistakenly downed one of its Turkish-made Bayraktar TB2 drones over Kyiv last month, which was attributed to a "technical error."
The Mohajer-6, for one, was shot down by Russia's EW system that has recently become a point of discussion among military experts due to its combat performance against Ukraine.
EurAsian Times previously noted how Russia had strengthened its EW systems, having prepared the technology since the war in Syria in 2015 and Crimea's annexation in 2014.
The moment of the downing of the Iranian-made Russian Mohajer-6 UCAV over Crimea last night. pic.twitter.com/0w2E5UxoFX

— Clash Report (@clashreport) June 7, 2023
Last month, a report by the United Kingdom (UK)-based Royal United Services Institute (RUSI) stated that Moscow's EW had maintained effectiveness and downed about 10,000 Ukrainian drones every month, or about 333 drones daily.
According to reports, Russian ground forces have evenly dispersed EW platforms that cover every 10 kilometers of the front, much like their "echeloned" air defense, which has progressively overlapped short, medium, and long-range surface-to-air (SAM) weapons.
With Ukraine's growing UAV attacks on Russian formations, Moscow's EW and air defense systems are working overtime to thwart them. In late May, Sergei Aksyonov announced that six drones were downed or blocked overnight in Crimea.
However, this time, its own Iranian-origin Mohajer-6 drone, which Russia has extensively deployed alongside the Shahed-class kamikaze drones, took the hit over Crimea.
Mohajer-6 Drones In Russian Service
Moscow started using the Mohajer-6 drone in September, as previously reported by the EurAsian Times. The Mohajer-6 is a twin-boom drone with a high-wing layout in which the wing is connected to the top of the fuselage.
The drone's production began in 2017, and its functions include fire engagement (it can carry up to four munitions), reconnaissance, and surveillance.
Mohajer-6 has a range of about 200 kilometers, a cargo capacity of 100 kilograms, and a maximum takeoff weight of 600 kilograms. Moreover, it boasts a top speed of 200 kilometers/hour and has an endurance of 12 hours. The drone can additionally climb to an altitude of 5400 meters.
Shortly after Russia started deploying these Iranian drones in September, Ukrainian forces managed to down and recover at least one Mohajer-6 reconnaissance and attack drone, which was later disassembled for examination.
It was later discovered that several components used in the Iranian Mohajer-6 drone were produced in Western countries. Documentation obtained by The Wall Street Journal revealed last year that many of the electrical parts that power them were developed in the United States and its allies.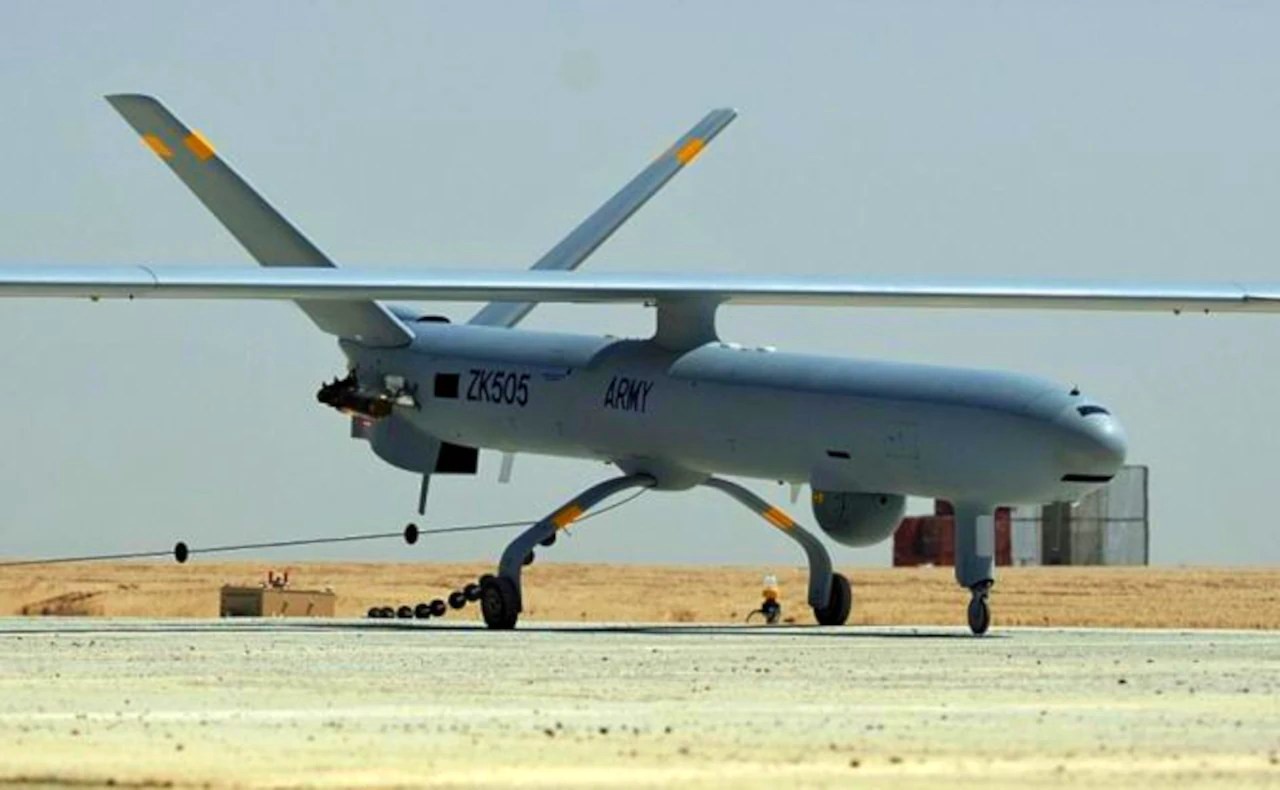 The drone was found to have Japanese, Chinese, and American cameras and a laser rangefinder. At the time, it was alleged that the Ukrainian military 'hacked' one of the drones while it was in flight and then 'landed' it, where it was later found and examined by Ukrainian military intelligence personnel.
Moscow's troops have extensively deployed the Mohajer-6 alongside the Shahed-131 and Shahed-136 kamikaze drones to attack Ukrainian positions, discover the location of their air defense systems, and exhaust their surface-to-air missiles.
The significance of these drones acquired from Iran has grown amid reports of missile shortages in Russia's arsenal.
Contact the author at sakshi.tiwari9555 (at) gmail.com