In a remarkable display, South Korea held a captivating rollout ceremony on June 7 for the first FA-50GF light attack aircraft to be exported to Poland. 
The headquarters of Korea Aerospace Industries (KAI) in Sacheon, located approximately 300 kilometers south of Seoul, served as the venue for the ceremony, which revolved around the theme of "Firm Commitment, Secure Future."
The ceremony witnessed the presence of Defense Minister Lee Jong-sup, alongside his Polish counterpart Mariusz Blaszczak, together with Korea's Air Force Chief of Staff Gen. Jung Sang-hwa, and Defense Acquisition Program Administration Chief Eom Dong-hwan.
KAI will provide 12 FA-50GF aircraft to Poland by the end of this year, following flight tests scheduled to continue until the following month. In September 2022, KAI signed an "executive" contract with Warsaw's Armament Agency to deliver 48 FA-50 jets. 
The addition of GF (Gap Filler) to the aircraft's designation signifies its purpose of replacing Poland's outdated fleet with this new group of advanced aircraft.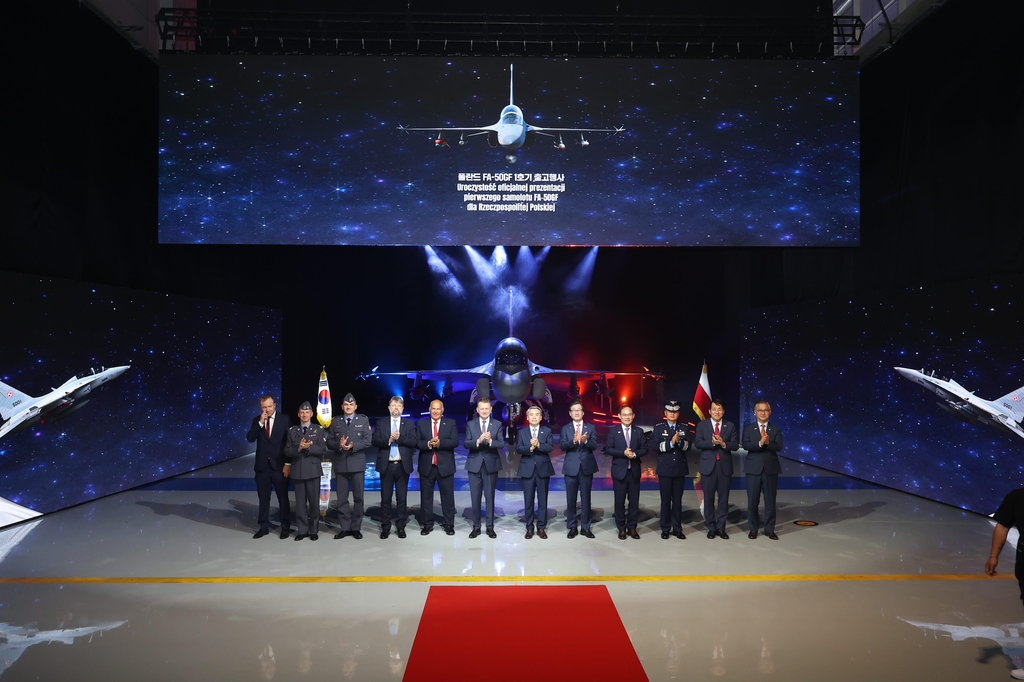 South Korean Defense Minister Lee expressed his satisfaction with the successful implementation of the defense cooperation project, attributing it to their company's outstanding technology and production capacity, as well as the mutual trust between the two nations and Poland's determination.
The rollout event was dubbed "remarkable" by South Korean media, as it signifies an unprecedented timeframe of only eight months from the contract signing in September 2022 to the introduction of a combat aircraft.
Polish Defense Minister Mariusz Blaszczak also acknowledged that the swift rollout would significantly contribute to Poland's efforts to strengthen its defense capabilities. 
"Thanks to the speedy release of FA-50GF, Poland is now able to equip itself with more advanced military strategies and realize military modernization," he said. "I look forward to seeing FA-50GF fly in the airspace of Poland." 
Along with the 12 planes scheduled for delivery this year, KAI will deliver 36 units of the improved FA-50PL model from the second half of 2025 through 2028.
According to KAI, the FA-50PL has been updated by increasing its range by aerial refueling and improving the active electronically scanned array (AESA) and air-to-surface and air-to-air weaponry. 
Poland-South Korea Growing Defense Cooperation
In addition to purchasing fighter planes, Poland will also acquire K2 Black Panther tanks, K-9 self-propelled howitzers, and Chunmoo multiple rocket launchers from South Korea.
In January 2020, the Polish government ordered 32 Lockheed Martin F-35A Lightning II jets, amounting to a contract value of approximately $4.6 billion. The delivery of these aircraft is set to commence in 2024.
Poland's intention to introduce the FA-50 aircraft into its military stems from the desire to phase out the utilization of MiG-29 and Su-22 aircraft completely. Poland also transferred some of its old MiG-29 fighter jets to Ukraine to support Kyiv in its conflict with Russia.
The FA-50PL aircraft, known for its compatibility with Western jets, mainly the F-16, has been specifically designed to excel in fighter training, especially for advanced 5th-generation jets like the F-35. 
Poland intends to leverage the FA-50PL's capabilities to enhance its fighter training programs, preparing its Air Force to incorporate the F-35, which is anticipated to serve as a central aircraft type in Poland's military aviation. 
Meanwhile, following the completion of the rollout ceremony, Lee and Blaszczak, according to Seoul's defense ministry, officially inked a Memorandum of Understanding (MOU) that outlined their intention to establish a joint ministerial committee focused on enhancing bilateral defense and arms industry cooperation. 
This step was taken due to their prior agreement during the discussions held in Poland in February, where they mutually decided to create this regular consultative body.
According to the ministry, after signing the MoU, the two ministers took charge of the committee's first official session. Minister Lee requested "Blaszczak's support during this meeting so that the conditions for long-term arms industry cooperation can be maintained."
Additionally, both parties agreed to further augment their collaboration in the defense sector, aligning with the expanding ties in their arms industry. 
They discussed various means of cooperation, including reciprocal visits between their respective military units operating similar weapons systems. These measures were initially agreed upon during their previous talks in February.