In a recently surfaced video, an Egyptian IRIS-T SLM medium-range Ground-based air defense system is seen in action during a trial operation. The system demonstrates its impressive prowess by shooting down two target drones with remarkable precision. 
The video was released on August 1 and was published on the official YouTube channel of the system's manufacturer. The footage showcases impressive visuals and provides an in-depth look into the features of the German-made weapon system. 
The IRIS-T SLM is designed and manufactured by Diehl Defense, a company based in Überlingen, southern Germany. 
The air defense system is intended to offer medium-range, high-altitude protection, making it well-suited for safeguarding small cities and supporting armies in various operational scenarios.
During the test firings, the IRIS-T SLM team expertly utilized anti-aircraft missiles to successfully shoot down two target drones, showcasing the SAM's remarkable 100% effectiveness. 
Egyptian IRIS-T SLM medium-range Ground-based air defense system on a trial operation, shooting down two target drones.#IRIS #missile #airdefense #drone #Egypt pic.twitter.com/qtmbxguaNo

— EurAsian Times (@THEEURASIATIMES) August 3, 2023
In September 2018, the German government gave its nod to selling seven IRIS-T SLM tactical medium-range Air Defense (AD) systems to Egypt. 
Later, Cairo signed an agreement to procure ten batteries of the IRIS-T SLX Long-range Ground-Based Air Defense (GBAD) system.
In December 2021, reports indicated Egypt had received the first IRIS-T SLM medium-range air defense system batch. In the new video, the elements of the anti-aircraft missile system are distinctly visible, sporting a "desert" camouflage. 
However, the Diehl Defense did not disclose the location of the trials, nor did it provide any specific operation date.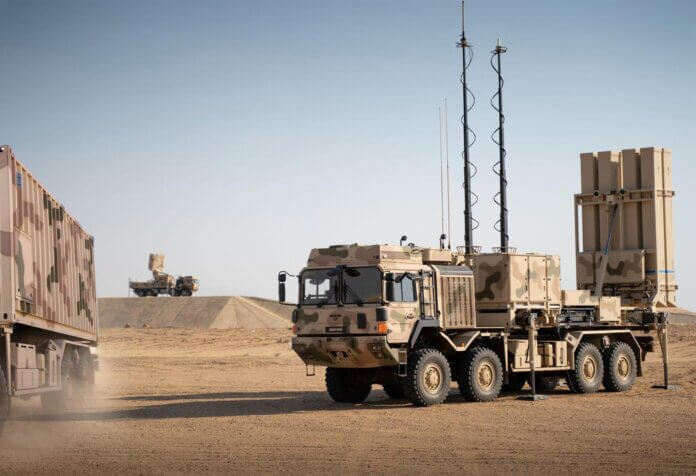 Nonetheless, the video serves as a marketing tool to showcase the system's capabilities and demonstrate its successful performance in practical scenarios, further promoting its adoption and deployment by potential customers worldwide.
Combat-Proven System IRIS-T SLM
Meanwhile, in the description beneath the YouTube video, the manufacturer highlights the attributes and abilities of their "combat-proven system, the IRIS-T SLM." 
According to the German company, this comprehensive air defense system is composed of a radar unit, a tactical operations center (TOC), and multiple missile launchers. Its primary function is safeguarding assets from aerial threats within the medium-range class.
The manufacturer emphasizes that all components of the air defense system are strategically mounted on 20-foot ISO frames. This design choice enables the system to maintain tactical mobility and strategic adaptability, effectively responding to ever-changing operational scenarios.
Furthermore, the IRIS-T SLM system has undergone rigorous testing to ensure NATO interoperability, ensuring seamless cooperation with allied defense forces. 
Notably, the system can provide long-term protection for critical infrastructure, military assets, and installations. It can also be valuable to existing air defense systems, enhancing their overall defense capabilities.
In addition to the core components, the manufacturer mentions the presence of support vehicles that enable the IRIS-T SLM system to operate autonomously for extended durations, up to 90 days. 
This feature further solidifies its position as a reliable and robust air defense solution for various defense and security applications.
Germany has also supplied the combat-proven IRIS-T SLM system to Ukraine as part of military aid to bolster the Ukrainian armed forces. 
Despite undergoing several iterations since its inception in the 1990s, the IRIS-T version delivered to Ukraine is relatively new. Each unit of this cutting-edge system commands a substantial price tag of approximately €140 million ($136 million).  
In response to a significant Russian missile strike on Ukrainian cities last year, Germany delivered the first IRIS-T air defense system to Ukraine in October 2022. 
Subsequently, the second IRIS-T air defense system was provided to Ukraine earlier this year. In May, Ukrainian forces alleged that the cutting-edge system has successfully shot down over 60 targets since its initial deployment last year.
German media reported that the systems received by Kyiv from Berlin were originally intended for Egypt but have been redirected to Ukraine.
These deliveries signify Germany's commitment to supporting Ukraine's defense capabilities and strengthening its air defense capabilities.
The IRIS-T system has garnered praise from Ukrainian operators ever since its deployment in combat.
According to reports by EurAsian Times, the Ukrainian military lauded the system's performance in January, stating that it successfully intercepted and downed every incoming target during its first operational use. 
Furthermore, a Ukrainian official had previously stated that the IRIS-T system had successfully intercepted all 51 targets, demonstrating a perfect 100% success rate against the Shahed-136 kamikaze drones and cruise missiles deployed by Moscow.