OPED by Air Marshal Anil Chopra
The three largest air forces in the world, US Air Force (USAF), PLA Air Force (PLAAF), and the Russian Air Force (VVS), already have their home-grown fifth-generation fighters. Many other modern air forces have inducted the Lockheed F-35 and are working on sixth-generation aircraft, individually or in joint ventures.
India, the fourth-largest force and fifth-largest economy, is still at the Light Combat Aircraft (LCA) Mk1 stage. India's fifth-generation fighter, the Advanced Medium Combat Aircraft (AMCA), could take nearly 7-8 years to fly and almost 15 years to induct, or even more.
In India's neighborhood, an immediate threat is China, and it already has 150 Chengdu J-20 "Mighty Dragon." Their second fifth-generation fighter Shenyang FC-31 "Gyrfalcon," is being accelerated.
China no more needs to import fighter aircraft. India is the only major country that could still be a possible buyer of a fifth-generation aircraft.
Even though India walked out of the joint Fifth Generation Fighter Aircraft (FGFA), Russia continues to hope and woo India into buying its fifth-generation fighters.
The US has not formally offered the F-35 aircraft to India, but because they brought two of them to the 'Aero India 2023' at Bengaluru earlier this year, some thought they were throwing a hint.
There is, thus, a need to look at the Russian aircraft in the correct context.
Sukhoi/HAL FGFA
The Sukhoi/HAL FGFA concept was based on the Russian PAK-FA Sukhoi T-50 aircraft. The FGFA was being developed jointly by Sukhoi and HAL for the Indian Air Force (IAF).
The plane was to include 43 India-led improvements, including advanced sensors, networking, and combat avionics. Also, India wanted a two-seater with a pilot and co-pilot or weapon systems operator (WSO).
Russia and India agreed in early 2007 to jointly study and develop the FGFA. By 2010, it was reported that the two sides had agreed on a preliminary design. In December 2010, a memorandum of understanding for the preliminary design of the Indo-Russian fighter was reportedly signed between Hindustan Aeronautics Ltd (HAL) and Russia's Rosoboronexport and Sukhoi.
Around 500 aircraft were initially contemplated, with 200 single-seat and 50 twin-seat for Russia and 166 single-seat and 48 twin-seat for IAF. Single-seat fighters were to be assembled in Russia, and two-seaters by HAL.
HAL negotiated a 25% share of design and development work, mainly related to critical mission software, navigation systems, cockpit displays, countermeasure dispensing (CMD) systems, etc. Russians were also very optimistically hoping for an export market of another 600.
By 2012, developmental delays had started setting in. In 2012, the FGFA was expected to cost around US$100 million per fighter and development costs of around US$6-9 billion.
India cut the numbers to 144 aircraft. Later, it was also revealed that India could contribute only 15% of the research and development (R&D) work but was a 50% partner for contributing the funds.
Meanwhile, Russia also cut back on its own purchases. By 2016, Indian interest in the project began to fade, and in September 2016, the two nations announced a detailed work-share agreement for joint production and later listed "milestones." But then R&D costs went further, and Russia demanded US$7 billion from India to progress the project.
The 35-ton max takeoff weight aircraft was to have six internal and six external hard points. There were long delays, rising costs, developmental uncertainty, and struggles to deal with various Russian companies in the program. India was also unhappy with the aircraft's stealth, radar, and super-cruise capability.
India withdrew from the program in 2018, but Russia kept hoping the project could be resumed later. In July 2019, Russia offered India to resume participating in its Su-57 program.
In October 2019, the IAF chief RKS Bhadauria stated that the country would not be importing stealth fighters like the Su-57 and instead focus on indigenous efforts such as the HAL AMCA.
The Russians then offered to upgrade the Su-35 with stealth technology (similar to the F-15 Silent Eagle) as a more affordable alternative to the FGFA.
Sukhoi Su-57 Still Only in Small Numbers
The Sukhoi Su-57 'Felon' is a twin-engine stealth multirole fighter aircraft. It is the product of the PAK FA program initiated in 1999. Sukhoi's internal designation was T-50. It was Russia's first stealth aircraft. The first prototype aircraft flew in 2010.
The program faced protracted development delays due to structural and technical issues. The aircraft had to undergo a structural redesign, with changes including increased composite material usage, reinforced airframe, elongated tail "sting," and slightly greater wingspan.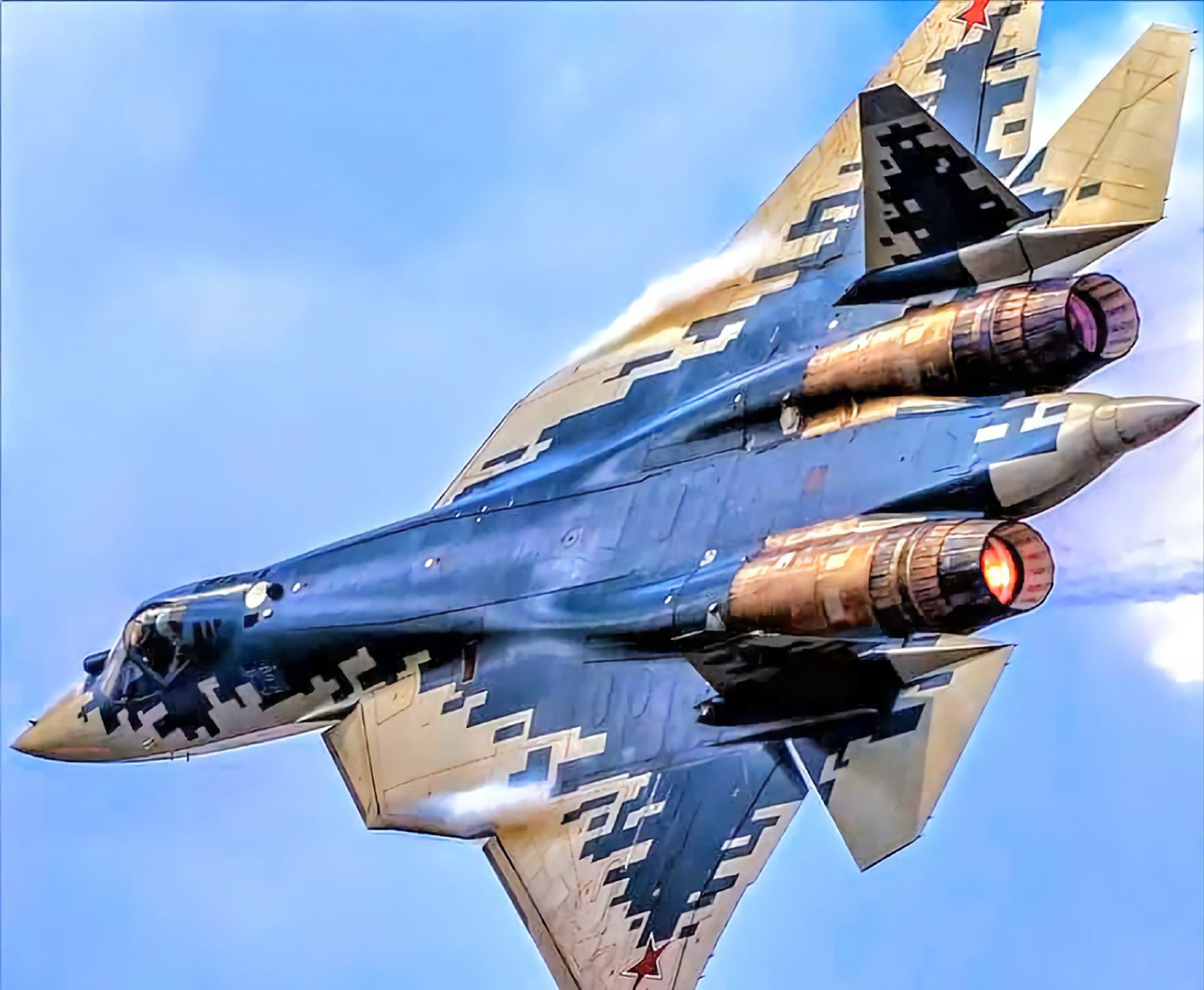 The T-50 was named Su-57 in July 2017. It finally joined Russian Aerospace Force in December 2020. Around 24 have reportedly been built to date—10 for flight testing and 14 for serial production for service.
The aircraft is meant for air superiority and surface strike, including maritime roles. The aircraft is expected to succeed the MiG-29 and Su-27 in the Russian military. Since Russia was short of funds, it sought a foreign partner again.
Initial plans were for Russia to acquire 52 aircraft by 2020 and another 150–160 by 2025 and export 250–300 Su-57. Due to the substantially higher cost of the Su-57 compared to the Su-35S and Su-30SM, the design was placed on hold for mass production until "the need arises," and it was decided to induct more upgraded fourth-generation fighters such as the Su-35S and the Su-30SM.
In May 2019, Russian President Vladimir Putin announced that 76 aircraft would be purchased and delivered to the Aerospace Forces by 2028. He had got the price hammered down by 20 percent.
The Su-57 is powered by two thrust-vectoring NPO Lyulka-Saturn izdeliye 117, or AL-41F1, augmented turbofans, with 88.3 kN dry thrust and 142.2 kN with afterburner. The IAF had expressed concerns over the reliability and performance of the AL-41F1 for the FGFA.
In early 2023, Russian company UEC Saturn said they were planning a "sixth-generation" engine design for the Su-57. The Su-57 would carry the latest Russian air-to-air and air-to-surface weapons, including the new hypersonic missile with characteristics similar to the Kh-47M2 Kinzhal ALBM.
A 'swarm' teaming experiment had been conducted with a group of Su-35s, with the Su-57 acting as a command and control aircraft. The aircraft has also been tested for operations with the Okhotnik UCAV in teaming mode. Work is underway to make an aircraft carrier variant.
Three aircraft were deployed in Syria, and a Su-57 reportedly fired a Kh-59MK2 cruise missile in combat. Su-57 fighters have allegedly been used in Ukraine, striking targets with long-range missiles in SEAD role, keeping the aircraft outside Ukrainian air defenses. Russia also claims to have used them in an air-to-air role and shot down a Ukrainian Su-27 with a long-range R-37 missile. The first fully operational Su-57 regiment of 24 aircraft is expected to be equipped by 2025.
The war in Ukraine has meant international sanctions and may slow further development. Russia can no longer import semiconductors and high-tech machining equipment from the European Union. Potential export sales could also stall because Russia cannot trade using US dollars.
Meanwhile, Russia is reported to have made the first flight of an upgraded Su-57 aircraft in October 2022. Russia continues to consider India as a potential customer.
After Turkey went out of the F-35 program on procurement of the S-400 missile system, Russia offered the Su-57, but Turkey wants to develop its own fifth-generation aircraft, a TF-X fighter. Algeria has reportedly signed for 14 aircraft as part of the large military deal that also includes the purchase of Su-34 and Su-35 fighters.
First aircraft deliveries are expected around 2028. Vietnam announced its intention to buy Su-57 aircraft to replace their Su-27s but later was critical of the aircraft's workmanship.
Russia has offered Su-57E fighters to the United Arab Emirates. However, the UAE has refrained from signing a contract with Russia to avoid CAATSA sanctions from the United States. Iraq could be another contender.
Sukhoi Su-75 Checkmate
The Sukhoi Su-75 "Checkmate" is a single-engine light tactical stealth fighter aircraft under development by Sukhoi with planned service entry around 2027. The lightweight fighter has evolved from the experience and technologies of the Su-57.
A static mock-up was unveiled at the 2021 MAKS air show. Four prototypes are being built. The maiden flight earlier scheduled for 2023 has slipped to 2024. The aircraft is meant to compete with the Lockheed Martin F-35 Lightning II and Shenyang FC-31.
Forecast production numbers are 300 planes over 15 years. Aircraft are targeted to cost $25–30 million each. The development could be delayed due to international sanctions and import restrictions on some items.
The funding from the United Arab Emirates supporting the program has dried up due to sanctions. Also, UAE has been seeking to acquire F-35s instead. Similarly, potential exports will be affected since Russia cannot trade using US dollars.
The Su-75 has a diverterless supersonic inlet (DSI), a v-tail, and internal weapons bays; all features to reduce radar signature. The wing area appears large. It will be powered by the Saturn izdeliye 30 engine, the same as for Su-57M.
The cockpit layout is identical to the Su-57 with a glass cockpit. Aircraft will have a low-cost AESA radar. It will carry around 7 tons of armaments. There will be a single-seat, two-seat, and an unmanned variant.
Russians are looking at Argentina, India, Vietnam, and later some African countries as prospective customers.
India's AMCA
The HAL AMCA is planned as a single-seat, fifth-generation stealth, multi-role combat aircraft for the IAF and the Indian Navy, including some sixth-generation technologies.
It is being designed by Aeronautical Development Agency (ADA). A public-private joint venture between DRDO, HAL, and a major private player is expected to produce it. The development cost is around ₹15,000 crore ($2 billion).
DRDO has completed the design of AMCA and is waiting for the "Critical Design Review." Thereafter the Cabinet Committee on Security (CCS) approval is required. DRDO expects that these two activities will take place in 2023. In such a case, DRDO feels the first flight should be possible by 2027 and squadron induction by 2035.
As per HAL, the prototype aircraft is likely to be ready by 2026 & its production could start by 2030. DRDO and HAL have, in the past, been known for overstating capabilities and timelines. Most analysts feel that the timelines are very tight and over-ambitious. In November 2022, IAF Chief Chaudhari advised "prudence."
Some analysts have questioned the project's feasibility based on India's current abilities. Others feel that for a long AMCA would, at best, be a 4.5-generation aircraft. At a maximum takeoff weight of 25,000 kg, it will be desirably smaller than the Su-57.
AMCA is now being developed in two phases. AMCA Mk-1 would be powered by the American GE-414 engine (98 kN) thrust instead of the required 110 kN thrust for super-cruise. Without thrust vectoring, it can't have super-maneuverability either.
On July 15, 2023, India and France agreed to collaborate to develop a combat aircraft engine that would power AMCA Mark-2 as part of the Horizon 2047 document for the India-France strategic partnership. At best, The roadmap will be known by the end of 2023.
It will be India's first attempt at stealth. AMCA will initially have partial stealth and lack some other critical fifth-generation features. India still lacks capabilities on some critical sensors and their fusion for full 360-degree bubble situational awareness.
Sukhoi Su-35S
The Sukhoi Su-35 is basically an improved Su-27 and was initially called the Su-27M. It incorporated canards and a multi-function radar giving it higher maneuverability and multirole capabilities. The production version was designated Su-35S.
The Su-35S maiden-flight flight was in May 2011. In November 2015, China became the Su-35's first export customer when it bought 24 aircraft for $2 billion.
The Su-35S attained full operational capability (FOC) in late 2018. China did not buy more aircraft as it found limited value addition over the Chinese J-16, which they claim has better radar, avionics, and other equipment. The aircraft has seen combat in Syria and, more recently, in Ukraine. Around seven air-to-air victories have been reported claimed in Ukraine.
The United Arab Emirates, India, Algeria, Turkey, and Iran, among a few others, remain potential customers. Some of these technologies have already been imbibed on the IAF's Su-30MI.
Effectively the aircraft was an interim platform till Su-57 was inducted. Interestingly the aircraft will be a competitor in case IAF's 114 MRFA Request for Proposal (RFP) finally goes out.
Complex Way Ahead – But Get Going India
IAF is tasked to defend the nation. If India has to face up to many fifth-generation aircraft already flying across the northern border, it cannot wait so long.
By AMCA timelines of 2035-38, sixth-generation aircraft will already be flying. China would have inducted nearly 500 J-20s, if not more. Even Pakistan may try and get a few J-20s from China by then.
Russia has been under sanctions. India's oil imports have taken all the Rupees that Russia could absorb and is unwilling to take any more. Some military supplies from Russia, including S-400, are held up due to payment issues.
India already has a huge Russian aircraft basket with nearly 65% of the IAF. India needs to diversify. Russian aircraft are cheap initially, but the life cycle costs are much higher in the long term. Russian fleet serviceability is invariably lower because of complex spare supply procedures and timelines.
India has already been in the FGFA program for some time and is well aware of the technology and work share levels, which are not at all favorable. The Su-57 program has moved very slowly for various technology issues.
With limited flying, the teething problems may take longer to be seen. The sanctions on semiconductor supply would impact Russian avionics and weapons. For all these reasons, the Su-57 option may not be good.
The Su-75, though smaller, is still some distance away. Its first flight timelines may be close to AMCA. But Russia does have the advantage of its own engine and stealth technologies, and the aircraft would be ahead of AMCA.
The aircraft would not be as cheap as predicted. Joining such a program would sound like a death knell for AMCA. Investing the same amount in AMCA would give better returns and improve indigenous capabilities.
Buying a few Su-35S is also a bad idea because value addition would be low, and another fleet would have been created.
Su-35S is 4th-plus generation aircraft. The already-acquired Rafale would be a better bet. The F-35 is not on offer. With India having an S-400, such an offer gets further restricted. It is not cheap and would require a massive ecosystem for just a few planes.
India is stuck between the jaws of a vice. Timelines and numbers are critical for IAF. So the best option is to put all our nations' energies into the AMCA. Find a partner for critical technologies like aero-engine, stealth, and high-end avionics. Pay for it.
Meanwhile, push indigenous individual technology development. Set up a task force. Get the private sector in at an early stage. Release the program from bureaucrats and hand it over to high salaried technocrat program manager through a special purpose vehicle. Monitor the program at the highest levels.
There is no other way to become a great power.
Air Marshal Anil Chopra (Retired) is an Indian Air Force veteran fighter test pilot and is currently the Director-General of the Center for Air Power Studies in New Delhi. He has been decorated with gallantry and distinguished service medals while serving in the IAF for 40 years. He tweets @Chopsyturvey