The navies of China and Pakistan are holding their largest-ever joint exercises known as 'Sea Guardian-3' over the weekend. This is another effort to cement ties between the two nations despite Chinese loans swamping Pakistan by an additional $21B than actually reported.
The Pakistan Navy stated that the Sea Guardian-3 combined maritime exercise involving naval vessels, submarines, and submarine rescue ships began with an opening ceremony at the Karachi Naval Dockyard on November 11.
A Chinese flotilla consisting of fighter jets, naval vessels, helicopters, a submarine, a submarine rescue ship, and a Marine Corps detachment arrived in Karachi to participate in the drills. These drills are being conducted in the northern Arabian Sea and are reportedly aimed at practicing bilateral combat training and requisite military operations for jointly safeguarding strategic sea lanes.
The drills will occur at sea and in the air under the common theme of jointly responding to maritime threats, Chinese state media Global Times reported. It is the third and the largest iteration of Sea Guardian drills.
The drills will organize several training capsules, including formation maneuvering, helicopter cross-deck landing, joint search and rescue, VBSS (visit, board, search, and seizure), and anti-submarine warfare. In addition, the drills will also witness professional exchanges and visits.
🇨🇳🤝🇵🇰China, #Pakistan hold largest-ever joint naval exercise.
The nine-day Sea Guardian-3 exercise is in the waters and airspace of the northern Arabian Sea.
What are the main items?
Training courses including formation maneuvering, VBSS (visit, board, search and seizure),… pic.twitter.com/qC2YZ3uKxq

— Shen Shiwei 沈诗伟 (@shen_shiwei) November 12, 2023
These drills aim to improve bilateral cooperation and interoperability between the two fleets and exchange professional expertise on current traditional and non-traditional challenges in the Indian Ocean region. According to the partners, the exercise is a "reflection of strong bilateral military cooperation" between the two navies and will "foster greater bilateral cooperation."
The 'Sea Guardian-3' drills come at an opportune moment, with military ties between the two countries flourishing. Pakistan's JF-17 and J-10C fighters and the PLA Air Force's J-16 fighter jet flew together over northwest China in September for Shaheen-X to validate interoperability in the face of "realistic contemporary air combat scenarios."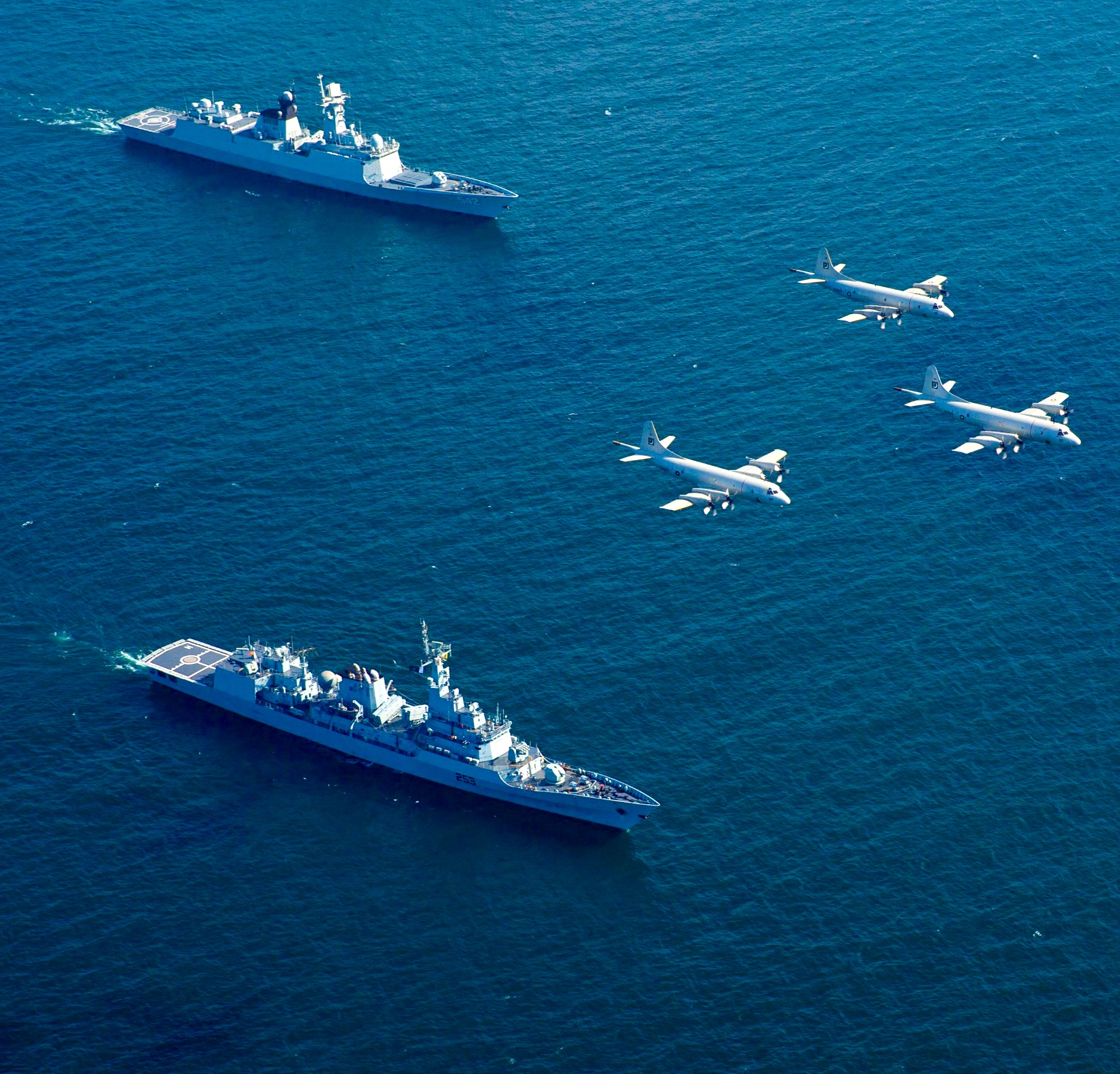 More recently, the two sides pledged to bolster their relationship at the recently held Belt and Road Forum in Beijing. In a meeting with Pakistani Prime Minister Anwaarul Haq Kakar, Chinese President Xi Jinping pledged to "promote regional unity and cooperation and safeguard the legitimate interests of developing countries."
China's expanding presence in the Indian Ocean Region (IOR) and deepening collusion with Pakistan has been flagged as one of India's top security concerns since the IOR has traditionally been viewed as New Delhi's sphere of influence. Media reports from late October suggested that the Indian Navy was watching Chinese vessel movements in the run-up to the Sea Guardian-3 military drills.
India's Eye on Dragon 🐉

Indian Navy is easily detecting and Keeping Eye on #Chinese Submarines & Warship at Sunda Strait even before entering into Indian Ocean Region. We are also locating their Ships going to Pakistan for Naval drill with help of P8 & MQ-9B : Navy officer 🇮🇳🇨🇳… pic.twitter.com/OzD1S0Jp5Y

— Vivek Singh (@VivekSi85847001) October 27, 2023
The growing military cooperation between China and Pakistan in the IOR has been a lingering concern for India, with military experts warning that Chinese naval installations and ships could eavesdrop on Indian naval assets in the Arabian Sea and the Bay of Bengal and eventually pose a threat to India's Exclusive Economic Zone (EEZ).
The economic, military, and diplomatic cooperation between China and Pakistan has seen a massive uptick in recent years. This became evident with a recent study undertaken by an independent agency, which suggested that China has lent more money to Pakistan than was initially anticipated.
A Lot More Chinese Money For Pakistan
A report released last week shows that the cash-strapped Pakistan has the most extensive China-funded energy portfolio globally, with two decades of Chinese lending amounting to almost US$21 billion, more than previously believed.
Pakistan's total public debt exposure to China from 2000 to 2021 was estimated by AidData, a research institute at William and Mary University in the United States, to be US$67.2 billion. Based on Pakistan's voluntary declarations, the World Bank's International Debt Statistics for the same time show US$46 billion, less than the AidData estimates.
The Global Chinese Development Finance report was released when Beijing's lending practices were under increased scrutiny, especially for infrastructure projects under the Belt and Road Initiative (BRI) in countries grappling with economic woes.
With 80% of its lending going to countries in financial crisis, the researchers have discovered that Beijing is navigating a role as the world's most prominent official debt collector. Pakistan has become a prime example of this as it pursues the China-Pakistan Economic Corridor (CPEC). Based on the data, Pakistan is the third-largest beneficiary of Chinese loans, following Venezuela and Russia.
Pakistan, however, has been packed to the brim financially. To prevent a debt default, Pakistan—dealing with inflation and a political crisis at home—was granted a US$3 billion standby agreement by the International Monetary Fund in 2023. It was subsequently also given monetary help by China shortly after the IMF funding.
China reportedly lent US$28.4 billion to Pakistan, a significant amount of which went into the energy sector. According to experts, Pakistan requested Chinese assistance in the energy sector and has received the most outstanding amount of Chinese energy financing of any nation.
The paper's co-author, Ammar A. Malik, stated that China's energy sector loan to Pakistan directly reacted to the Pakistan Democratic Movement government's emphasis on resolving the nation's severe power shortages.
Over the years, the BRI has saddled many nations with vast external debt. As Chinese loan money keeps flowing into a debt-ridden Pakistan, there are concerns that Beijing will eventually gain control over the Gwadar Port in the Arabian Sea, much to the detriment of India. These concerns became more exaggerated after China gained similar access to the Hambantota port in Sri Lanka after the latter defaulted on loans.
"Saddled with predatory Chinese loans, Sri Lanka was compelled to grant a 99-year lease and 70% stake in its deep-water port to China," General Joseph Dunford warned in 2019 that China's predatory tactics can have severe implications for Pakistan. Dunford is a retired US officer and the former US Joint Chiefs of Staff Chairman.
China is building the strategic Gwadar Port in Balochistan province on the Arabian Sea under the multi-billion China-Pakistan Economic Corridor (CPEC). It is considered to be a link between Beijing's ambitious One Belt, One Road (OBOR) and Maritime Silk Road projects.
Military experts have long warned that China securing access to the port and establishing a naval base there would not only give it access to this region of the IOR but also pose a direct threat to India's security.
Although the deepening military cooperation between Pakistan and China and their joint drills in the Arabian Sea is deeply unsettling for India, it is the abysmal volumes of Chinese loans given to Pakistan that may be the real elephant in the room.
Contact the author at sakshi.tiwari9555 (at) gmail.com