Just over a month after Japan and France conducted their first-ever fighter jet drills, the two nations embarked on a three-week military exercise in the Pacific, marking the first cooperation between their ground forces on French territory. 
The joint exercise kicked off in New Caledonia, a French territory in the South Pacific, where the Armed Forces of France's New Caledonia and Japan's Self-Defense Forces began joint operations. 
The exercise's name, "Brunet-Takamori 2023," draws inspiration from two prominent historical figures: Jules Brunet, the French military officer whose life story inspired the 2003 Hollywood film "The Last Samurai," and Takamori Saigo, a Japanese warlord from the Meiji Restoration era.
Jules Brunet's journey began when he was dispatched to Japan in 1867 to train soldiers to use modern weapons and tactics. He dedicated his service to the Tokugawa shogunate during the Boshin War, a conflict aimed at overthrowing the shogunate (the hereditary military dictatorship of Japan) and restoring power to the Imperial Court. 
Although Brunet found himself on the losing side of the civil war, he decided to stay in Japan, convinced that the Japanese forces he had aligned with were more conducive to French interests.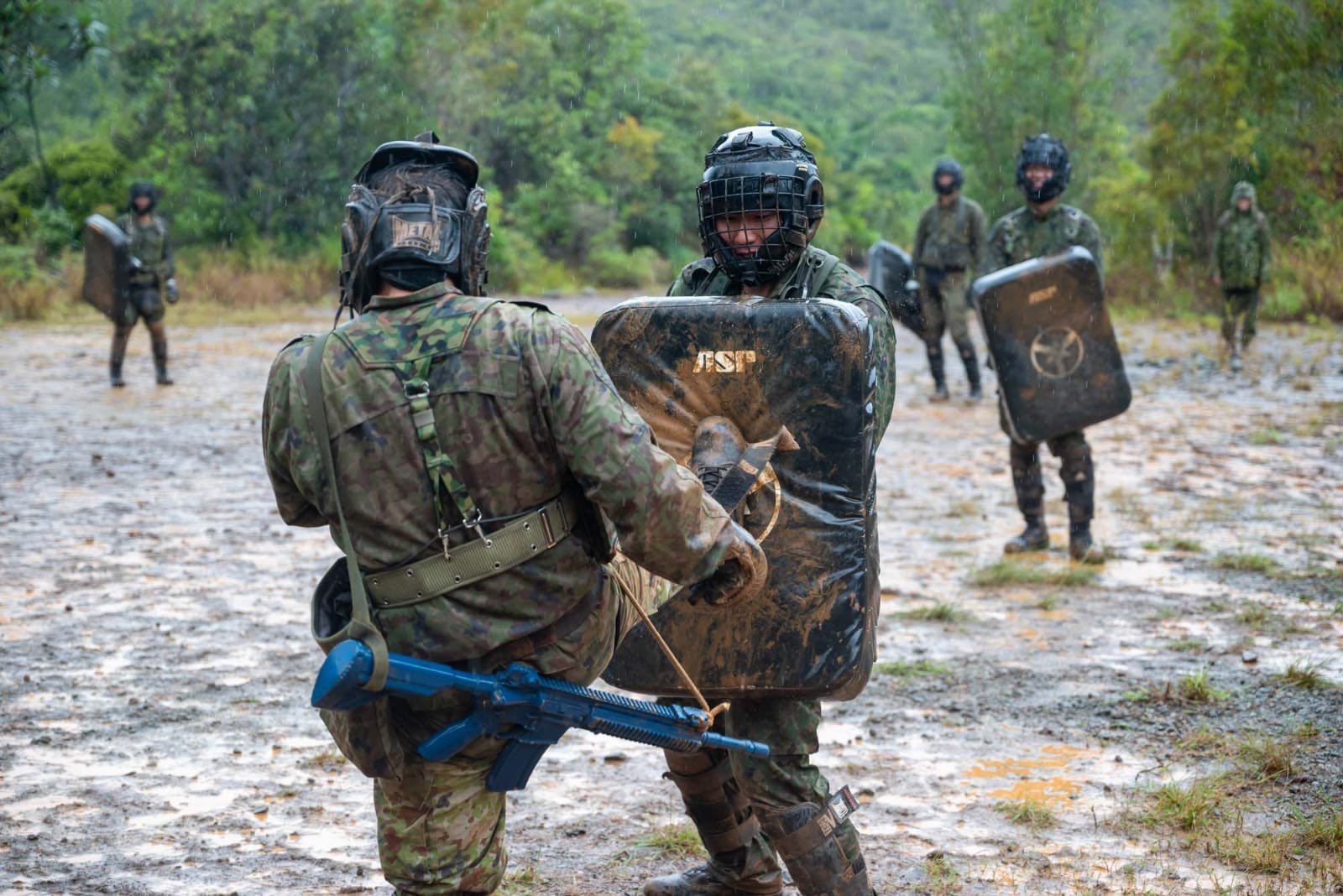 Using Brunet's name in the exercise title accentuates the enduring values of honor and duty that have traditionally bound both sides together. 
During the ongoing exercise, both parties actively engage in live-fire drills and effectively coordinate their communication efforts. As the final week of drills approaches, starting on September 25, they will transition to in-field training scenarios simulating operations in civilian areas. 
Une 1ere en Calédonie ! Des soldats des @Japan_GSDF au @RIMaP_NC des @FANC_Officiel pour 3 semaines! Brunet Takamori, le nom est déjà tout un programme! On attaque par le centre commando! Welcome to our Japanese Infantry guys! @ambafrancejp @EtatMajorFR pic.twitter.com/L2TklsQwjJ

— Chef de corps RiMaP Nouvelle-Calédonie (@RIMaP_NC) September 11, 2023
Colonel Hubert Morot, commander of the New Caledonia Pacific Marine infantry regiment, shared compelling images and videos from the ongoing exercise, providing a glimpse into the collaborative tasks undertaken by the two forces. 
Describing the first week's activities, Colonel Hubert Morot emphasized that commando training unfolded amidst the backdrop of typical tropical rain, with soldiers immersing themselves in challenging conditions to toughen and strengthen their skills.  
Growing Cooperation Between France & Japan
In recent months, France has intensified its military collaboration with Japan, strongly emphasizing advancing the shared goal of fostering a free, stable, and open Indo-Pacific region. 
In July, both nations conducted their first joint fighter jet exercises, featuring French Rafales alongside Japanese F-15 and F-2 fighter jets in a collaborative effort. 
In August, the two nations expanded their collaboration with a bilateral maritime exercise named Oguri-Verny, conducted in New Caledonia. 
This exercise saw France's new offshore patrol vessel, Auguste Benebig, joining forces with Japan's landing ship, Shimokita, for joint drills, reflecting their commitment to enhancing cooperation across different branches of their armed forces.
These joint military exercises occur when France and other NATO member countries have been strengthening their defense cooperation with Tokyo. 
The ongoing military exercise involving the ground forces of Japan and France is taking place in French New Caledonia. 
Despite its considerable distance of nearly 17,000 kilometers from mainland France, this French territory plays a crucial role in France's overarching Indo-Pacific strategy, particularly in light of the increasing presence of China in the region. 
France's Indo-Pacific strategy, unveiled in 2021, underlined the significant presence of over 1.6 million French citizens residing in French territories within the Indo-Pacific region.
Additionally, it highlighted that three-quarters of France's expansive, exclusive economic zone, the world's second-largest, is situated in this area. 
This strategy aims to position France as a fully engaged Indo-Pacific nation, committed to being a stabilizing force that advocates for the principles of freedom and the rule of law in the region.
The trans-Atlantic alliance is becoming increasingly watchful of Beijing's military expansion and provocative actions in various regions, including the East and South China Seas. 
The deepening cooperation with NATO members is also of paramount importance to Tokyo. While recognizing the significance of Taiwan's security for its interests, Japan has expressed mounting apprehension regarding China's actions in the region. 
Furthermore, the country has consistently reaffirmed its commitment to peacefully resolving the cross-strait issue. Nevertheless, the Brunet-Takamori 2023 exercise enhances coordination and cooperation among these like-minded partner nations.