India-Pakistan rivalry is playing out in the renewed fighting between Armenia and Azerbaijan over Nagorno-Karabakh. Reports have surfaced about Azerbaijan fielding Pakistan-made KRL-122 Ghazab 122 mm multiple rocket launcher system (MRLS). India, on the other hand, has supplied the Pinaka Multiple Barrel Rocket Launcher (MBRL) to Armenia.
Videos have surfaced of KRL-122 MLRS in action. Developed by Kahuta Research Laboratories from Pakistan, the rocket launcher is very similar to the North Korean BM-11. The KRL 122 was originally based on an Isuzu truck, but later models used the Reo M35 truck.
In addition to the original Soviet rockets, the system can launch the "Yarmuk" rocket developed by Pakistan Ordnance Factories. The maximum range of KRL 122 is over 40 km after upgradation.
The latest round of fighting in the protracted ethnic and territorial conflict between the two South Caucasian countries erupted on September 1. At the heart of the conflict is the region of Nagorno-Karabakh. The territory is internationally recognized as part of Azerbaijan, but a large swathe of its land is under Armenian administration and the casus belli for one of the longest-running conflicts in the world.
Nagorno-Karabakh has a majority of the Armenian population and has declared independence.
Pakistani made KRL-122 Ghazab 122mm MLRS supplied to Azerbaijan can be seen in action during ongoing border conflict between Azerbaijan and Armenia.
On 1st sep, it was reported that firing on Nagorno-Karabakh erupted in which 4 Armenian soldiers died and 3 Azerbaijani… pic.twitter.com/vSf2OAx20I

— Conflict Watch PSF (@AmRaadPSF) September 5, 2023
The two countries fought a war over the territory in the late 1980s and early 1990s. The conflict escalated in 2020 when six weeks of fighting left thousands of people dead. A ceasefire was enforced by Russian peacekeepers. But with Russia being busy in Ukraine, military action has started again.
Azerbaijan is calling it an anti-terror offensive and has been demanding "complete withdrawal" of Armenian forces from the Nagorno-Karabakh region for a lasting peace. "The only way to achieve peace and stability in the region is the unconditional and complete withdrawal of the Armenian armed forces from the Karabakh region of Azerbaijan and the dissolution of the so-called (Armenian separatist) regime," Baku's defense ministry said in a statement.
Armenian Prime Minister Nikol Pashinyan gave an interview to the Italian newspaper La Repubblica published on September 3, accusing Russia of failing to come to its aid in the face of Azerbaijan's aggression. Moscow has a defense pact with Armenia and also has a military base in the country.
"Today we see that Russia itself needs weapons, arms, and ammunition (for the war in Ukraine), and in this situation, it is understandable that even if it wishes so, the Russian Federation cannot meet Armenia's security needs," Pashinyan said. "This example should demonstrate to us that dependence on just one partner in security matters is a strategic mistake."
The reverberations of conflict between the two Caucasian neighbors are being felt in South Asia as well, as Pakistan is backing Azerbaijan and India has been supporting Armenia with military hardware.
New Delhi has stepped up to fill the void left by Russia. It has signed contracts with Armenia to supply weapons worth Rs. 2000 crore ($250M), including ammunition, missiles, and rockets. The war-torn country has also shown interest in the Indian Akash Surface-to-air-missiles.
Armenia has opted for Pinaka MBRLs, considered at par with the American HIMARs, for its shoot and scoot capability. The mobility is an advantage as adversary Azerbaijan has been deploying drones, including suicide drones.
For an MBRLS to survive in a drone-saturated battlefield, it must have the ability to shoot and then disappear quickly. The Pinaka Mk-1 has precisely that ability. Shoot and Scoot capability enables the launcher to escape the counter-battery fire. Pinaka support vehicles have matching mobility and logistics commonalities.
The Pinaka MBRLS export contract with Armenia was the export contract of the first genuinely indigenous system by the Indian Defense Research and Development Organisation (DRDO) with near zero import content.
The Indian Army has inducted four regiments of Pinaka MBRLs and will receive six more over the next few years. In August 2020, the Indian government signed a Rs 25.8 billion (US $353.5 million) contract with Tata Power Company, Larsen & Toubro (L&T), and Bharat Earth Movers for supplying six regiments of Pinaka Mk I MBRL systems to the Indian Army and are expected to be delivered by 2024.
Armenia will also receive ammunition and anti-tank rockets from India. India has exported weapons systems to Armenia before. In 2020, the country signed a deal with India for the purchase of four Swathi weapon-locating radars. The deal was significant because Russian and Polish vendors were also in the race to sell radars to Armenia.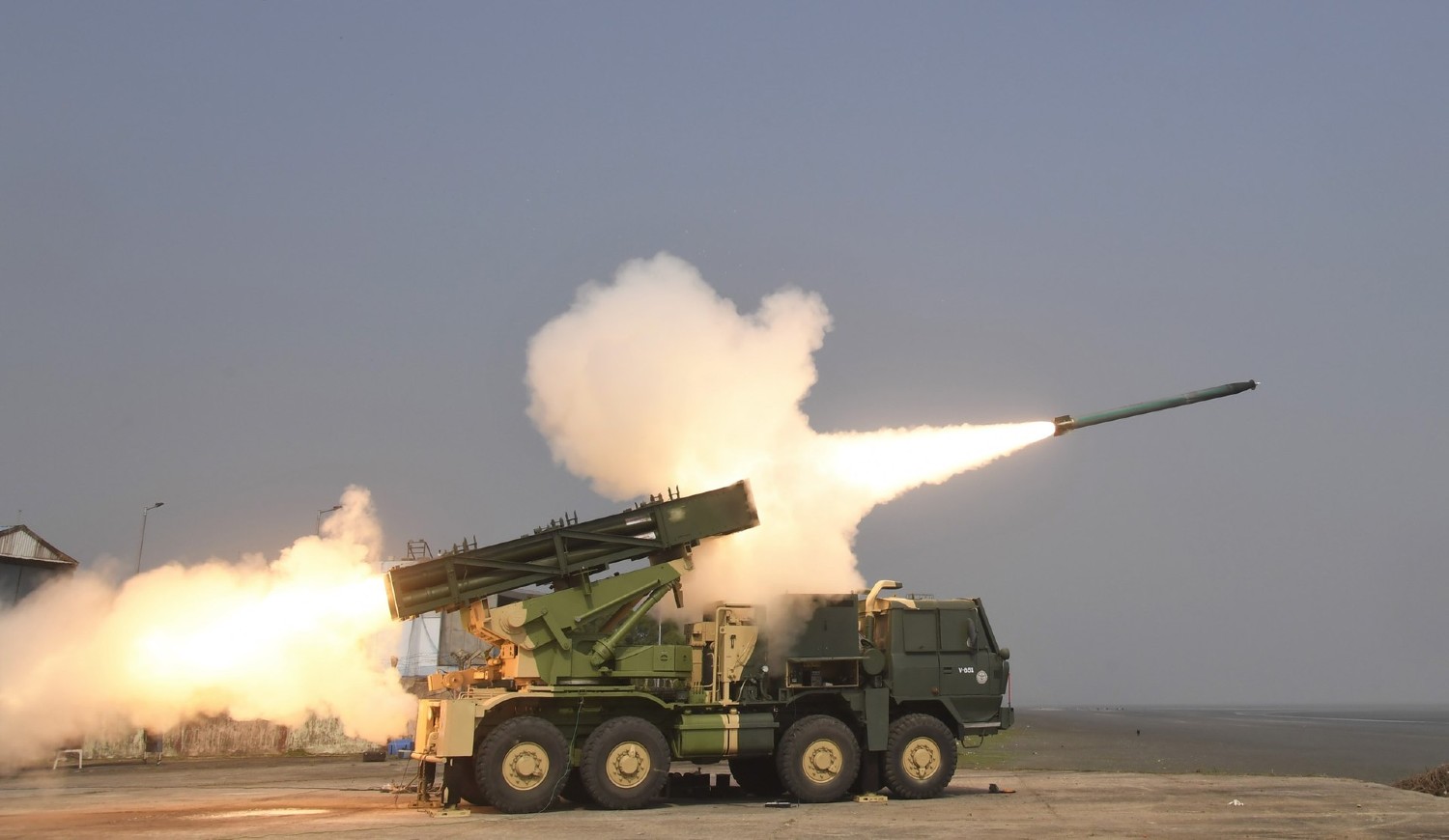 Geopolitics Of Military Hardware
Armenia is fighting Azerbaijan, which has long supported Pakistan on the issue of Kashmir and has received weapons from Islamabad. Pakistan's relations with Azerbaijan have been close over the last few decades, so much so that Islamabad still refuses to recognize Armenia.
Azerbaijan has formed a triad with Pakistan and Turkey; soon after the military offensive against Armenia, the three countries conducted a military exercise called 'Three Brothers.'
The continuous needling by the three countries on the issue of Kashmir has been a big irritant to India. The chasm between Azerbaijan and India has been expanding as India abstained from inviting Azerbaijan to the BRICS summit and also did not sign a declaration of support for Azerbaijan from non-aligned movement (NAM) countries after hard-line Shia outfits raided the Azerbaijani embassy in London on August 4, 2022.
As far as Turkey is concerned, the country has criticized the abrogation of Article 370 in the erstwhile Indian State of Jammu and Kashmir while openly supporting Pakistan in various open forums as well as at the United Nations.
Hence, New Delhi's decision to supply weapons to Armenia underlines India's "new-found" willingness to ditch its non-aligned principles and take sides in pursuit of its global interests.
Ritu Sharma has been a journalist for over a decade, writing on defense, foreign affairs, and nuclear technology.
She can be reached at ritu.sharma (at) mail.com