The German Air Force, Luftwaffe, wants the wingman drone, designed to operate alongside the Future Combat Air System (FCAS) aircraft as a manned-unmanned team (MUM-T), to be ready for deployment even before the fighter plane under the sixth generation jet project. 
In an interview with Defense News, Luftwaffe chief Lt. Gen. Ingo Gerhartz has pushed for the "remote carrier" to be ready before the overall FCAS project is operational. He also hopes to have a dedicated strike drone for Germany.
Airbus Defense and Space is the lead contractor for the remote carrier program. Airbus has a significant German corporate control as it was formed with the merger of German DaimlerChrysler Aerospace, French Aérospatiale Matra, and Spanish CASA.  
The Luftwaffe's demand comes amid reports about Germany's plan to exit the troubled FCAS and join the rival Tempest/Global Combat Air Program (GCAP), led by the UK, Italy, and Japan. 
Germany Wants FCAS Drones First
According to Defense News, referring to remote carriers, Gerhartz said, "We can have remote carriers out of that project much earlier." The report said Gerhartz's expectation reflected frustration in German military circles about an unambiguous target date for the FCAS, which is currently pegged to be ready by "2040 plus." 
Gerhartz reasoned that the speed of the progress on the FCAS's drones, in terms of final contracting, is more promising. It might lead to unmanned aircraft being developed before the primary aircraft is ready.
"Germany, with lead contractor Airbus Defence and Space, has the lead for remote carrier development within the overall program," added the Defense News report.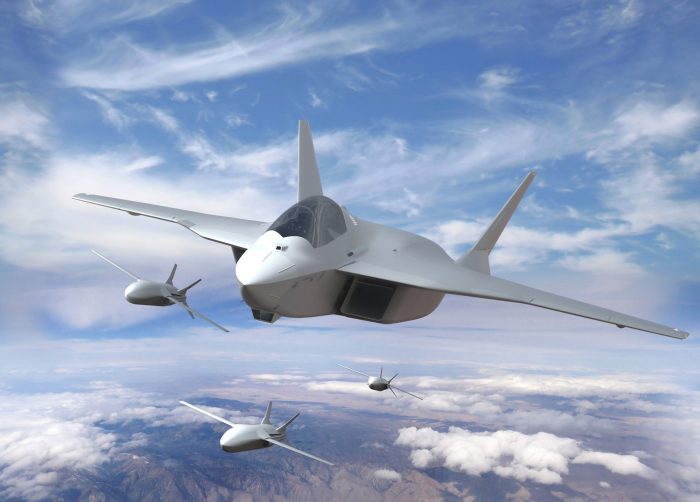 Gerhartz additionally wants to speed up the development of a dedicated strike drone for Germany, which it simply termed the universally standard "Unmanned Combat Aerial Vehicle (UCAV)" or "loyal wingman." He said they are "looking for partners to push UCAV, or loyal wingman, on our side." 
A Luftwaffe spokesman told Defense News in a separate statement that the service is looking for "synergies" with partner nations struggling with the difficulties of integrating manned and unmanned combat planes for "collaborative combat" scenarios. 
The core concept revolves around the digital integration of a new generation of stealth fighters with drones, autonomous swarms of mini-fighter jets, older combat aircraft, and even naval or ground-based assets through a unified, densely networked platform. It is unclear if the UCAV/loyal wingman envisaged by Gerhartz is the same drone meant to fly alongside the FCAS or is an entirely separate project. 
Franco-German Rift
The FCAS had suffered slow progress and inconsistent timelines following corporate and industrial friction between Airbus and France's Dassault Aviation over technology sharing and workshare arrangements. A broader and long-running diplomatic rift between Germany and France defined it. 
Europe presently has two separate sixth-generation fighter aircraft projects. The FCAS is a German-French-Italian program that aims to replace France's Dassault Rafale, Germany's Eurofighter Typhoon, and Spain's EF-18 Hornets by around the 2040s.
The other is the Tempest, a trilateral effort between the United Kingdom, Italy, and Sweden. This was later spun off in a British-Japanese collaboration to develop engine and radar prototypes.
A subsequent announcement in December 2022 unveiled the Global Combat Air Program (GCAP) between London, Rome, and Tokyo for a sixth-generation combat aircraft. Sweden had presumably dropped out of the project. 
The instances of German statements and actions against the FCAS are the result of a larger divergence between France and Germany. This encompasses various issues, from energy and air defense to diplomatic protocol.  
For instance, Paris has notably criticized Scholz's "Sky Shield" initiative, which aimed to consolidate the procurement of air and missile defense systems among European countries. 
Paris disapproved of Germany's inclination towards "off the shelf" systems from nations like the US and Israel, which undermined France's efforts in research and development in new generation air defense systems. The German Chancellery sees France's approach to its defense industry as overly protective, with little role to play for German defense majors. 
At one point, the conflict between Germany and France completely halted the program. The disputes pertained to technology sharing and leadership in essential aspects of the project. While these sticking points were eventually resolved, the more significant diplomatic divide between Berlin and Paris has inseparably coalesced with defense-industrial cooperation. 
Germany Out Of FCAS?
On November 1, The Times reported Germany is considering abandoning its flagship €100 billion future combat jet project with France and joining a rival program with Britain instead.
"As an overture to a potential deal, the German chancellor is also understood to be in talks over lifting Berlin's veto on a delivery of Eurofighter Typhoon jets to Saudi Arabia, which the UK views as an important strategic priority," the report added. 
After Saudi Arabia began eyeing France's Dassault Rafale fighter jet, it threatened a potential loss of 6,000 jobs in the UK's defense sector and a halt in the production of fighter jets for an entire decade, as recently reported by the EurAsian Times.
Observers, however, believed The Times report to be a carefully planted leak to pressure the French diplomatic and defense industrial officials and gain more leverage over the direction of the FCAS.