President Joe Biden's nominee for the post of US Ambassador to India, Eric Garcetti, recently said that he stands ready to boost America's efforts to strengthen India's capacity to secure its borders and deter aggression (from China)
"India is situated in a tough neighborhood. If confirmed, I intend to double-down on our efforts to strengthen India's capacity to secure its borders, defend its sovereignty, and deter aggression," Garcetti, who has served as mayor of Los Angeles since 2013, told the US Senate Foreign Relations Committee.
These comments come as India remains battered with militancy and cross-border terrorism in its Jammu and Kashmir region along its Western border where Indian security forces have been fighting both Pakistani state and non-state actors for several decades.
#WATCH | India is situated in a tough neighborhood.If confirmed, I intend to double-down on our efforts to strengthen India's capacity to secure its borders and deter aggression through counterterrorism coordination: Eric Garcetti on his nomination as US Envoy to India pic.twitter.com/JqfFDoE6iV

— ANI (@ANI) December 15, 2021
India and Pakistan have long been at odds over Jammu and Kashmir. Clashes along the Line of Control, the facto border between the two nations, have been reported on a regular basis, but tensions escalated in August of 2019 when New Delhi revoked the special autonomous status of the state and divided it into two territories under direct central control.
India controls the southern part of the Kashmir region, while Pakistan and China occupy its northwestern and northeastern parts, respectively.
Additionally, India has been involved in a conflict with China along the LAC in its northern sector. The dispute with the Chinese PLA has now entered its second winter with no signs of abating as the talks between the two sides remain inconclusive.
The bonhomie between China and Pakistan and the former's attempt at arming the Pakistani military with advanced weaponry poses a significant risk to India's security and presents the challenge of a two-front war.
Garcetti said the aggression should be battled through information sharing, counterterrorism coordination, joint freedom of navigation patrols and military exercises as well as through "sales of our best defense technologies in order to realize the full potential of our major defense partnership".
India's defense cooperation with the United States has grown significantly since 2016. The two partners have signed the four foundational agreements that bolstered their military cooperation. India has also procured American weapon systems to combat the threats it faces against its two traditional adversaries. More deals are in the pipeline.
Garcetti's call for selling the "best" defense technology seems to be an attempt to arm India against an aggressive China. This announcement is even more significant because US lawmakers remain divided as they staunchly debate whether India should get a waiver from sanctions under the CAATSA for buying the Russian S-400s, the delivery of which has reportedly begun.
"I believe it is one of the great success stories of the last few decades," he told legislators, "from $0 to $20 billion in procurement, information sharing, interoperability, exercises, and maritime work that we're doing."
The new ambassador is expected to enhance the defense partnerships. Here's a look at what all India could ideally like to procure from the US so as to deter China as well as Pakistan.
Using The 'Defense Sale' Route
The United States has become one of India's top arms suppliers, supplying $22 billion worth of aircraft, helicopters, and missiles (Rs 1.4 lakh crore). Deals totaling about $10 billion (Rs 73,825 crore) are being negotiated or are nearing completion.
The P-8I Poseidon long-range maritime patrol aircraft and the C-130J transport aircraft are expected to get repeat orders and dedicated support respectively, showing a high degree of customer satisfaction. There are several ground-breaking deals too, such as the $3 billion order for 30 MQ-9 Predator-B drones (Rs 22,147 crore).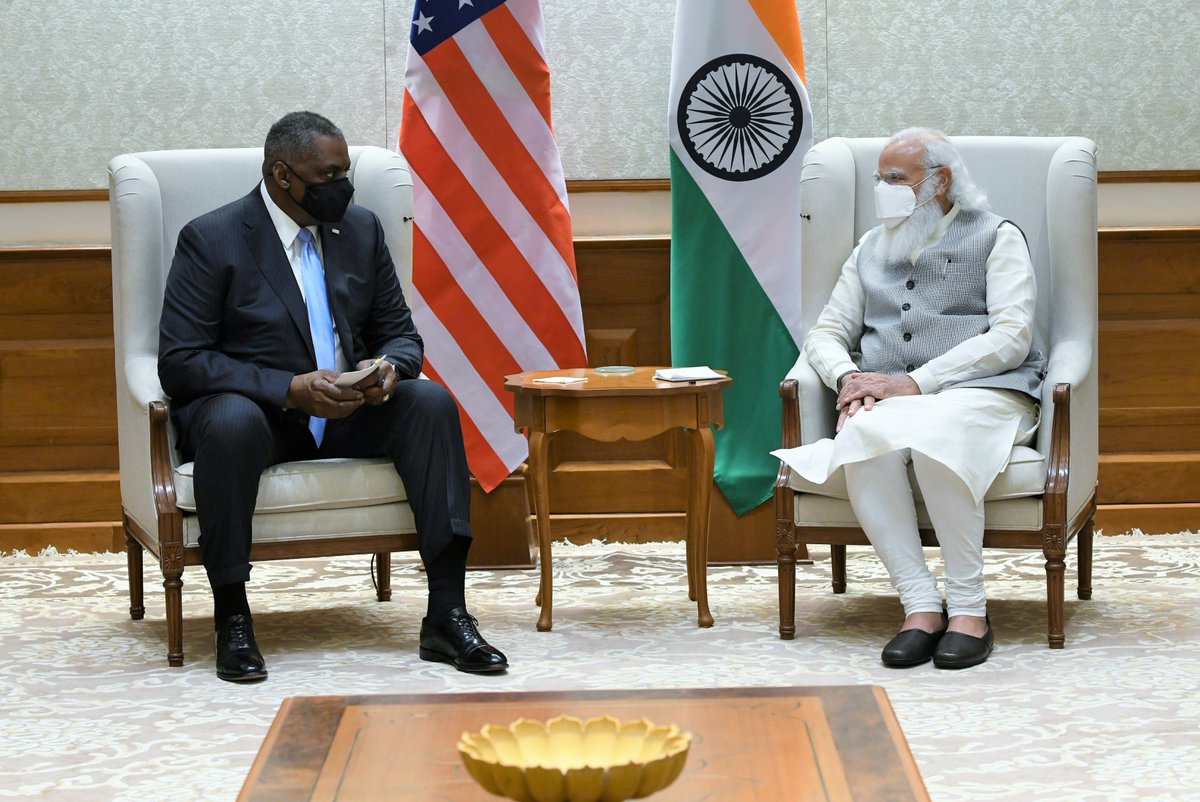 SIPRI ranked India as the world's second-largest importer of significant conventional weapons from 2016 to 2020, accounting for 9.5 percent of worldwide imports.
From 2011 to 2015, the United States was India's second-largest arms exporter, but in 2016–2020, it provided nearly half as many weapons to New Delhi.
In recent times, the purchases from the US have proved to be one of the many decisive factors behind India holding its ground in the LAC dispute. Chinook heavy-lift helicopters and Apaches that were purchased from America in 2018 were extensively deployed to the Ladakh sector.
Transport aircraft C-130J Super Hercules that was also earlier purchased from the Americans has been instrumental in carrying men and material to the LAC where deployment has only seen thickening in recent times.
5 Weapon Systems India Could Buy From US
One of the most significant purchases that India could make from the United States is a fifth-generation advanced stealth fighter, the F-35. This becomes even more pertinent as China has been aggressively showcasing its own stealthy J-20 fighter jets, which were reportedly deployed near LAC last year.
The United States has been pitching its F-35 to countries that were not initially part of the original consortium. The foreign military sale could be used to supply India with the F-35s if it were to show interest.
Earlier, the Indian Air Force (IAF) had published a Request for Information (RFI) in April 2019 to procure 114 jets at a cost of $18 billion. The contract was billed as one of the largest military procurement programs in the world.
There were rumors that the United States wanted to sell its fifth-generation F-35 fighter jets to India for both the Air Force and the Navy and it quickly became a hot issue among military analysts, as previously reported by EurAsian Times.
The fact that India has so far not shown interest in these mighty stealth fighters that have become popular among a host of European countries is the cost that India might have to incur.
With the French Rafale fleet in its arsenal and its own ambitious AMCA program in the works, it has excused itself from any potential purchase of the F-35s for now. The US has also not pitched them to India and instead offered F-21 fighters.
Another area of defense collaboration between the two strategic partners could be on equipping the Indian Navy with nuclear-powered submarines, on the lines of AUKUS, an alliance from which India was carefully excluded despite its crucial role in the Indo-Pacific strategy.
Indian Navy chiefs and veterans have raised the possibility of Indo-US collaboration on nuclear reactor propulsion technology, but their American counterparts have politely declined. This has been seen as a rebuff by India's military community.
India already has nuclear submarines, having commissioned the INS Arihant in 2016, making it the sixth country in the world to do so. The Arihant, however, is an SSBN (nuclear-powered ballistic missile submarine), a slow-moving 'bomber' and a stealthy nuclear-weapons launch platform. The Arihant is part of the Strategic Forces Command, which is also building three more SSBNs.
The navy wants SSNs or nuclear-powered attack submarines, which can conduct a variety of tactical roles, including escorting SSBNs, accompanying carrier battle groups, and chasing down enemy warships.
The United States could step in here and provide India with the requisite submarines, as it tries to assume the role of a net-security provider in the Indo-Pacific. This deal, if it was to be considered, would send a clear message to their common enemy and create meaningful deterrence in the region.
Also, with France having offered its Barracuda nuclear submarines to India, it could be a missed opportunity for the US if India was to accept, and even more so after a disgruntled France scored a point against American with the UAE Rafale deal.
One area where the defense sale contract is expected to finally take off between the US and India is on armed drones. After a period of doubts and hesitation, India is finally set to purchase the American MQ-9 Reaper drones from the United States after the proposal is cleared by the Defense Acquisition Council.
Currently, Indian armed forces operate two MQ-9B SeaGuardian drones leased from the US with 30 more to be ordered to arm its three services with 10 each.
India plans to ink a major defence deal with the #US to procure 30 armed drones worth $3 bn (approximately Rs 22,000 crore) to enhance military capabilities, sources said. As per plans, India will be acquiring 30 MQ-9 Reaper — 10 each for the three services.

Photo: IANS (File) pic.twitter.com/fiRSaTDyYm

— IANS Tweets (@ians_india) March 10, 2021
The MQ-9 Reaper, also called Predator-B, would be an important addition to India's arsenal for its intelligence, reconnaissance and surveillance (IRS) efforts — on the ground and over the seas. The Reapers are long-endurance and high-altitude armed drones that would boost India's capability by assisting its fighter fleet. It can also effectively destroy enemy targets.
India would ideally also want to procure Directed Energy Weapons (DEW) systems from the US. It is reportedly working on building this technology that China already possesses.
There could be a potential collaboration in the way that the United States could provide technology support and assistance to the Indian Defense Research and Development Organization (DRDO) which is pursuing the project, reportedly called the ADITYA project.
Two of India's state-run defense laboratories — the Centre for High Energy Systems (CHESS) and the Laser Science & Technology Centre (LASTEC) — are in the process of eventually incorporating the expanding private sector in the R&D efforts in order to make existing fledgling DEW capability operational in a short period of time. This is where collaboration with the US could become a very real possibility.
DEWs are crucial for India's security environment, particularly given the country's strained relations with China and Pakistan. It's also worth noting that China is frantically developing several types of DEWs, including laser weapons.
China is said to have tested a tactical laser system that looks very similar to the US Navy's Laser Weapon Systems (LaWS), which is an anti-surface, anti-air defensive weapon system.
It is said to be developing airborne laser pods that might be fitted on PLA aircraft such as the J-15 and J-20 and used to shoot down air-to-air missiles, blind enemy pilots within optical range, or even destroy larger fighter jets or ballistic missiles. This makes India's urgency to deploy its own DEW laser system pertinent.
Even though India might not urgently require them but China's possession of stealth bombers could eventually give rise to an intent to purchase the sophisticated technology from the United States.
India military experts have previously shown some interest in procuring a strategic bomber primarily for maritime strike missions and was even considered a potential buyer for the Russian Tu-22M medium-weight bomber for operations in the Indian Ocean region.
It also flew the Tu-142 anti-submarine warfare aircraft, which was based on the Tu-95 airframe.
The US B-21 is expected to be equipped with the same LRASM (Long Range Anti-Ship Missile) as the US Air Force's B-1B Lancer, which, when combined with the new aircraft's stealth features and powerful sensor suite, would make it a formidable bomber, posing a serious threat to enemy warships across the Indian Ocean.
.@AirForceCE Center leads the way in support of the B-21 Raider. W/ @AFGlobalStrike, #RCO, USAF Installation & Mission Support Center's Det 10 and @USArmy Corps of Engineers, construction is underway to beddown the future backbone of USAF's bomber fleet.https://t.co/tW0A5w3MWU pic.twitter.com/6pG2yEtT0t

— U.S. Air Force (@usairforce) December 5, 2021
According to a new study by the Pentagon, China's new stealthy Xian H-20 bomber is planned to carry conventional and nuclear missiles and fly at ranges of up to 850 kilometers. The ongoing dispute with China might necessitate India to also purchase a stealth bomber to create effective deterrence with China.
Even though most of these weapon systems still remain a pipedream, the new US Ambassador to India could pay attention and start necessary discussions to see if meaningful cooperation is possible on them. Upon assuming his office, Garcetti would do well to pursue this matter if Washington is really serious about reducing New Delhi's reliance on Moscow in the defense domain.