India is inching closer to inducting a new variant of the nuclear-capable Agni missile, called the Agni-P or Prime that was tested by the Defence Research and Development Organisation (DRDO) on December 18.
This was the second successful test of Agni Prime; the missile was last tested by DRDO in June this year.
On December 18, the Agni Prime was test-fired from the Dr. APJ Abdul Kalam Island off the coast of Odisha with an array of telemetry and radar stations positioned all along the Eastern Coast to monitor the missile. The government announced that all objectives of the missile were met after launch, making it a success, reported Hindustan Times.
The Agni P Missile has been successfully tested off the coast of Odisha.

The flight test has proven the reliable performance of all the advanced technologies integrated into the system.

Congratulations to Team @DRDO_India. The nation is proud of their achievements. pic.twitter.com/14CCwT6sG8

— Rajnath Singh (@rajnathsingh) December 18, 2021
"During this test, a number of new features were added to the nuclear-capable strategic missile Agni Prime. The missile test was highly accurate in achieving all of its mission goals," according to a government official.
This test assumes significance as it comes in the backdrop of high-level discussions regarding a 'Rocket Force', which was first proposed by the late Chief of Defense Staff General Bipin Rawat in September this year to highlight the need for jointness as a cornerstone of India's security architecture.
"India is planning to create a new 'rocket force' to handle a variety of missiles. This is to assure armed forces and central armed police forces' 'jointness,' which will result in dual-use infrastructure and logistics through civil-military fusion," General Bipin Rawat was reported as saying.
Coordinated efforts are being made by the Indian military to strengthen its defenses on all dimensions and all classes of missiles. A few days before the test of the Agni Prime missile, a series of three tests had taken place for Pinaka Extended Range Missile and its ancillary systems developed DRDO.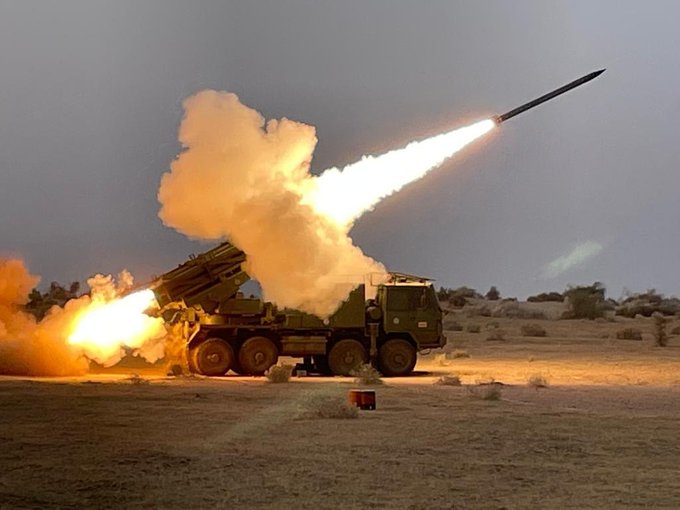 After the test was concluded successfully, the Pinaka-ERs are now ready for production. Even though Pinaka and Agni are two different classes of missiles, the subsequent test launches are indicative of India's alacrity at augmenting its missile force.
With the omnipresent threat from China that has been flexing its muscle in the region and simultaneously arming the Pakistani Army, India has been feeling the heat. With two nuclear-armed states across two borders, India's advancements in the nuclear-capable missile realm are believed to be a strategic imperative.
Agni-P (Prime) A Next-Generation Missile
The Agni-P is a next-generation improved variant of the Agni missile series. It's a two-stage solid-propellant ballistic missile with twin redundant navigation and guiding systems that can be launched from rail and road and stored for longer periods of time.
The versatility of the launch makes this missile more portable and gives it extra teeth to be launched against urgent threats and in lesser time.
It can be carried across the length and breadth of the country, depending on the circumstances. According to a DRDO official, canisterization of the rockets reduces the time it takes to fire the missile while also enhancing its storage and mobility.
New generation #nuclear capable ballistic missile Agni- P successfully test fired from Dr.A P J Abdul Kalam island off Odisha coast on Saturday.@isro @PMOIndia @DRDO_India#BallisticMissile #AgniPrimemissile #APJabdulkalam #Odisha pic.twitter.com/6TiffI5QEq

— United News of India (@uniindianews) December 18, 2021
This new ballistic missile has a range of 1,000 to 2,000 kilometers and is half the weight of Agni III with new and advanced motor and navigation systems. These systems are aimed at streamlining and enhancing the capacity to strike with better precision.
It also has the same technology as the Agni-IV and Agni-V, which have a 4000-kilometer range and a 5000-kilometer range, respectively. The new Agni-P can be used to target hostile warships also in the Indo-Pacific region.
This is the region where China's forays have become an irritant and where India aims to assume the role of the net security provider.
The deployment of such a capable and portable missile is expected to create strategic deterrence with China in the Indo-Pacific as well as in the Indian Ocean region where Chinese warships have been making appearances of late.
In a July 29 analysis, Timothy Wright and Joseph Dempsey of the International Institute for Strategic Studies said, "In comparison to both the Agni-I and II, the imagery reveals that the new missile (Agni Prime) seems to be broader in diameter, perhaps enabling for a greater payload to be accommodated."
Given that the Agni-P's range is insufficient to reach deep into China, India's key regional adversary, it will serve as a deterrent against Pakistani aggression, according to Wright, Dempsey, and other observers.
Still, it could be deployed close or along the disputed northern border with China where the militaries of the two neighbors have been locked in a standoff for more than a year.