On December 10, a USAF B-2 Spirit stealth bomber made an emergency landing due to an in-flight emergency at Whiteman Air Force Base in Missouri.
The incident occurred at Whiteman AFB in Missouri, which serves as the primary base for the fleet of only 20 B-2s currently operating. The news first appeared on the internet and was subsequently verified by the US Air Force. 
A fire broke out following the landing. However, the damage suffered by the aircraft is still unclear. A base spokesperson confirmed that Whiteman's fire department suppressed the flames. 
The 509th Bomb Wing Public Affairs office said, "A US Air Force B-2 Spirit experienced an in-flight malfunction during routine operations today and was damaged on the runway at Whiteman Air Force Base after it completed an emergency landing."
Meanwhile, Whiteman Airbase recently released a video displaying the readiness of the B-2 bomber fleet. A few weeks ago, the Air Force also published images of an unprecedented "elephant walk" of eight B-2s taxiing on the runway.
The latest incident looks to be similar to a B-2 emergency landing that took place at the same base in September 2021. The B-2 involved in that incident had its left wing down on the ground after skidding off the runway during an emergency landing.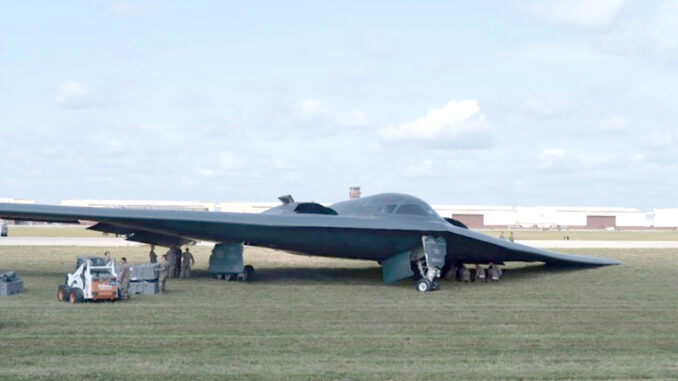 After being grounded for a year at Whiteman AFB, it was patched up and flown to Plant 42 in Palmdale, California, for significant repairs. According to an investigation report, the 2021 accident was caused by the initial gear breakdown caused by old springs. 
The 509th and 131st Bomb Wings operate the B-2 Spirit at Whiteman AFB, Missouri, 45 miles east of Kansas City. The air force currently has 20 B-2 airframes after losing one in a mishap at Andersen Air Force Base in Guam in 2008. 
With such a small fleet and just little more than half of it fully operational at any given time, severe damage to a B-2 is a significant shock for the service. The USAF has previously gone above and beyond to restore the priceless bombers when seriously damaged. 
B-2 Stealth Bomber 
The B-2 Spirit is a multi-role bomber carrying both conventional and nuclear weapons. The bomber represents a significant technological leap forward in the United States bomber modernization program. The B-2 can deliver massive firepower in a short period anywhere in the world. 
The B-2 offers penetrating flexibility and effectiveness in crewed bombers. It has the exceptional capacity to breach an adversary's most advanced defenses and threaten its most valuable and well-defended targets thanks to its low-observable, or "stealth," features. It also offers a robust, effective deterrence and fighting force.
On November 22, 1988, the first B-2 was taken out of its hangar at Air Force Plant 42 in Palmdale, California, and put on public display. The aircraft made its first flight on July 17, 1989. 
The stealth bomber has played a significant role in representing the air power of the United States and has frequently been deployed to other friendly countries. Previously, the US had dispatched four B-2 bombers from the 509th Bomb Wing of Whiteman Air Force Base in Missouri to Australia to support a Pacific Air Forces Bomber Task Force. 
The second batch of B-2s landed at Amberly on July 12, after the first two B-2 aircraft landed there on July 10. It is worth noting that the B-2 has been stationed in Pacific bases to deal with possible North Korean threats and deter China.
In addition to B-2 bomber aircraft, it has also been reported that the US intends to station six nuclear-capable B-52 bombers in northern Australia. The US Air Force believed that the ability of B-52 bombers to carry long-range attack nuclear weapons and conventional weapons would demonstrate America's lethal power projection to adversaries.
In response to these deployments, China has urged the US and its allies to give up their "outdated Cold War zero-sum mentality and narrow geopolitical mindset" and do more to promote regional peace, stability, and mutual trust between all parties.
Chinese analysts say that America's goal in sending B-2 and B-52 bombers to Australia is to establish a new bomber stronghold. Should it be necessary, US jets can depart from Australia, unite with the bombers in Guam, and then enter East Asia from various directions, gaining extra flexibility.