A US F-16 fighter jet crashed during a training mission near a US military base in South Korea, the US military said in a press release. 
An F-16 Fighting Falcon assigned to the 8th Fighter Wing crashed in an agricultural area near Osan Air Base at about 9:45 a.m. May 6, 2023. The pilot safely ejected and was transported to the nearest medical facility. 
At the time of the accident, the pilot was participating in a routine daytime training sortie. The accident is under investigation. The name of the pilot is not being released at this time.
"While we don't have any additional information yet, we are relieved the pilot safely ejected, and there were no other injuries," Col. Henry R. Jeffress, III, 8th Fighter Wing commander, said in a statement.
"The US Air Force will stand up an independent Safety Investigation Board to review all data and evidence related to today's incident and use that information to determine its cause and prescribe any corrective safety measures to ensure the safety of the F-16 fleet."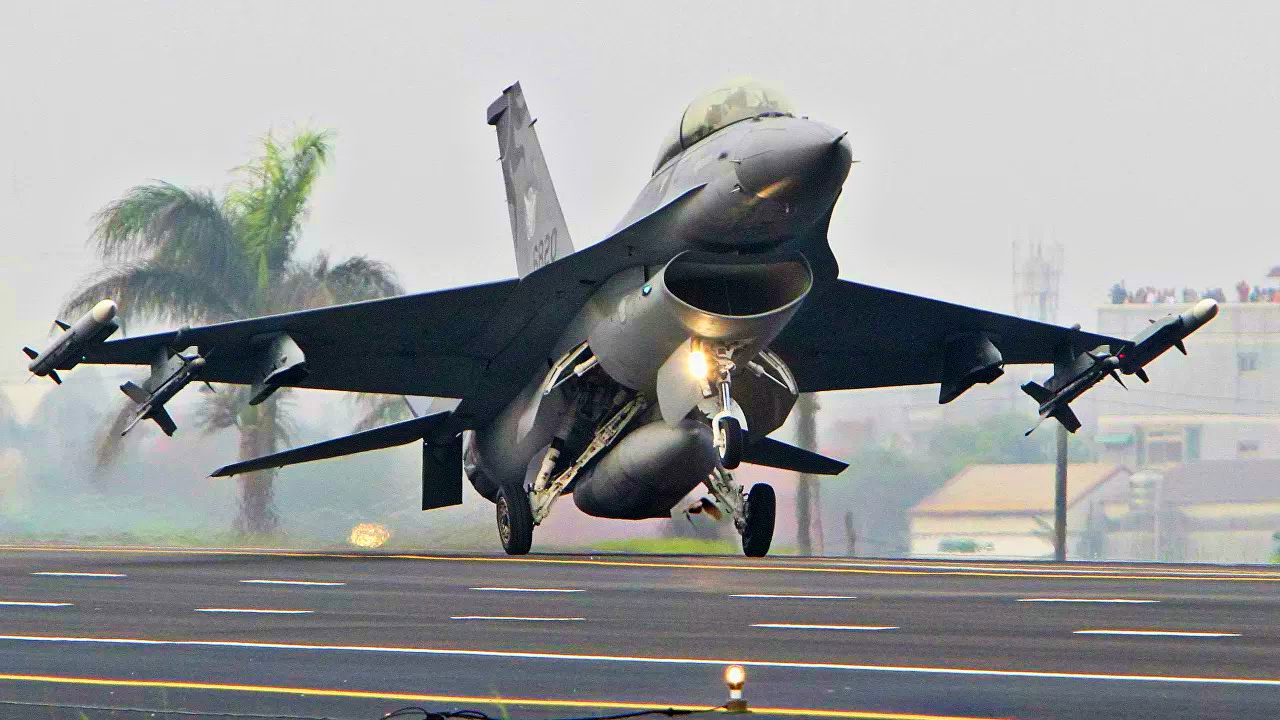 Meanwhile, South Korea and the US will begin their largest-ever drills on the occasion of the 70th anniversary of their alliance and the 75th anniversary of the South Korean military's establishment. The live fire drills are set to begin between May 25 and June 15, according to the ministry.
US Losing 'Men, Money & Machines' More Often Than Reported
The frequency of fires breaking out on US Navy ships while in port is higher than officially recorded. A government watchdog found that this lack of accurate record-keeping prevents the Navy from learning valuable lessons to avoid future incidents.
According to a recent study conducted by the Government Accountability Office, there is a pressing need for the US Navy to improve safety measures on its ships in response to a rising number of fire incidents.
The report highlights that the Navy's incomplete documentation of ship fires hinders its ability to fully comprehend the scope of the problem and take appropriate action.
The report cited data from the Naval Safety Command indicating that between May 2012 and September 2022, the US Navy has encountered over 1,100 ship-fire incidents of varying degrees of severity, ranging from minor smoke to major fires.
The study further revealed that the US Navy does not have a service-wide analysis of ship fires that occur while in port and subsequently misses out on valuable opportunities to learn from these incidents and enhance fire safety measures.
A service-wide analysis of ship fires and responses is crucial to identifying common patterns and trends and taking effective corrective actions.
The under-reporting of ship fires is attributed to two main factors. Firstly, maintenance crews are not adequately trained on how and when to report such incidents. Secondly, the Navy's lenient approach to reporting ship fires contributes to personnel's lax attitude toward documenting these events.
According to the report, creating a system to regularly gather, examine, and distribute insights gained from previous fire incidents would aid the Navy in enhancing performance and mitigating the chances of ships repeating costly mistakes.
Impact Of Fire Incidents On Overall Combat Capabilities 
While the Navy has taken steps to improve the recording of information concerning fires on ships during maintenance in its safety database, no entity is evaluating the extensive impact of such incidents on the Navy's operations and strategic resources.
The report suggests that without performing such evaluations, the Navy will lack a comprehensive understanding of the extent of the dangers associated with ship fires.
High-profile events like the Bonhomme Richard fire receive greater public scrutiny. The ship suffered billions of dollars in losses due to flames reaching 1,400 degrees Fahrenheit and burning 11 of its 14 decks.
A post-fire report disclosed that the crews lacked sufficient training to handle the fire, and a significant number of firefighting stations were in substandard conditions.
There were 15 major fires, categorized as those beyond the control of initial responders (typically the ship's crew on vessels in service), between May 2008 and July 2020.
These fires caused extensive damage, resulted in several injured, and impaired the Navy's readiness, with estimated losses exceeding US$4 billion.
The GAO uncovered a troubling finding: fires are often documented across multiple systems instead of a unified system. The lessons learned from fire safety incidents are not comprehensively shared and analyzed throughout the service.
This is particularly alarming, considering that shipboard fires are among the most significant hazards that ship crews prepare for through training.
Furthermore, the report states that fires on Navy vessels undergoing maintenance impact their deployment availability.
For instance, the USS Bonhomme Richard fire led to billion of dollars in losses and a subsequent decision to decommission a highly capable amphibious assault ship. This has necessitated adjustments to the Navy's ship availability to support combatant command requirements.
The GAO put forward three recommendations to Navy leaders, all accepted by Jay Stefany, a senior Navy acquisition official.
The recommendations include creating a procedure that enables the uniform gathering, analysis, and dissemination of lessons learned related to fire safety incidents; ensuring a singular entity within the Navy takes responsibility for using incident data to examine the comprehensive impact of fires on Navy operations; and implementing service-wide objectives and performance measures for the Navy's fire safety training programs.