Penned By Senior War Journalist, Neeraj Rajput
Several commandos of India's elite Para-SF unit, which carried out the surgical strike in Pakistan-controlled Kashmir, were killed in action on the day Pakistan's foreign minister Bilawal Bhutto was in Goa for the SCO conference. 
Pakistan-based terrorist group wants to activate the Jammu region as a hotbed of terrorism. Five Indian soldiers were killed in action in the fight against terrorists who carried out April 20 ambush on the army truck.
Hawks in Pakistan don't want stable relations with India, says India's former military commander after five soldiers, including Para-SF commandos, were killed in action.
In the fight against terrorism, the Indian Army suffered a considerable setback when five soldiers, including from the elite Para-SF (Special Forces), were killed in action (KIA) in Jammu and Kashmir. Para-SF commandos belonged to the same battalion that had carried out a surgical strike in Pakistan-Controlled Kashmir in 2016.
Pakistan-based global terror outfit Jaish-e-Mohammad (JeM's) pseudo-front, People's Anti-Fascist Force (PAFF), has taken responsibility for the attack. The terror attack from the Pakistan-based terror organization took place on the day Pakistan Foreign Minister Bilawal Bhutto Zardari was attending the SCO Conference in the state of Goa in India.
"On specific information about terrorists in the Kandi Forest in the Rajouri sector, a joint operation was launched on May 3. At about 7.30 hrs on May 5, a search team established contact with a group of terrorists entrenched in a cave. The area is thickly vegetated with rocky and cliffs", said India's Ministry of Defense (MoD).
"The terrorists triggered an explosive device in retaliation which resulted in two fatal casualties and injuries to four more soldiers, including an officer of the Indian Army," the statement added.
The total casualties rose to five after three injured soldiers succumbed in the Indian Army's Udhampur-based Command Hospital.
"As per initial reports, the group of terrorists is trapped in the area, and there is a likelihood of casualties in the terrorist group," said Lt Colonel Devender Anand, Jammu-based spokesperson of the MoD. The operation was still in progress, and additional teams from the vicinity have been directed to the encounter site Lt. Col Anand said.
Although the Indian Army didn't specify the battalion of the KIA soldiers, it has come to light that the brave hearts belonged to the 9 Para-SF battalion of the Special Forces and the Rashtriya Rifles (RR) unit.
This is the same 9 Para unit that has conducted numerous anti-insurgency and counter-terrorism operations in Jammu and Kashmir, winning laurels. The unit had carried out surgical strikes against multiple terror launch pads across the Line of Control (LoC) in Pakistan-Controlled Kashmir.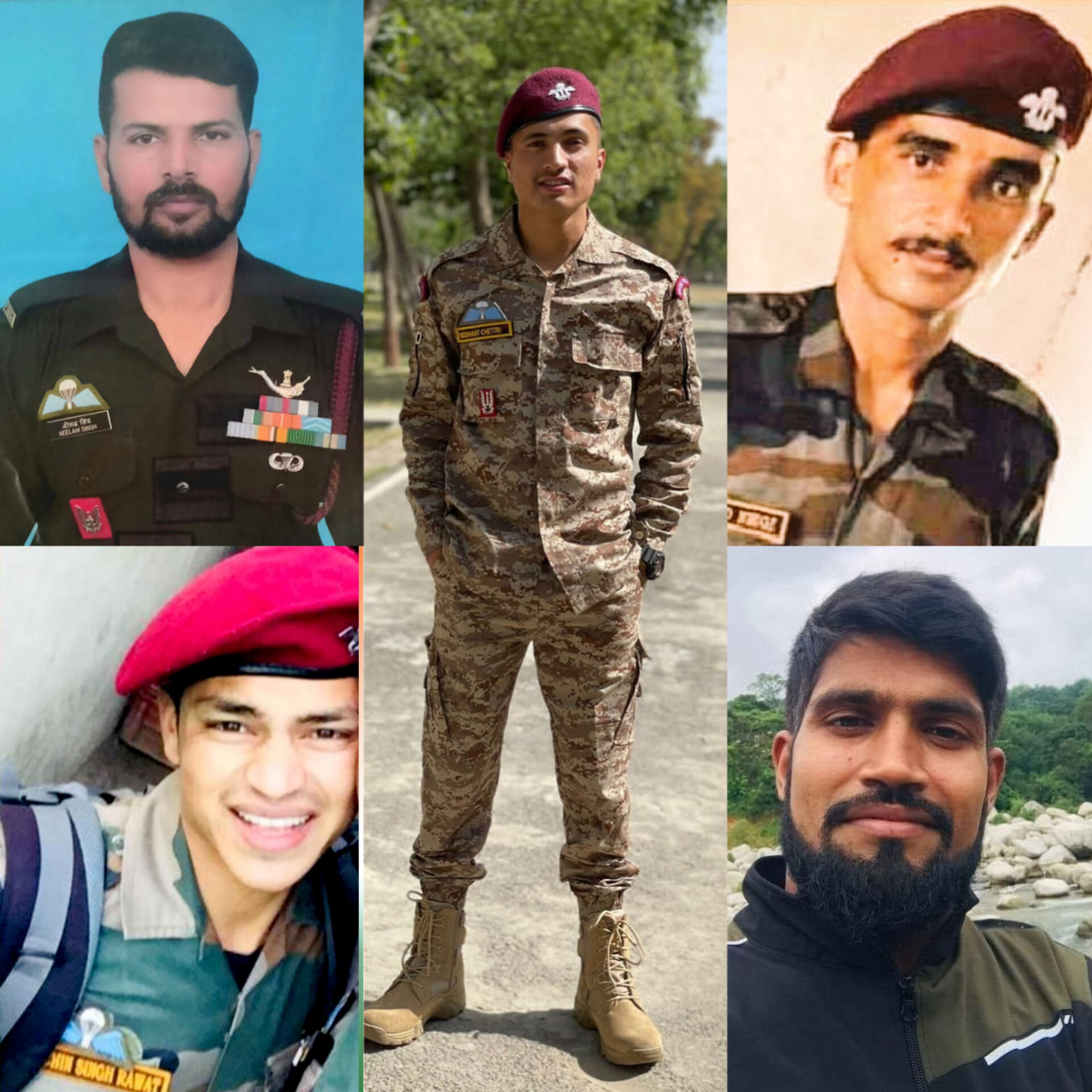 Indian Army columns (units) have been conducting relentless intelligence-based operations to flush out a group of terrorists involved in an ambush on an army truck in the Poonch area of the Jammu region on April 20.
In this terror attack, five soldiers of the Indian Army were killed, and one was seriously injured. The responsibility for this attack was also taken by PAFF, which had circulated pix and videos of the attack.
The May 5 attack responsibility has also been taken by PAFF, which in a press release on social media, says, "We threw a bait on April 20 with that ambush to draw you into jungle…jungle that we have finely prepared for a long time." It further reads, "And you did exactly what we expected you to do…Right now, even if we die, we still win, for we have given life to our cause, and the whole world will know it."
This area is South of the Pir Panjal range and is thickly vegetated with numerous caves where "people-to-people" operations are complicated. As such, this terrorist group already taking position took advantage, said India's Former Director General of Military Operations (DGMO), Lt Gen AK Bhatt (Retd), while speaking to EurAsian Times.
With much blow to terrorism in the North of Pir Panjal ranges, i.e., Kashmir Valley, the terrorist group wants to 'activate' this Jammu region (of Rajouri & Poonch) as a hotbed of terrorism, said India's former Chief of Integrated Staff (CISC), Lt Gen Satish Dua (Retd) in an exclusive conversation with EurAsian Times.
Lt Gen Dua, who was Corps Commander at Srinagar-based Chinar Corps of the Indian Army in 2016 when the surgical strike was carried out against Pakistan, cited this year's January incident in which terrorists had incessantly opened fire in a village in Rajouri district, killing four persons including a four-year-old child and injuring seven others to assert his claims.
This is where five Indian soldiers were also killed in an ambush in 2021. The perpetrators of all these terrorist attacks have remained elusive till now and show that the group of these terrorists is highly trained and have divided into 2-3 groups of 4 to 5 people.
Such terrorists are generally trained in Pakistan and cross the LoC towards India with active local support.
In 2003, the Indian Army carried out 'Operation Sarp Vinash' to flush out a large number of terrorists from Pakistan and Afghanistan who had made the jungles of Surankote and Rajouri area their major hideout.
A whole Indian Army Division and attack helicopters were deployed to destroy these hideouts. Since then, this region of Jammu, Poonch, and Rajouri has been relatively peaceful. "But hawks in Pakistan don't want Jammu and Kashmir to be a peaceful state," says Lt Gen Dua without elaborating who these hawks are – Pakistan Army or the deep state.
"You can yourself see when the April 20 army truck ambush took place in Poonch…the same date when Bilawal Bhutto announced his Indian tour for the SCO conference in Goa," concludes India's former CISC.
Kashmir expert and veteran journalist KN Pandita says, JeM invests terror in the Jammu region, leaving Kashmir development undisturbed at separatists' behest.
Pandita said – I talked to a JKLF mole. He said JeM chief Masood Azhar is hiding with the Haqqani group in Afghanistan. Some of his men have received training from Afghan Taliban commandos.
They have acquired American left arms and ammunition, and the bullet fired on the vehicle in the Poonch had steel cappings that could pierce a bulletproof car.
JeM has been approached by Kashmir leadership that India is investing in massive development in the valley; hence development should not be disturbed, and instead Jammu region can be destabilized.
Penned By: Neeraj Rajput
Please email us at etdesk (at) eurasiantimes.com
The author tweets at @neeraj_rajput