The US Army has completed a series of ground maneuvers with the first prototype of the Long Range Hypersonic Weapon (LRHW) system, dubbed 'Dark Eagle', and established its firing capability at the Joint Base Lewis McChord, near Tacoma, Washington.
Soldiers took part in a set of drills spanning over six months that culminated with a small ceremony on February 24. "We're incredibly proud of the work that the Soldiers of Bravo Battery have done these past six months," said Maj. Andrew Cotter, 5-3FA Battalion Executive Officer.
"This culminating exercise represents months of hard work and dedication by not just the battalion, but across the entire fires enterprise. The Soldiers of Bravo Battery are fielding  first-of-its-kind system and informing doctrine that will last for years to come."
According to a US Army statement, Bravo Battery finalized their New Equipment Training (NET) procedures, successfully planning, coordinating and executing a two-round hypersonic mission planning package and round transfer.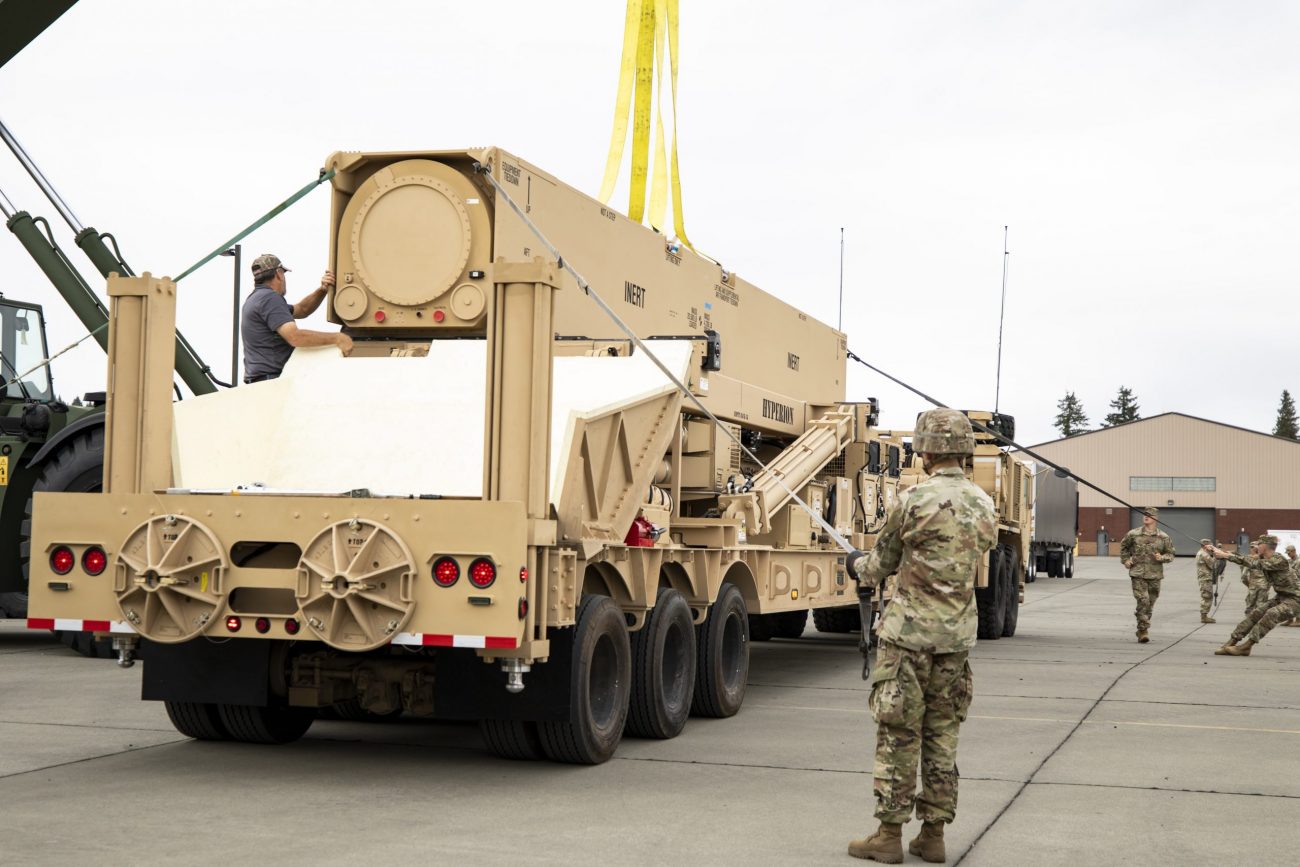 Bravo Battery's primary objectives included air transportation drills, security procedures, canister reload operations, operational emplacement of equipment, and performing fire missions.
"Early hands-on training allows us to develop the pre-requisite tasks and techniques to be successful in the future," said Capt. Austen Boroff, Bravo Battery Commander. "The Soldiers have validated critical individual training through collective tasks that will enable operations immediately post fielding."
The LRHW, a part of the Intermediate-Range Conventional Prompt Strike (IRCPS) program, is a surface-to-surface hypersonic missile with one variant for the Army and another for the Navy.
The Army variant consists of a truck-mounted launcher system. The missile, equipped with a Common-Hypersonic Glide Body (C-HGB), can travel well over 3,800 miles per hour (or more than 6000 km per hour).
A Missile That Can Defy Air Defense?
The missile can reach the top of the Earth's atmosphere so as to remain just beyond the range of air and missile defense systems until they are ready to strike, and by then it should be too late to react.
Once the missile attains significant altitude and speed, it can release the C-HGB that can glide at hypersonic speeds as it descends towards its target.
The missile component of the LRHW is reportedly being developed by Lockheed Martin and Northrop Grumman, while Dynetics, a subsidiary of Leidos, is currently under contract to produce C-HGB prototypes for the Army, Navy, and the Missile Defense Agency.
According to Dynetics, the C-HGB can travel at Mach 5 (five times faster than the speed of sound) and is supposed to be maneuverable, making it capable of evading the air defenses. The C-HGB is intended to be able to destroy targets by virtue of its velocity alone.
After decades of depending on air support, the Army finds itself in need of its own long-range precision fires (LRPF) capability to suppress the adversary's layers of high-tech defenses so that US aircraft, warships, and ground troops can pour through.
Over the years, America's competitors including China and Russia have focussed on developing long-range, precision-guided weapons to be fielded as layers of Anti Access/Area Denial (A2/AD) defenses to keep the US military from reaching the key locations during large scale conventional conflicts
These consist of surface-to-air missiles to keep out US aircraft; surface-to-surface weapons to hit airbases, aircraft carriers, and ground forces; radars, drones, and satellites to detect and target the Americans at a distance; plus supporting forces from fighter jets to submarines to mines.
In October 2017, based on demands from the combatant commanders (COCOMs) of US European Command (USEUCOM) and US Pacific Command (now renamed Indo-Pacific Command, the Army designated the LRPF system as number-one on its priority list for modernization.
The LRHW is one of the four signature programs being developed under the Army Futures Command (AFC) cross-functional team (CFT) for LRPF. The other three programs are: Extended-Range Cannon Artillery (ERCA), Precision Strike Missile (PrSM) and Strategic Long-Range Cannon (SLRC).
Reports suggest the effective range of LRHW is 1,725 miles (2,775 km). Being the longest-ranged, fastest-flying and also the most expensive LRPF program, LRHW will probably be reserved for the highest-priority targets, while shorter-range weapons may take on the vast majority of threats.
So, considering China invades Taiwan in the future, the LRHW can be fielded in Guam to target PLA troops besieging the self-governing island. It may also be deployed in the territory of US allies – Taiwan, Japan, and South Korea – to strike targets more than one thousand miles inside the Chinese territory.