The US Army is currently developing a next-generation helicopter that will eventually replace the Black Hawk choppers. While a next-gen rotorcraft could be a couple of years away, the current HH-60M chopper was seen with a new sensor in a significant system upgrade.
China Says Its New ASAT Missile Can Not Only 'Melt Down' Enemy Satellites But Also Capture Them In Orbit
On July 12, during a recent joint drill in Romania, a US Army medical evacuation helicopter was spotted with brand-new nose-mounted equipment that aids pilots in seeing through dust clouds to land safely and find injured soldiers on the ground.
As part of the drill aimed at improving interoperability, a US Army MEDEVAC helicopter and crew hosted a simulated casualty during personnel recovery training with the UK 140th Expeditionary Air Wing.
The uppermost forward-facing sensor on the HH-60 M's nose is the Degraded Visual Environment Pilotage System or DVEPS, as seen in the image below. In a black gimbal beneath the sensor is a MEDEVAC Mission Sensor, a forward-looking infrared (FLIR) sensor turret.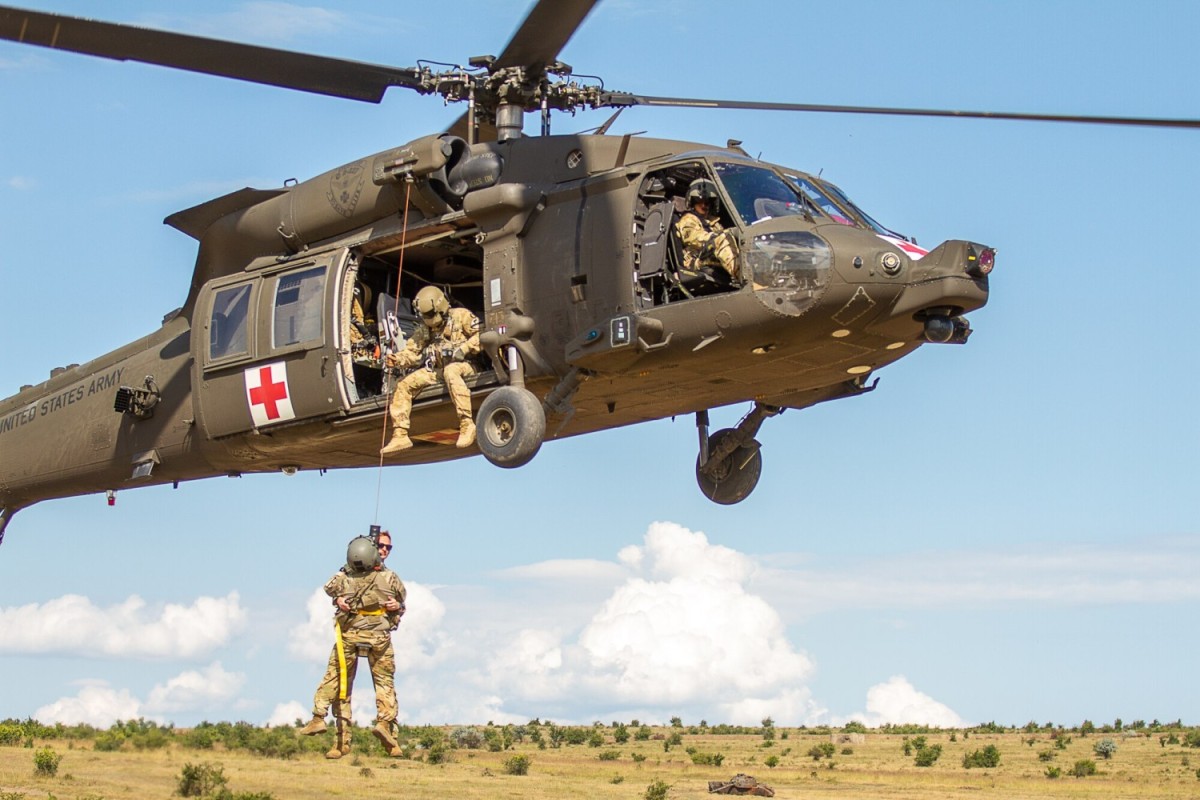 The sensors' combined goal is to aid pilots as they navigate through a degraded visual environment (DVE), which includes clouds of sand, snow, fog, and dust. DVE may be brought on by aircraft or by the environment.
The Army defines DVE as "reduced visibility of potentially varying degree, wherein situational awareness and aircraft control cannot be maintained as comprehensively as they are in normal visual meteorological conditions and can potentially be lost," according to the US Army's Combat Development Command  (DEVCOM).
Visual guidance from the outside world serves as a pilot's primary source of information during flight, especially during low-altitude maneuvers, to support situational awareness.
Anything that hinders a pilot's capacity to assess their environment visually increases the danger of an accident while an air vehicle is flying close to the ground. When taking off and landing, it is the typical operating condition for rotary wing vehicles.
Russian Spetsnaz Using 'Robotic Weapon Station' During Mopping Operations In Ukraine — Watch
Further, helicopters that transport injured soldiers fly into dangerous situations or battlefields. When recovering injured personnel or casualties, there is little choice but to wait until inclement weather has receded.
There have been several incidents of crashes recorded due to DVEs, and this is where the new sensor comes in.
Degraded Visual Environment Pilotage System
The DVEPS were installed on 15 Army HH-60Ms in 2021, and they are now forward deployed in support of contingency operations, the spokesperson said, according to an Army Aviation Spokesperson who spoke to The War Zone.
DVEPS is a situational awareness system that gives pilots a synthetic image of the world outside the aircraft through helmet-mounted displays and cockpit screens. It is outfitted with light detection and ranging or LIDAR sensor and a long-wave infrared camera linked with a topographical database.
It offers 3D pictures of the ground and surrounding region through sand and dust frequently blown up by a helicopter's rotor downwash during landing. A brownout can cause pilots to lose awareness of their height above the ground and potentially dangerous adjacent objects.
To offer pilots a multi-sensor suite to aid them in maintaining spatial awareness in DVE situations, Sierra Nevada Corp. was given a contract by the Army and US Special Operations Command, which led to the development of the DVEPS system. Several other companies have developed their DVEPS.
According to DEVCOM, DVE mitigation technologies are intended to make flying in those situations safer and turn them into a tactical advantage where US aviators may continue to operate with assurance.
Congratulations to @SierraNevCorp on their recent selection by the U.S. DoD to provide the Degraded Visual Environment System (DVES) for use on the Air Force's HH-60G Pave Hawk combat search and rescue helicopters! https://t.co/kzQncOKrMF pic.twitter.com/IXRPwXPnOV

— Curtiss-Wright (@CurtissWrightDS) June 20, 2019
The US Air Force contracted the Sierra Nevada in 2019 to install its DVE System on about 85 of its HH-60G Pave Hawk helicopters, the Air Force's central platform for search and rescue operations. It works primarily at night.
The Future Vertical Lift program of the US Army aims to replace current helicopters with advanced rotorcraft that can travel faster and further than existing platforms while flying low, hugging the ground to escape enemy air defenses.
The difficulty presented by DVEs is significantly more difficult by flying lower and faster. It could then be pondered that the US Army might integrate its future helicopters with an advanced Degraded Visual Environment Pilotage System.
HH-60M MEDEVAC Black Hawk Helicopter
The HH-60M Black Hawk helicopter is the medical evacuation (MEDEVAC) variant of the UH-60M Black Hawk multi-mission helicopter used by the US Army. The helicopter built by Sikorsky Aircraft is designed to transport injured soldiers away from the scene of combat.
An integrated medical evacuation mission package (MEP) kit is part of the HH-60M helicopter. It offers services for ambulatory patient transfer and aerial medical support. It can be modified to perform tasks like human transport, search and rescue, resupply, aerial reconnaissance, freight delivery, and wildfire suppression.
A pilot, a co-pilot, a crew chief, and a flight medic man the HH-60M, and it has room for up to 11 troops. The modern glass cockpit, all-digital avionics suite, autopilot, and flight management system are features of the HH-60M MEDEVAC helicopter.
Four multi-function color monitors are built inside the cockpit to improve situational awareness. Additionally, it has a moving map, storm scope and radio systems, a dual digital flight control computer, and a GPS/inertial navigation system. For search and rescue operations, the nose-mounted FLIR sensors boost visibility.
Therefore, adding a Degraded Visual Environment Pilotage System would improve the readiness and capability of this already advanced rotorcraft and significantly reduce the possibility of a crash.