The United States Army sees great potential in using its Abrams main battle tanks in a Pacific war scenario, mainly if the need arises to land tanks in Taiwan to liberate it from Chinese occupation. 
Betting on the ongoing development of new hovercraft and the Army's watercraft for amphibious transport, the Commanding General of the US Army Pacific, General Charles Flynn, believes that Main Battle Tanks (MBT) as a part of a "combined force" presence will enhance "deterrence" against China. 
The current consensus among military planners is that a war in the Pacific is primarily a naval and air war, with a vast long-range missilery component. However, the US Navy and the US Air Force faced tremendous logistical challenges in keeping their forward forces consistently supplied throughout the war. 
The "tyranny of distance" of vast distances between the first and second island chains prevents faster US and allied reinforcements from reaching the main battle zones outside Japanese or Taiwanese waters.
China's massive and diverse arsenal of medium and long-range ballistic and cruise missiles, which can suddenly bring under attack all these locations at once, has long been considered Beijing's most significant 'home advantage.'
It would be even more costly to transport tanks in this mix, where the US would be immensely struggling to feed its ships, bases, aircraft, and airbases. 
US General Bats For Tanks To Deter China
According to Warrior Maven, who reported General Flynn's comments from a transcript provided to the press, Flynn said that the US would need "the entire inventory of combined arms ground maneuver to fight in the restricted terrain." "And plenty of restricted terrain is out there," Flynn added.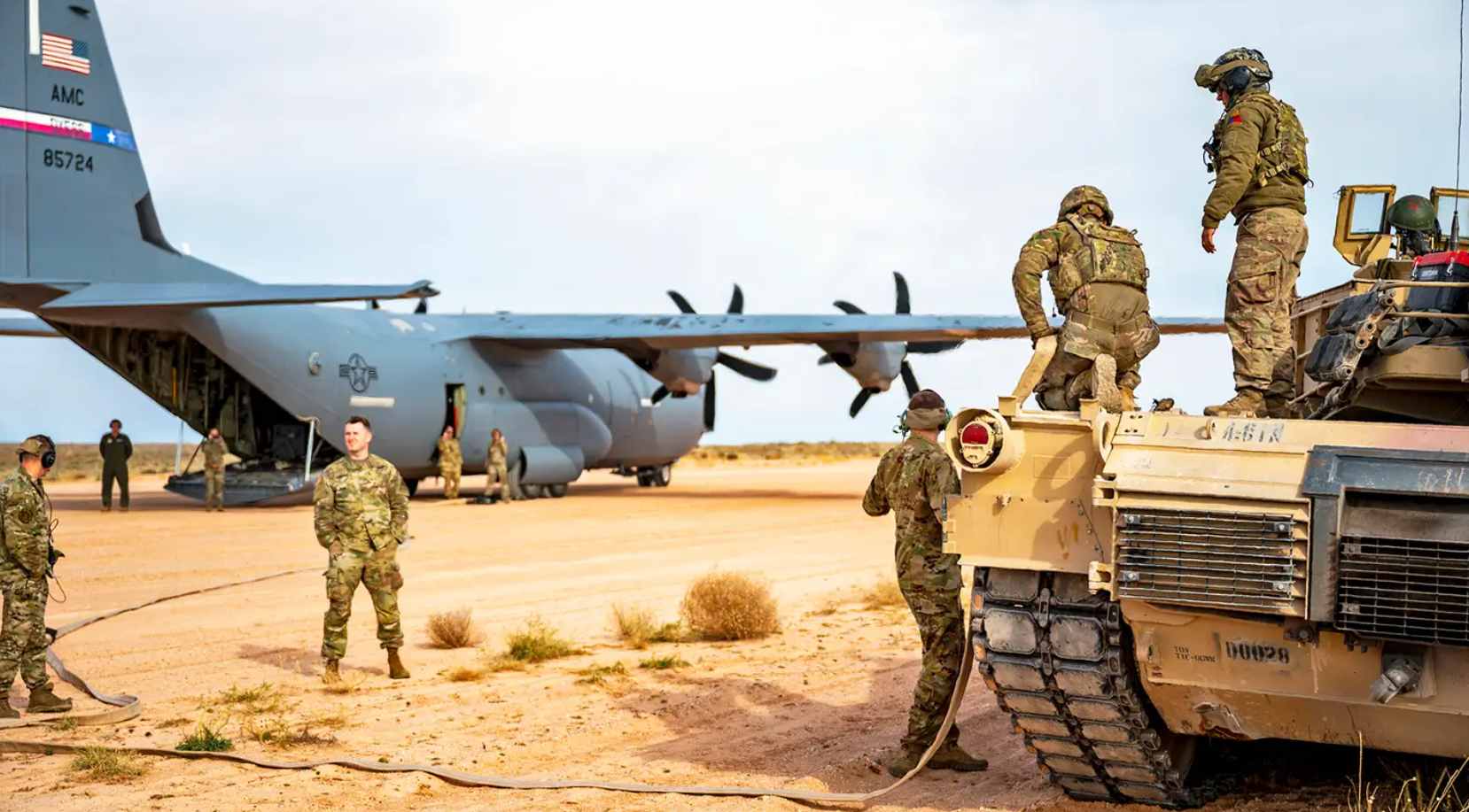 Flynn supports his comments by pointing out material benefits from logistical technologies fructifying over the last years that would support such a US Army endeavor. This includes tanks "getting lighter," with the Abrams M1E3 being faster, less heavy, and more fuel efficient.
The US Navy also has an under-development Ship-to-Shore Connector Landing Craft (SSCLC), which includes a new generation of air-cushion hovercraft meant to replace the existing Landing Craft Air Cushion (LCAC). 
It also has a growing fleet of Expeditionary Fast Transport (EFT) vessels that "massively improve the ability of a joint force to transport and deploy tanks across vast swaths of the ocean into the island and coastal areas as needed."
Each EFT vessel can transport 600 tons of cargo, meaning they "could easily transport 5 or 6 Abrams tanks on a single boat at high speeds moving tanks from one land location  or island to another."
The US Army has tank-transporting watercraft in Hawaii, Okinawa, and Tokyo. During the recent Talisman Saber drills, Flynn said these watercraft helped move tanks from Australia to Indonesia for additional exercises. 
"The Army will be massively expanding this watercraft fleet in the Pacific to, in large measure, strengthen deterrence and support forward war operations in the event of conflict," Flynn added.
'Taiwan Scenario Will Need Tanks'
The only tactical scenario the report envisaged where the tanks could be used would be evicting the People's Liberation Army (PLA) occupying Taiwan.
"Should China, for instance, successfully annex Taiwan, a massive combined Japanese, US, and Korean land Army would likely be needed to extricate an occupying PLA force from the island.
"While advanced sea, air, and undersea power might succeed in winning a combat engagement, the terrain will likely still need to be 'held' and 'occupied' and 'secured' by land forces," the report said. 
However, the report assumes that a Chinese amphibious assault would be the first stage of a military move on Taiwan.
It would most likely be a much later stage after the People's Liberation Army Navy (PLAN) and the People's Liberation Army Air Force (PLAAF) have successfully fully encircled Taiwan from all sides and enforced a blockade.
This could prevent any external force from coming to the island's rescue. The leadership in Taipei, however, refuses to accede. 
In theory, Taiwanese leaders are expected to surrender after facing the fait accompli of an inevitable takeover that Beijing has presented, given the PLA's technologically, numerically, and logistically overwhelming force.
China has been assessed to begin landing tanks and troops on Taiwanese shores only if the island's leaders decide to fight it out and both parties choose to risk the heavy and bloody urban warfare. 
At this stage, transporting US tanks to Taiwan implies that the US Navy would break through the blockade of scores of Chinese destroyers, frigates, unmanned surface vessels (USV), light patrol naval craft, and maritime strike aircraft. 
Such a highly remote situation would be considered incredibly complex and largely unnecessary by the US Navy, which would be busy supplying Marine Littoral Regiments on friendly islands in the South and East China Seas.
The regiments would be busy undertaking long-range anti-ship fires on PLAN vessels as a part of the Expeditionary Advanced Base of Operations (EABO) concept.