The US Air Force carried out a no-notice agile combat deployment exercise at Kadena Air Base in Japan on September 22. The service deployed various aircraft, including multiple F-15C/D Eagles, F-15E Strike Eagles, and F-35A Lightning IIs, to assess their capacity to generate and disperse airpower swiftly.
In an official statement, the US Air Force revealed that the 18th Wing, the host unit at Kadena Air Base in Okinawa, Japan, conducted the exercise. 
The statement further elaborated that personnel from the 18th Wing collaborated with deployed Airmen from Seymour Johnson Air Force Base in North Carolina, Mountain Home Air Force Base in Idaho, and Eielson Air Force Base in Alaska. Together, they deployed the aircraft fleet. This test evaluated the base's capability to generate and disperse airpower swiftly.
Colonel Joshua Lundeby, the Deputy Commander of the 18th Wing, stated, "ACE relies on our team's ability to quickly mobilize our aircraft from large, centralized hub bases to networks of smaller, dispersed, spoke locations to increase survivability and complicate potential adversary targeting."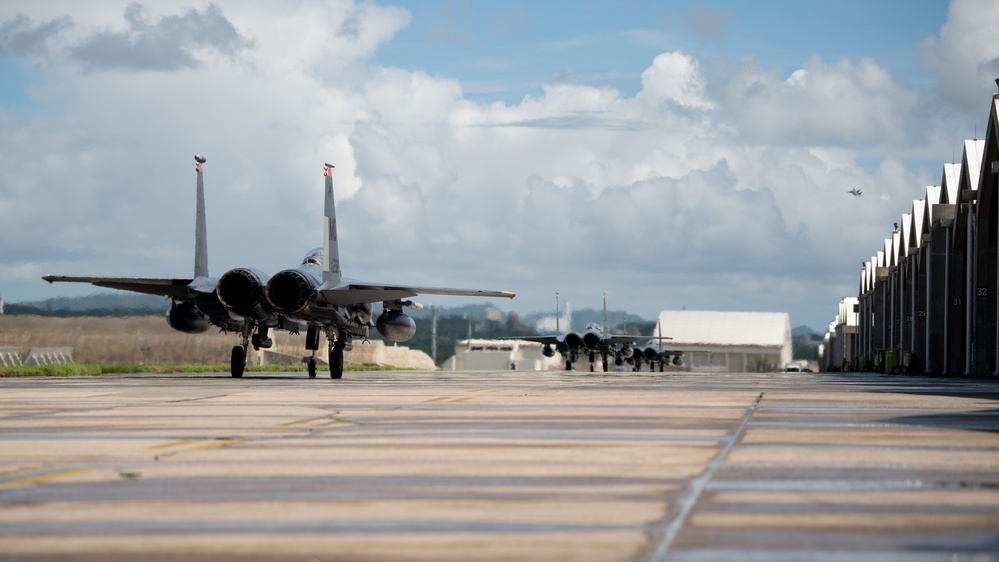 Colonel Lundeby also underscored that through rigorous training like this exercise, they maintain a state of readiness to deter, thwart, and overcome any potential threats that could jeopardize regional stability, the security of their nation, and the well-being of their allies and partners.
The service explained that airmen were tasked with readying Kadena's array of fighter aircraft as if they were heading to different spoke locations. Once these planes taxied or took off for their regular training missions, they were classified as 'departed' for evaluation purposes.
This exercise effectively showcased the wide-ranging skills of US Airmen, covering the entire spectrum of operational, maintenance, and support responsibilities.
"This wasn't a small feat; we brought highly skilled Airmen from four different fighter maintenance units across the globe and asked them to tackle safe, compliant, and efficient ACE," said Col. Randy Schwinler, 18th Maintenance Group commander. "I am extremely proud of their performance." 
The Significance Of This Exercise  
Kadena Air Base, often called the Keystone of the Pacific, is critical due to its strategic size and prime location. It is a crucial installation for safeguarding Japan's defense and promoting a free and open Indo-Pacific region.
However, Kadena's strategic location also raises concerns regarding its susceptibility to potential threats, particularly in light of the heavy investments made by the Chinese military in long-range precision strike capabilities. 
The capacity of Chinese forces to unleash a large barrage of firepower against Kadena renders it more exposed than other bases within the First Island Chain.  
Although air bases are sizeable and challenging to eliminate, aircraft and ground support equipment left unprotected are more vulnerable targets that can be swiftly neutralized.  
The military has been actively implementing precautionary steps to diminish the susceptibility of US aircraft based forward and enhance their capacity for extended combat operations.
For example, in October 2022, the US Air Force decided to retire two squadrons of older F-15C/D fighters stationed at Kadena Air Force Base in Okinawa, Japan, and instead established a temporary detachment to fulfill the Kadena fighter mission.
Following this decision, the military began deploying more advanced F-22 and F-35 fighter jets on a rotational basis.
The recent exercise, which involved the launch of multiple F-15C/D Eagles, F-15E Strike Eagles, and F-35A Lightning IIs, appears to be yet another measure aimed at enhancing the survivability of these fighter jets in potential conflict scenarios. 
By engaging in realistic training exercises like this one, Kadena Airmen are sharpening their skills to effectively counter the evolving threats faced by the United States and its allies and partners. 
"Exercises like this enable decentralized execution by empowering our Airmen to refine their abilities and provide them with opportunities to innovate or adapt new techniques while increasing efficiency within mission command," Schwinler added.
Kadena Air Base is hosting fighter units across the Air Force to ensure a seamless transition as the aging F-15C/D Eagles are phased out. 
According to the USAF, this mix of multiple fighter types operating from the same base presents unique challenges for Team Kadena. Still, it also provides opportunities to conduct training and enhance overall operational readiness.