As a volley of drones struck Russia in a recent attack, several were shot down while others were reportedly jammed and seized. One such drone, allegedly sent by Kyiv's forces, was hijacked by the Russian troops and forced to land in an airfield in the Kursk region.
However, the Ukrainian kamikaze drone, which was "safely force-landed" on the Khalino airfield, exploded, killing several troops of a Russian aviation unit and their security service colleagues while purportedly inspecting the drone, Kyiv Independent claimed.
The incident, expected to leave the Russians red-faced, was reported by an unnamed source in the Main Directorate of Intelligence (HUR) of the Ukrainian Defense Ministry. The Khalino airfield is about seven kilometers east of downtown Kursk and is home to the 14th Zhdanov Guards Fighter Aviation Regiment flying the Su-30SM fighter jets.
The airfield has been off-limits to commercial travel since February 2022, when Russia's full-scale invasion of Ukraine began. However, since the Kursk region shares a border with Ukraine and the airfield is about 100 kilometers away inside the Russian territory, Ukraine has frequently targeted it.
The drone that exploded was one of many used to target Kursk over the weekend. Media reports on September 25 noted that a Ukraine drone attack on Russia's Kursk region damaged several private houses and an administrative building.
One of the earliest reports of the airfield attack appeared on the Russian Telegram channel Fighterbomber, which reportedly has affiliation with the Russian Air Force. The writer wrote: "I should write something about Khakino. It's challenging to write anything here. My condolences, brothers. "We'll live!"
The FSB members and the regimental leadership stationed there then decided to look into their new "trophy." The source claimed that the commander of the 14th aviation regiment, one of his deputies, a group of aviator officers, a representative of FSB military counterintelligence, and airport staff were among those who perished or were injured in the explosion.
Ukrainian forces reportedly struck the Khalino Airfield and a Russian Federal Security Service (FSB) building in #Kursk Oblast during a series of drone strikes on September 24. https://t.co/HdiQn78kh3 https://t.co/fCCovFKvS0 pic.twitter.com/68iT8NjL6j

— ISW (@TheStudyofWar) September 26, 2023
Khalino has come under attack on multiple occasions. For instance, the airfield was initially impacted in 2022. Drones from the Ukraine Security Service targeted the air base on August 27, 2023, damaging Su-30 and MiG-29 aircraft on the runway.
Later, the Fighterbomber detailed a purportedly novel strategy employed by the Ukrainian military, who now outfit their drones with self-destruction mechanisms, triggering the detonation during attempts to disarm such a drone that had been shot down or grounded by electronic warfare equipment.
Another Russian military blogger, Boris Rozhin, posted on Telegram that the enemy had used such tactics in the previous instance(s) in the Kherson direction. Warning that "enemy drones must be handled with care," he noted several drones had exploded after they similarly landed.
While specific information is still awaited about the techniques the Ukrainians are allegedly employing, Russia's electronic warfare is still believed to be impeccable, as it was able to jam and force-land the drone on its airfield. According to reports, the Ukrainian UAV was successfully intercepted using radio-electronic warfare techniques and safely landed on the runway.
Russia's Brilliant EW Against Ukrainian Drones
Although the efficacy of Russian equipment and military technology has come under the scanner in the ongoing Ukraine war, Russia's Electronic Warfare systems and strategies have managed to remain on top of the game against incoming Ukrainian projectiles and UAVs.
It was revealed as far back as in May this year that in a startlingly short amount of time, Russian electronic warfare (EW) weapons and capabilities had managed to wreak havoc on Ukrainian unmanned aerial vehicles (UAV) and encrypted radio communications.
A report by the United Kingdom (UK)-based Royal United Services Institute (RUSI) stated that Moscow's EW had consistently remained effective and shot down almost 10,000 Ukrainian drones a month, approximately 333 per day.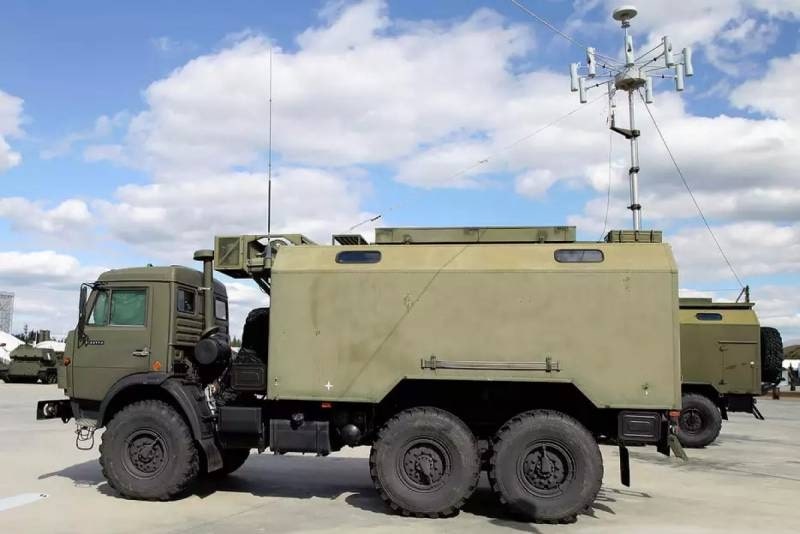 Russia's Krasukha-2, Krasukha-4, RB-341V LEER-3, R-330Zh Zhitel, Murmansk-BN, and Moskva-1 are some of the known EW platforms, performing radio, communications, radar satellite navigation signal jamming of various frequencies and bands, along with Electronic Support (ES) and Electronic Attack (EA) roles.
The RUSI investigation highlighted the role of one EW jammer, the Shipovnik-Aero, who was reportedly responsible for shooting down many Ukrainian UAVs. Moreover, the report also noted that Russian EW platforms are "heavily weighted towards the defeat of UAVs and tend not to try and deconflict their effects."
The report also dwelled in detail on Russia's Electronic Jamming of hostile UAVs, which has been flagged by several military experts on multiple occasions. A report in Business Insider from November 2022 noted that the Russian "jamming offensive" was so "devastating" that it was also disrupting Russia's communications, forcing it to "scale back" its operations in the first two days.
Earlier this year, the leaked Pentagon documents revealed that the Russians were also jamming the Joint Direct Attack Munition (JDAM) smart bombs the US had given, causing them to fail. The effectiveness of guided rockets and bombs launched by Kyiv's armed forces had significantly decreased due to Russia's jamming.
Later, in a July 2023 interview, the former Ukrainian Defense Minister Oleksiy Reznikov acknowledged that Russian electronic warfare (EW) systems can suppress GPS-guided munitions and HIMARS MLRS alongside UAVs. Reznikov told the publication, "The Russians come up with a countermeasure, we inform our partners, and they create a new countermeasure against this countermeasure."
Going by this, one thing is clear: Russia's EW is working well. However, Ukrainians have supposedly decided to surprise the Russians with their self-destructive drones that blow off despite landing safely after being disabled by the Russian EW equipment.
Contact the author at sakshi.tiwari9555 (at) gmail.com