Turkish defense industry representatives are currently showcasing their products at Malaysia's biennial arms show, hoping to boost cooperation and extend their footprint in the Indo-Pacific region. 
The 17th Defense Service Asia Exhibition and Conference, in the Malaysian city of Kuala Lumpur, covers products from 32 Turkish defense businesses, including Turkish Aerospace Industries (TAI).
The event is taking place in Kuala Lumpur, Malaysia. Malaysia is apparently a major user of Turkish-made armored land vehicles, boats, and weapons systems. Due to the pandemic, the prior edition in 2020 was canceled.
Anka, an unmanned aerial vehicle (UAV), and Hürjet, an advanced trainer jet, are the two most notable Turkish defense products on display. Turkey appears to be competing with countries such as China and the United States for drone deals and with India for light combat aircraft (LCA) deals.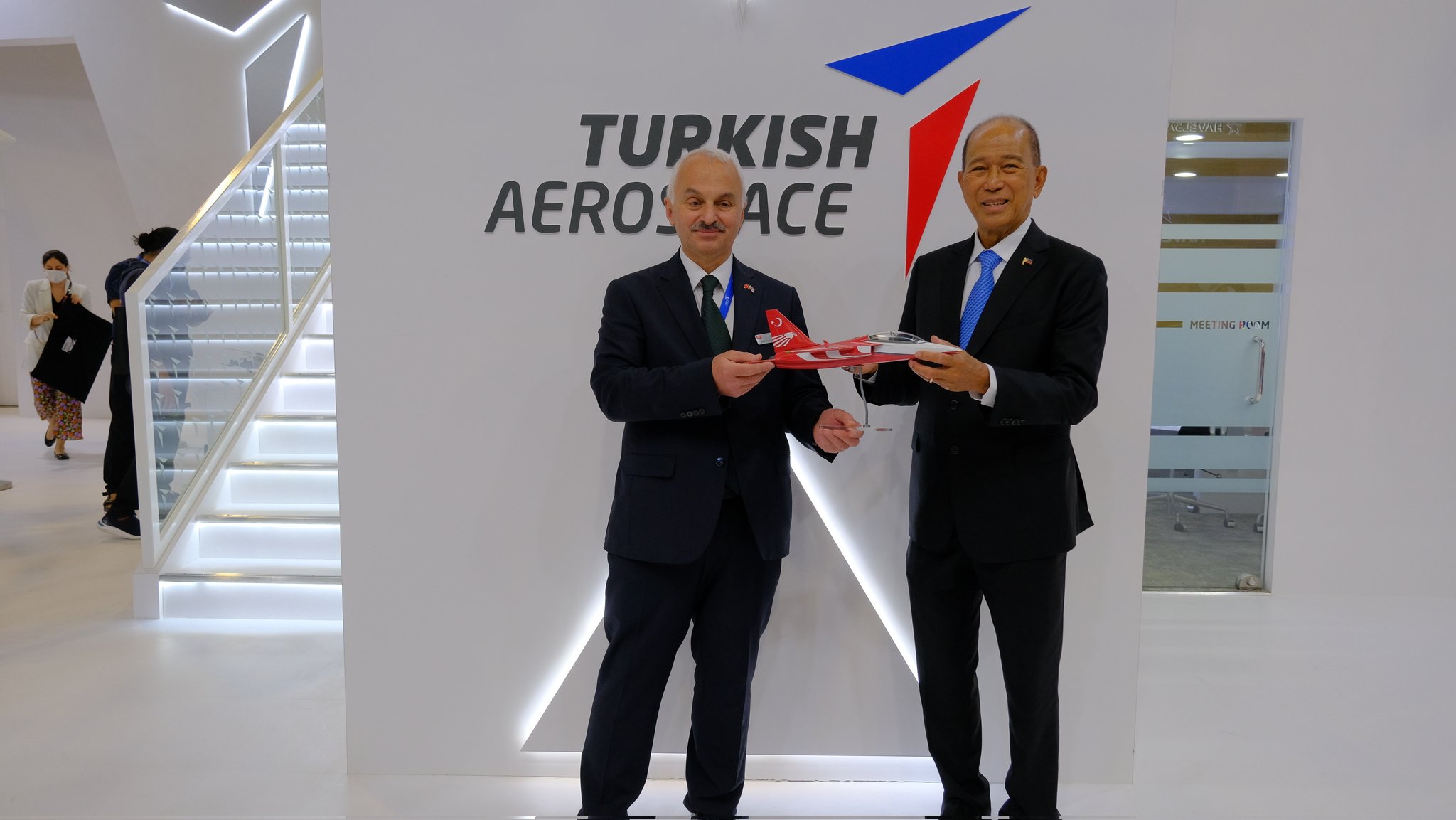 TAI launched its first engineering and design office in Selangor, on the outskirts of Kuala Lumpur, last November to strengthen efforts to establish new cooperative ventures with Malaysia in the defense and aviation industries.
It's worth mentioning that the contractor has already placed a bid on a light combat aircraft (LCA) tender for the Royal Malaysian Air Force (RMAF), offering its Hürjet. The project began in 2017, and the jet is planned to fly for the first time in 2023.
The business also plans to conduct joint studies in a variety of sectors, including unmanned aerial vehicles (UAVs), jet trainers, original helicopter development, structural capabilities, and modernization initiatives. This aims to benefit the aviation ecosystem.
"In our tech center in Malaysia, we aim to carry out significant studies with Malaysian engineers to enhance the two countries' capacities in the field of aviation and space industry," Temel Kotil, the company's CEO, said. 
Kotil added – 'Malaysia is a center of increasing importance in the field of technology among Asian countries. We are pitching our HÜRJET platform in Malaysia's Jet Trainer tender, which is closely followed by the world. Regardless of the outcome of this tender, we will continue to contribute to the development of the capacities of aviation technologies between the two countries."
Katar'ın başkenti Doha'da düzenlenen #DIMDEX2022 Fuarı ziyaretçilerimizin yoğun ilgisiyle dolu dolu geçti. Katılım gösteren herkese teşekkür ederiz. ?? ?✈️?️ pic.twitter.com/jqdHN8XsPJ

— Türk Havacılık ve Uzay Sanayii (@TUSAS_TR) March 23, 2022
India's HAL with the Tejas, Malaysia's Aerospace Technology Systems with the MiG-35, China's Catic with the L-15, Korea Aerospace Industries (KAI) with the FA-50, Italy's Leonardo with the M-346, and Turkey's TAI with the Hurjet are the six companies that are in the race for the Light Fighter Jet contract. The JF-17 of China and Pakistan, the Russian Yak-130, and the American T7A which were earlier speculated to be in the fray are no longer in the competition.
Two key competitors — Turkish Aerospace Industries (TAI) and India's Hindustan Aeronautics Limited (HAL) — appear to be in a close contest to grab the deal, according to multiple reports.
Other Turkish companies such as Turkish Aerospace Industries (TAI), Aselsan, Roketsan, Havelsan, BMC, Kale Kalıp, MKE, Nurol Makina and Otokar are also showcasing their latest products at the expo. 
Turkey's Hurjet Challenges India's Tejas LCA For Malaysian Fighter Jet Contract After JF-17 Exit — Reports
Turkish media claimed that Malaysia is one of the industry's most important and strategic friends in Southeast Asia. Despite the fact that sales to the country were only $2.6 million last year, they had totaled roughly $20 million in the previous three years. The industry hopes to increase the sum above the $40 million mark set in 2017, reports said.
The Defense Service Asia Exhibition and Conference is featuring around 1,170 firms from the global defense and security sector from 54 countries and regions, 20 international pavilions, 350 VIP delegations from 45 countries, and 40,000 visitors from 50 nations and regions.
Meanwhile, Russian, Ukrainian, and Belarussian weapon manufacturers are not participating in Malaysia's biennial arms expo Defence Services Asia (DSA) due to the ongoing conflict, according to the fair's organizer.
"The reasons are fairly obvious. There are no flights here out of Ukraine, while Russia could be facing some issues with making financial transactions and payment for services," the organizer said. 
Focus on Asia
TAI's next-generation armed drone, Aksungur, joined the Turkish military's inventory last year and has sonobuoy capabilities, which are unusual for a drone. It has integrated detectors and sensors and can conduct anti-submarine warfare and maritime patrolling duties. Owing to these capabilities, the Turkish defense industry has hailed this drone as a perfect fit for Indo-Pacific countries.
Turkish defense industries, notably the maker of Bayraktar drones, are looking to export to Asian markets. "China will not be willing to sell drones to many countries in its neighborhood, and we are providing those countries a better option." Haluk Bayraktar, CEO of Baykar Defense, told Nikkei Asia earlier this month. 
Even in the Ukraine crisis, footage of the armed Bayraktar TB-2, built by Baykar, knocking down Russian tanks, armored vehicles, and surface-to-air missile defense systems have been widely circulated on social media.
From its very first export to Qatar in 2018, the TB-2 has acquired 19 export deals, including Turkmenistan and Kyrgyzstan. In the last three months alone, six additional offers have been added.
Baykar is currently developing a next-generation TB-3 drone capable of taking off and landing from aircraft carriers as well as landing helicopter dock-class vessels. It intends to launch the first TB-3 this year, before commissioning Turkey's first LHD-class vessel, the TCG Anadolu. 
"The upcoming TB-3 will be a great fit for Japan's Izumo-class platforms," the Haluk Bayraktar said, referring to Japan's multipurpose destroyer, which analysts call a de-facto aircraft carrier. 
Özgür Güleryüz, CEO of STM, another Turkish defense contractor, told Nikkei Asia his company also will be attending the defense exhibition in Malaysia with a range of products including the Kargu rotary-wing attack drone. 
"We see interest toward our loitering munitions including Kargu from Asia and are currently in contact with various Asian countries," he said.