Up to 90% of the Russian Air Force crew and 85% of drone operators have gained substantial battle experience in the Ukraine operations, Defense Minister Sergey Shoigu said.
"At our last year's enlarged board meeting of the Defense Ministry, the supreme commander-in-chief noted the important role of this branch of the armed forces in the special military operation and set the task of further raising its combat capabilities and the level of the personnel's preparedness," the defense chief said.
"During the special military operation, up to 90% of the crews of operational/tactical and army aviation, 60% of strategic and long-range aviation, and 85% of the personnel operating unmanned aerial vehicles gained combat experience," Shoigu said.
Ukraine Losing Best Fighter Pilots
The commander of the Ukrainian air force, General Serhii Holubtsov, stated in an interview with a British media outlet that Kyiv is losing its top fighter pilots as it waits for the US to allow the delivery of F-16s.
The commander told The Times that an American evaluation of Ukrainian fighter pilots found they would be qualified to fly F-16s in less than six months of training.
He stated that two of his pilots had recently returned to the nation following a thorough evaluation by the US military. 
General Holubtsov explained that the two pilots had spent three weeks in the US, receiving excellent training on an F-16 simulator to fly as a team while employing weapons. 
He described the training results as "very good," adding that it takes Ukrainian pilots fewer than six months to learn to fly and use the F-16's weaponry. 
The General also disputed the assertions made by NATO officials that the training duration required for Ukrainian pilots could extend to several years.
Holubtsov further argued that some pilots could be trained in even less time. "The skills of the pilots were rated extremely highly, and these guys were just average pilots. Every pilot is unique, so there should be an individual training plan," he explained. 
So, based on the evaluation and the prior experience of Ukrainian pilots, the Ukrainian air force anticipates that they can drastically shorten the training duration. The commander expressed dissatisfaction with the delays of NATO in supplying modern warplanes, particularly F-16 jets.
Why Ukraine Needs F-16s?
President Volodymyr Zelensky has requested US F-16 aircraft as Ukraine prepares to launch an anticipated counter-offensive, but Western partners have been reluctant to accept his request citing the extensive training besides the crossing the Russian 'red line.'
President Biden recently said last month that the US will not deliver F-16s to Ukraine "for now." However, Poland and Slovakia decided last week to transfer Soviet-era Mig-29s to Kyiv, a decision that had been delayed for more than a year due to fear of escalation with the Kremlin.
Meanwhile, on the issue of military advantage, the Kremlin has been typically dismissive, stating that supplying Ukraine with more Soviet-era MiGs will not change the direction of the battle.  
As a result, there is increasing pressure on NATO to provide more advanced jets to Kyiv. Former British PM Boris Johnson has previously urged the UK to transfer its Typhoons to Ukraine to "break the ice," but experts say operating a vast variety of warplanes would be challenging for the country. 
The Ukrainian air force chief contended that Ukraine needs a large number of the same kind of aircraft with an abundant supply of spare parts.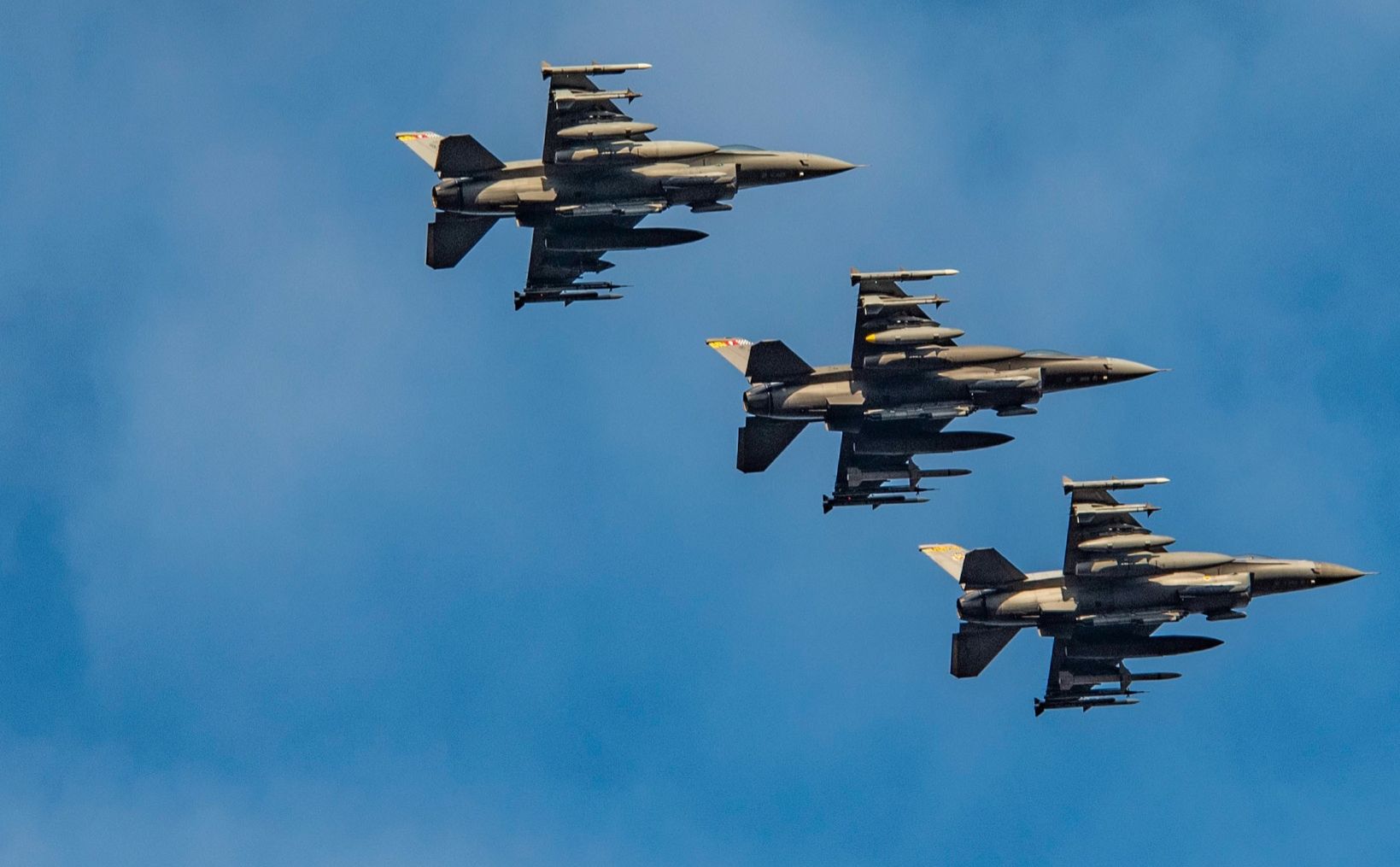 Holubtsov emphasized that they are not rigid about any specific model but rather the technical specifications, saying that the Ukrainian air force can use any platform that can carry and utilize comparable ammunition and has similar specifications to F-16s.
He continued by pointing out that they chose to focus on F-16s since there are more than 4,000 aircraft in existence worldwide, making it simple to replace them and acquire spare parts.
Despite numerous experts warning that the Western fighter could sustain damage from the old concrete runways, the Ukrainian military regularly insisted that ground-level measures have already been taken. 
Holubtsov refuted arguments that his nation's infrastructure couldn't be ready for fast, modern jets this year. 
He cited a favorable appraisal of Ukraine's runways made by the F-16's manufacturer in 2021 and training operations in 2018 in which American planes, F-15s, and F-16s landed on Ukrainian soil.
The US manufacturer examined the airstrips at three Ukrainian airfields, Ozerne, Vasylkiv, and Starokostyantyniv, and concluded they could accommodate modern fighter jets.
However, the company suggested a few improvements, like smoothing the runways, which the infrastructure ministry is already addressing, Holubtsov noted.
The commander allayed concerns that western-supplied jets would be quickly destroyed, saying that his pilots were flying 50 sorties daily to keep the Russians from violating Ukrainian airspace.
He blamed the lack of proper equipment for losing his best pilots. 
Modern jets with their longer range, according to Holubtsov, are essential for safeguarding lives in cities subjected to persistent Russian bombardment because Russian pilots won't be able to enter Ukrainian-controlled airspace. 
Given that the current Soviet-era aircraft depended on Russian-made components and armaments, Holubtsov highlighted that switching to Nato-standard planes was unavoidable.