With a missile strike ongoing in Eastern Ukraine, a wreckage of a US-built ADM-160 Miniature Air Launched Decoy (MALD) was discovered in Ukraine, signaling the use of this "missile-like" decoy system which was never publicly announced by the United States in its military aid packages.
The remnants of the MALD were found near a site of a Ukrainian missile strike in Luhansk in Eastern Ukraine on May 12. The images of the wreckage surfaced on social media. They soon went viral, triggering discussions that the Armed Forces of Ukraine (AFU) were likely using these decoys to saturate Russian air defenses.
According to a US official, this comes when phase 1 of the Ukrainian counteroffensive has begun to take shape. Moreover, Wagner chief Yevgeny Prigozhin claimed that a Ukrainian counterattack was already in full swing amid an advance of AFU troops towards the eastern Ukrainian region.
On May 12, the day the photographic evidence of MALD appeared online, Russian officials announced that the main city of the eastern Luhansk area, which is around 100 kilometers (60 miles) behind the frontlines, was hit by missiles fired by Ukrainian forces.
Visuals of the city with vast plumes of black smoke also went viral on social media, suggesting that a massive attack was underway.
The officials did not say anything about the MALD discovered in the region. There is no official confirmation about when the wreckage was found or photographed or its exact location.
#BREAKING: Did Ukraine use an ADM-160B US DECOY MISSILE??

Wreckage of an ADM-160 MALD Air-Launched Decoy Missile has reportedly been found near the Site of the Ukrainian Missile Strike in Luhansk.

ADM-160 is a US Missile designed to suppress and confuse enemy air defenses. The… pic.twitter.com/OUxpANIbLb

— EurAsian Times (@THEEURASIATIMES) May 13, 2023
The MALD is an autonomous, programmable flight system that can imitate US or allies' aircraft to confuse enemy Integrated Air Defense Systems (IADS). Despite lacking an explosive warhead or attack capacity, its significance in an offensive role is substantial.
A former US Department of Defense (DoD) official Trent Telenko said: "The AGM-160B MALD is essentially a small cruise missile/glide bomb geared to jam radars, drop chaff, and re-radiate missile fire control signals to look like a larger aircraft. Its presence in Ukraine's arsenal means a great deal."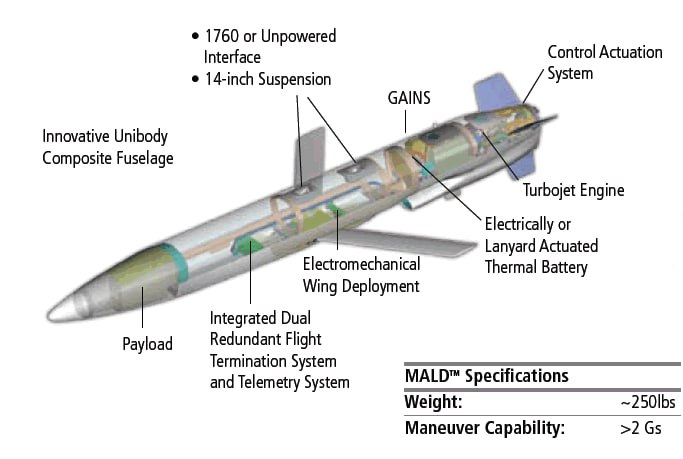 The MALD's variations are essentially miniature cruise missiles meant to trick opposing air defenses rather than kinetically engage them. These decoys can be deployed to jam enemy radars or otherwise deceive their operators into believing dangers are arriving from various directions, frequently diverting the attention of defenders and resources away from genuine impending threats.
It appears to be identified as an older ADM-160B type by a huge label on its side. Following deliveries to the US Air Force in 2009, this was the first iteration of the MALD to enter service. The ADM-160 B's value is in its capacity to secure airspace at a reasonable cost.
The decoy was designed to be integrated into the B-1B fleet and was normally launched from an F-16 or a B-52H. The discovery of its wreckage has led military experts and watchers to question which platform could have possibly been used by Kyiv to launch the decoy.
Some believe it could be a MiG-29, which has also been integrated with other US munitions, including the AGM-88 HARM and the Joint Direct Attack Munition-Extended range (JDAM-ER) smart bombs.
The deployment, if confirmed, would prove to be very significant for Ukraine, which has been at the receiving end of massive Russian missile strikes in recent weeks.
Miniature Air Launched Decoys Vs. Russian Defenses
The idea for the ADM-160 MALD, which the US developed in the late 1990s, was influenced by the Gulf War's experiences, particularly the necessity to evade effective radar-guided anti-aircraft defenses.
Initially, the ADM-16 ran into technical and financial difficulties and range and gearbox capacity restrictions. The more sophisticated ADM-160B, which boasted improvements in both range and gearbox, was launched in 2009.
Its cutting-edge Signature Augmentation Subsystem (SAS) mimics the radar signature of numerous aircraft or munitions using active radar enhancers, tricking defense systems.
This leaves adversary anti-aircraft batteries susceptible to anti-radiation missiles like the American AGM-88 HARM and the British ALARM as they attempt to recognize and neutralize the apparent threat.
The ADM-160B has a stated maximum range of about 500 miles. It is intended to travel a predetermined path, which may involve standing around predetermined locations.
Besides an array of missiles and likely some MALDs, Russia is simultaneously confronted with a constant drone attack threat from Ukraine.
Although concrete information regarding the possible deployment of ADM-160s in connection with the strike in Luhansk is still lacking, the decoys would complement several other capabilities Ukraine now possesses or is expected to acquire.
For instance, MALDs might greatly increase the survivability of more advanced stand-off strike munitions, like Storm Shadow. This could be done by baiting the Russian air defenses by sending the MALDs that may be much more visible and easier to attack than the low-flying and near stealth Storm Shadow missile, which could then reach its target without being intercepted. The MALDs could also be used in consonance with JADM-ER or HARM missiles to achieve the same objective.
Using these decoys would significantly bolster an all-out counteroffensive that Russian officials believe is already underway.
However, the United States is yet to confirm any such transfer to Ukraine. In December 2022, the Pentagon announced a military aid package for Kyiv. At the time, it said the package consisted of counter-air defense capability without informing that miniature air decoys were part of it.