The Military News Agency, an official media outlet under the purview of the Taiwanese Ministry of Defense, has recently released a video featuring an array of drones developed by the National Chung-Shan Institute of Science and Technology (NCSIST). 
Russia Banks On 'Laser Weapons' Mounted On Remote-Controlled MCVs To Fight Ukraine's Deadly Anti-Tank Mines
The institute plays a pivotal role as one of the foremost Taiwanese military entities, entrusted with the crucial responsibilities of spearheading advanced research, facilitating development initiatives, and conducting testing. 
Among the drones featured in the video, the Chien Hsiang loitering munitions particularly stood out. The video footage showed a rare glimpse of one of these kamikaze drones descending toward a target as part of a test scenario.
This vehicle-launched Chien Hsiang can proficiently suppress diverse radar systems deployed by the People's Liberation Army, whether positioned along the coastline, inland regions, or at sea.
Previously, it was reported that this unmanned aerial vehicle (UAV) is available in two distinct versions: an anti-radiation weapon configuration and a "decoy" variant. 
The former is engineered to engage adversary missile installations and radar facilities, while the latter is strategically designed to activate and lure enemy radar systems.
The island nation also announced in 2022 that it will produce a total of 104 units of these drones by the year 2025. The new video footage shows a pair of pop-out antennas unfurling atop and below the drone after its launch.
These distinctive features, now integrated into newer iterations of the core design, signify an evolution aimed at enhancing the drone's capabilities and performance.
The new video also incorporates segments featuring a point-of-view perspective from a camera affixed to the Chien Hsiang drone. But it's unclear whether the camera is a temporary fixture or a built-in component within the drone's design.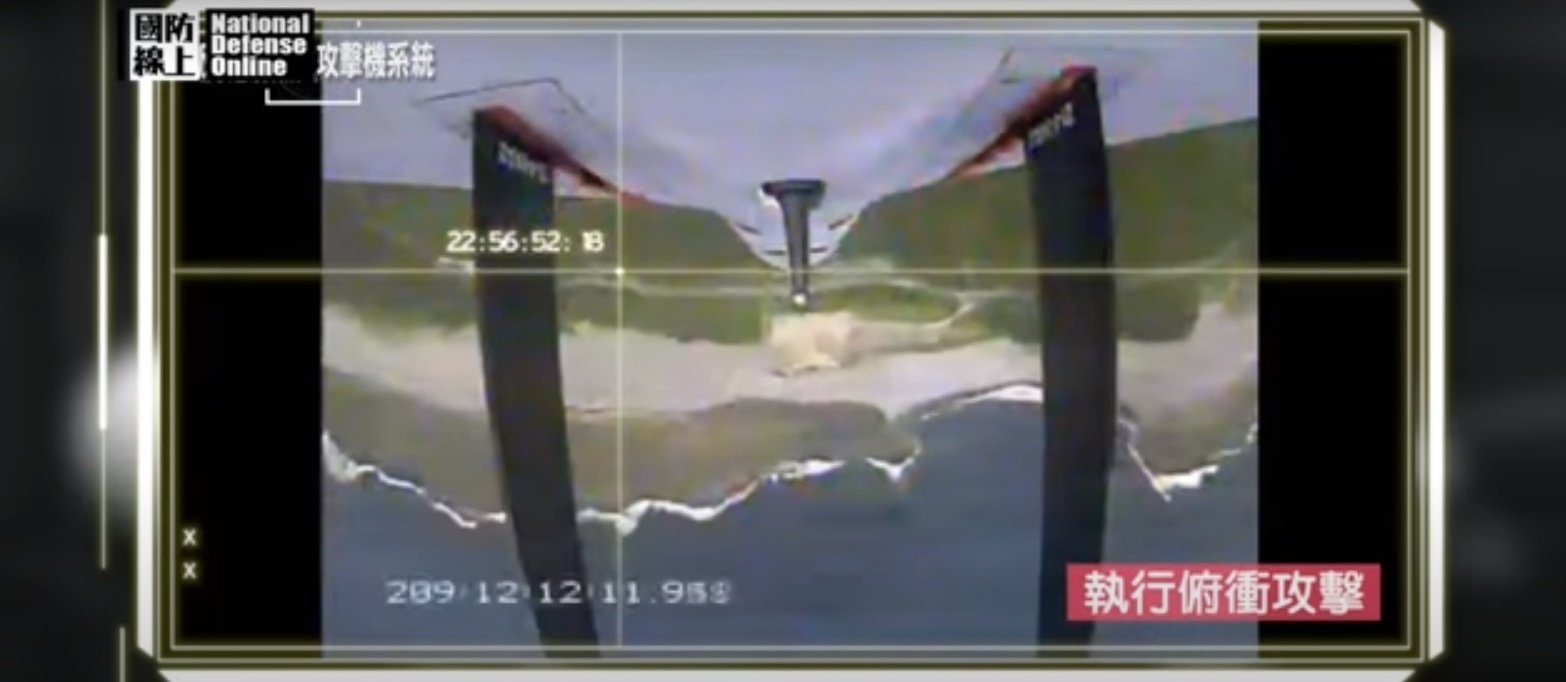 Furthermore, the video by the Military News Agency highlights different Chien Hsiang models, revealing what seem to be cameras fixed with forward views beneath the fuselages. 
This advancement could help with successful target hits, particularly during shorter missions. Another variation of the Chien Hsiang includes a movable camera turret situated in its frontal section, potentially enabling the operator's involvement in tracking mobile targets.
Ukraine Conflict Spurs Taiwan's Interest In Kamikaze Drones
The Chien Hsiang boasts compact dimensions, exceptional maneuverability, extended airborne endurance, and the added advantage of not requiring a conventional runway for takeoff. 
Each drone is carefully placed within a compartment of a launch vehicle capable of accommodating up to 12 of these unmanned attack aircraft.
The deployment, launch, and handling procedures can all be swiftly executed, resulting in heightened operational flexibility of the weapon system, as outlined by the NCSIST representative.
Employed from a truck-based launch platform, these drones offer an extra layer of flexibility, enabling them to be used in a shoot-and-scoot manner that reduces the vulnerability of the launch team. 
Moreover, the road-mobile trailers can be discreetly sheltered within the network of underground facilities. In light of the widespread deployment of such drones in the ongoing Russia-Ukraine war, Taiwan's strategic focus has shifted towards a heightened interest in this technology. 
A considerable media spotlight has been cast on the US Switchblade drones and the Iranian Shahed 136, primarily attributed to their heavy deployment and remarkable efficacy in Ukraine.
In the strategic context of Taiwan, incorporating loitering munitions like the Chien Hsiang assumes exceptional significance, particularly within the framework of what is referred to as a "porcupine strategy," which aims to solidify a state's defenses to exploit the enemy's weaknesses rather than taking on its strengths. 
Within this overarching strategy, the integration of kamikaze drones holds a pivotal role due to their inherent attributes.
These drones provide a low-cost avenue for executing precision strikes, a capability that can be exponentially magnified through their potential deployment in significant numbers.
Ben Lewis, a defense expert specializing in the development of China's People's Liberation Army (PLA) and security matters related to Taiwan, told the EurAsian Times: "UAVs will undoubtedly play a major role on both sides of a Taiwan contingency. In Taiwan's case, its defense industrial base has invested heavily in developing advanced unmanned capabilities. Loitering munitions are an important element of those capabilities, as they are low in cost and can be deployed in large numbers." 
He explained, "Loitering munitions lend themselves well to Taiwan's intention to expand its asymmetric capabilities. If employed in large numbers, they could be used to target Chinese forces with no risk to Taiwanese forces. While Taiwan has not, and in the opinion of some (myself included), should not adopt a 'porcupine strategy,' loitering munitions are in line with the fundamentals of such a strategy."
Furthermore, Lewis believes that Taiwan will likely allocate substantial resources toward procuring diverse categories of UAVs, including loitering munitions. This strategic approach aims to mitigate the considerable numerical disparity that favors China, thus boosting Taiwan's defense posture.
Nevertheless, the island nation is poised to make significant investments in Kamikaze drones with the specter of a potential Chinese invasion on the horizon. 
These drones have already demonstrated their efficacy in the ongoing conflict between Russia and Ukraine, emphasizing the key role that UAVs now occupy in contemporary warfare.