China may arguably be the world leader in hypersonic capabilities, with at least two additional hypersonic weapons emerging in the past 12 months, the DF-27, and an air-launched variant of the YJ-21, respectively, even as the United States and Russia are playing catch-up with the Asian giant.
As the world sees hypersonic weapons offering advantages over longer-ranges and in the face of mid-course ballistic missile defense capabilities, there is continued and growing interest in the development and/or acquisition of hypersonic systems, in particular missiles such as Hypersonic Glide Vehicles (HGVs) or Hypersonic Cruise Missiles (HCMs), and air vehicles, which include the American Hermeus' Darkhorse, the Canadian Space Engine Systems' Hello-1X, and the Chinese MD-22.
Even though details of the Chinese MD-22 are scarce at this point and its efficacy is uncertain, this system is reflective of the ambition and developing technology base underpinning China's efforts to develop and deploy hypersonic systems, the Hypersonic Systems 2023 Key Developments Report of the US-based think tank Institute for Defense and Government Advancement (IDGA) noted.
Canada, China, France, the UK, and the US are already developing hypersonic uncrewed air systems for various roles, including intelligence, surveillance, reconnaissance (ISR), strike, and operationally-responsive space launch.
The space launch would be a particularly valuable capability, especially as space becomes more contested, and the need for space-based ISR architectures, including detecting and tracking hypersonic threats, continues to grow, according to the report prepared by Dr. James Bosbotinis, a freelance specialist in defense and international affairs.
An example would be the US Hypersonic and Ballistic Tracking Space Sensor (HBTSS) system, as the Breaking Defense report in May. In this context, "responsive launch is the ability to deploy assets into the space domain with pace and flexibility, responding to real-time events."
China's Hypersonic Developments
In July 2022, the South China Morning Post reported that a team of engineers at the Northwestern Polytechnical University had successfully test-flown the Feitian 1 hypersonic air vehicle, which utilized a combined-cycle engine powered by kerosene.
In November 2022, an H-6K bomber carrying two missiles bearing the stenciling '2PZD-21' was displayed at Airshow China 2022, held in Zhuhai. This is the air-launched version of the YJ-21.
"Notably, a model of the H-6K armed with two YJ-12 supersonic anti-ship missiles and two YJ-21s was included in the Aviation Industry Corporation of China display at the Paris Air Show 2023. A reusable, hypersonic unmanned air vehicle concept demonstrator was also exhibited at Airshow China: the MD-22 is stated to have a range of 8,000 km and speed of Mach 7," the IDGA report said. "Such a system could, for example, provide a penetrating ISR capability."
US intelligence reports that were leaked noted that a new Chinese long-range ballistic missile equipped with an HGV, the DF-27, believed to have a range of 5,000-8,000 km, has been successfully tested, with the reports claiming that the Chinese armed forces have already deployed the missile. China is also believed to possess an air-launched ballistic missile with an HGV payload.
Russia's Multiple Weapons Systems
The Drive reported in July 2022 that Russia was developing a new Intermediate-Range Ballistic Missile (IRBM), the Zmeevik, which will have a range of around 4,000 km and be equipped with an HGV. The Zmeevik is intended to provide an anti-ship ballistic missile capability to Russia akin to the Chinese DF-21D and DF-26.
A new variant of the MiG-31 was displayed at the Army-2022 military-technical forum held in August 2022 at the Patriot Park Exhibition Center, Alabino training range, and Kubinka airbase.
The MiG-31 features a new avionics suite that will "allow the orbital launch of small satellites and for anti-satellite weapons as well as the use of the Kinzhal missile" and "should integrate and not replace" the current Kinzhal carrier, the MiG-31K, an Air Forces Monthly report said.
In addition to the Kinzhal ALBM, Russia is employing the hypersonic long-range air-to-air missile, the R-37M, in operations over Ukraine. The R-37M, or AA-13 Axehead, is believed to have a maximum speed of Mach 6, a range of around 300 km, and is carried by the MiG-31BM and Sukhoi Su-35, the Janes Defense Weekly said in November 2022.
Russia is also believed to be close to developing a new high-speed missile, the Kh-MT (multiple targets), which will likely be designated Kh-41 and provide a "tactical and theater-level air-to-surface missile…compatible with any Russian platform.
Russia plans to use it on multirole fighters, bombers, surface ships, submarines, and coastal launchers…[and] is intended to fight surface ships and some ground and air targets, such as early warning aircraft," an Aviation Week report said.
The speed of the Kh-MT has not been disclosed, but it is believed to be powered by a scramjet and "is very likely" to be hypersonic, according to the Aviation Week report. It said another air-launched hypersonic missile, 'Ostrota,' is reportedly under development; it is scramjet-powered and sized to fit within the internal bay of the Sukhoi Su-57.
With the US noting in March 2022 that the Tsirkon/Zircon had been operationally deployed and Russian President Vladimir Putin's comments at the Main Naval Parade in July 2022 that deliveries of the missile would commence in August 2022, the Russian Navy declared in December 2022 that the frigate Admiral Gorshkov had been equipped with the missile ahead of its January 2023 deployment.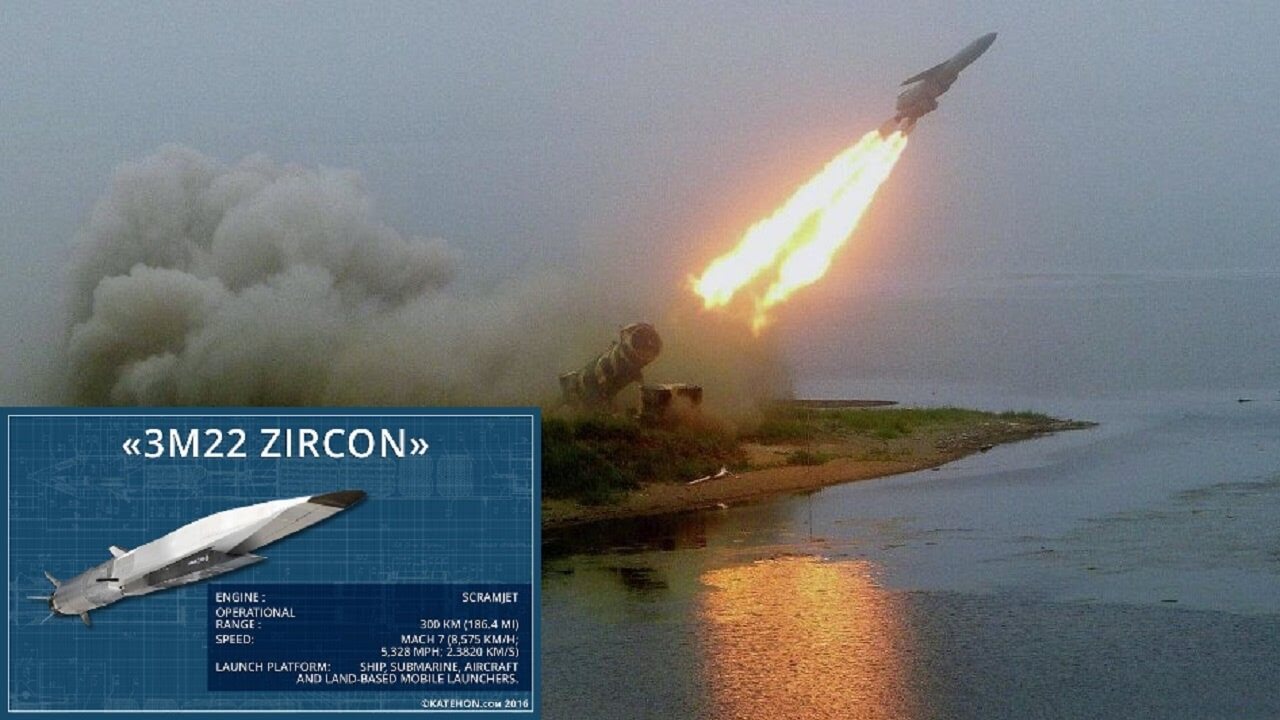 Likely, the Tsirkon had already been operationally deployed, most probably onboard the Yasen-class submarine, Severodvinsk, which had been used for trials of the Tsirkon (as had Admiral Gorshkov), according to Naval News, which also reported in November 2022 that a contract for additional Tsirkon missiles, due for completion by the end of 2023, had been agreed, and involves "several dozen" missiles.
Ukraine War Impact On Russian Programs
The Russian effort at building multiple hypersonic weapons continues. Still, the Ukraine war may have a potential impact, either constraining development and production or prioritizing such systems, considering the capabilities they bring to the table, as was witnessed in Moscow's use of the 9-A-7760 Kinzhal Air-Launched Ballistic Missile (ALBM) that Kyiv successfully neutralized in May.
"The Kinzhal, a derivative of the Iskander-M, reflects a lower-risk and more accessible approach to developing a hypersonic weapon. "The velocity of a ballistic missile provides a relatively simple means of creating a hypersonic strike option that can provide a prompt means of holding mobile or transient targets at risk," noted a FAS report on ALBMs in 2019.
Even though it is "a highly potent threat," the Kinzhal does not have the same combination of speed and endoatmospheric maneuverability. With it, the unpredictability of trajectory and lower flight altitude characterizes HGVs and HCMs, said another IDGA report on Hypersonic Systems in 2022.
"It also means that the missile can be intercepted by systems designed to counter ballistic missile threats, such as the (American) Patriot PAC-3," the IDGA report said.
Demand, Supply Chain Hampering US Hypersonic Programs
The US Department of Defense (DoD) asked for $11 billion from the 2024 budget for its hypersonic and long-range subsonic missile programs. In January 2023, the Defense Innovation Unit, expanding its work on hypersonic technologies, launched a Commercial Solutions Opening for the Hypersonic and High-Cadence Airborne Testing Capabilities (HyCAT II) initiative, which will focus on four areas — manufacturing and materials; communication systems and components; propulsion; and alternative navigation and control systems. The Hypersonix DART AE will contribute to the HyCAT II program.
"However, a combination of supply chain issues and inconsistent demand has contributed to a significant lag in US hypersonic weapons development and deployment, a May report by the Emerging Technologies Institute (ETI) said. "The DoD has often wavered in its commitment to fielding hypersonic systems at scale. Some years, it has been a clear priority, while other times, the commitment has been ambiguous," the ETI report said.
An Aviation Week report in May said soaring production costs drove the estimated unit cost of the US Army's Long Range Hypersonic Weapon (LRHW) and US Navy Conventional Prompt Strike (CPS) missile to "nearly $60 million by fiscal 2028." Test failures have put the USAF's previously-planned production of the AGM-183A into limbo, with the result that production of hypersonic weapons for the USAF may not commence until FY2027.
Moreover, the current supply chains, including the manufacturing base, supply of critical materials, testing infrastructure, and workforce, cannot support DoD's ambitious plans.
In addition, the DoD has not yet "established any programs of record for hypersonic weapons, suggesting that it may not have approved either mission requirements for the systems or long-term funding plans," a Congressional Research Service report on hypersonic weapons said in February.
No Takers For DARPA Programs
The problems besieging the hypersonic weapons program in the US are reflected in the Defense Advanced Research Projects Agency (DARPA) OpFires (Operational Fires) program, which has successfully developed a medium-range and thought to be somewhere between 500 km and 1,800 km range two-stage hypersonic missile system, that can be transported by a C-130 Hercules and carried on US Army and Marine Corps logistics trucks.
Neither the Army nor Marine Corps plans to invest in it, Janes Defense Weekly reported in November 2022.
There is also uncertainty if USAF wants the AGM-183A Air-Launched Rapid Response Weapon. Still, it may utilize "four residual missiles from the operational prototyping program" to declare an early operational capability by the end of this year, Aviation Week reported in May.
The focus for the USAF will be on developing and deploying HACM, the contract worth US$985 million, which was awarded to Raytheon and Northrop Grumman in September 2022 and is intended to result in delivery by 2027. HACM will be a scramjet-powered HCM, compatible with tactical aircraft and the rotary launchers of US bombers such as the B-52 and B-1, Janes Defense Weekly reported in May.
The USAF has also awarded a contract to Leidos for the development of the Mayhem Hypersonic Multi-Mission ISR and Strike UAV system. Mayhem will utilize a standardized payload interface and may also be linked to advanced propulsion system designs, such as dual-mode ramjets and turbine-based combined cycle engines, according to The Drive report in December 2022.
NC Bipindra is a 30-year veteran in journalism specializing in strategic affairs, geopolitics, aerospace, defense, and diplomacy. He has written extensively for the Times of India, New Indian Express, Press Trust of India, and Bloomberg News. He can be reached at 

ncbipindra (at) gmail.com

Article Republished with Modifications