Iran is poised to send approximately 1,000 additional weapons to Russia, including short-range ballistic missiles and additional attack drones, officials from a western country that closely monitors Iran's weapons program told CNN. 
According to CNN sources, the last shipment of weapons from Iran to Russia included about 450 drones.
The Washington Post had first reported Iran's plans to send missiles and additional drones to Russia.
On Tuesday, Yuriy Ihnat, Ukraine's Air Force Command spokesperson, said that Ukraine currently has "no effective defense against these (surface-to-surface) missiles. It is theoretically possible to shoot them down, but it is very difficult to do it with the means we currently have."
On October 18, 2022, Reuters, quoting two senior Iranian officials and two Iranian diplomats, reported that Russia and Iran had struck a deal on October 6, 2022, under which Iran would provide Russia with surface-to-surface ballistic missiles while Iran's First Vice President Mohammad Mokhber, two senior IRG (Iranian Revolutionary Guard) officials and an official from the Supreme National Security Council were in Moscow.
"The Russians had asked for more drones and those Iranian ballistic missiles with improved accuracy, particularly the Fateh and Zolfaghar missiles family," said one of the Iranian diplomats, who was briefed about the trip.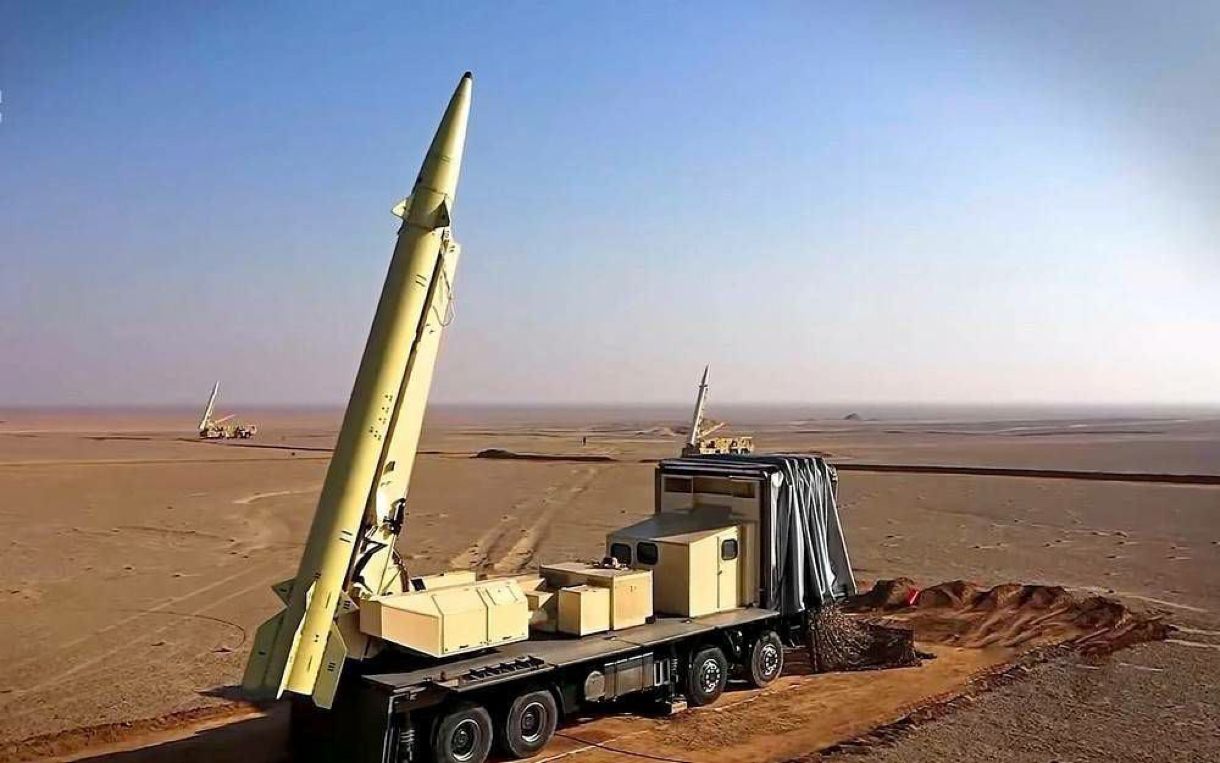 In an earlier analysis, Eurasian Times had dwelt on why Russia is buying Iranian ballistic missiles from Iran, even though it has technologically more advanced missiles. To recap, the reasons are:
Iranian missiles present a cost-effective option to strike at Ukrainian infrastructure. The missiles are accurate. One drawback of the Iranian missiles is – they follow a predictable ballistic trajectory with no maneuvering capability. Consequently, they cannot penetrate adversary Anti-ballistic Missile (ABM) defenses. However, the shortcoming is irrelevant since Ukraine doesn't have effective ABM defenses.

Iran's existing inventory of missiles will facilitate early use in effective numbers. The missiles are likely intended to degrade Ukraine's power generation, command and control, and logistic infrastructure to the maximum extent possible before the onset of winter.

Procurement of Iranian missiles will allow Russia to conserve its more advanced and deadly tactical ballistic missiles, such as the Iskander, for a possible future clash with NATO.

One of the two Iranian missiles has a longer range than the INF-constrained Iskander.
The Iranian missiles likely to be transferred to Russia are the Fateh-110 and the Zolfaghar. Both missiles are mounted on vehicles with conventional wheelbases for versatile mobility. The following brief overview of the missiles is based on open sources and may not be accurate.
Fateh-110
The Fateh-110 is a 300-kilometer range, non-containerized solid propellent missile mounted on a vehicle (non-containerized missiles must be stored in a special facility close to the launch point.) The missile reportedly uses a combination of inertial and satellite navigation to reach its target area.
A missile variant has passive radar homing to target emitting air defense and missile guidance radars.
Zolfaghar
The Zolfaghar is a longer-range (700-kilometer) upgraded version of the Fateh-110. It's 1.5m longer than the Fateh-110 and features improved solid propellant rocket motors. Its hull is lighter because of the use of composites.
The Zolfaghar is more accurate than the Fateh-110 because it uses an imaging infrared (IIR) seeker for terminal guidance.
The Threat To Ukraine's Infrastructure
According to Ukrainian Air Forces spokesperson Yurii Ihnat, Russia plans to deploy the missiles along Ukraine's northern borders, putting most of Ukraine at risk.
Confirming that the missiles in question are indeed the Fateh-110 and Zolfahar, he says, "One missile is 300 kilometers, the other missile is 700-kilometer range. These are ballistic missiles. We don't have effective protection against these missiles."
Russia has already degraded Ukrainian power generation infrastructure significantly. Official Ukrainian estimates of the lost power generation capability vary from 30 to 40%. The degradation has primarily been achieved over three days – October 10, October 11, and October 31 – with cruise missiles, kamikaze drones, and air-to-surface missiles. Several Russian missiles and drones used during the strikes were shot down.
The destructive power of Iranian ballistic missiles would be far more than the missiles and drones used by Russia. Ballistic missiles have higher terminal speeds and larger warheads. Considering that none of the ballistic missiles launched would be shot down, the destruction of the Ukrainian infrastructure would be crippling.
No amount of Western military and economic aid would likely keep Ukraine viable for long. A Ukrainian surrender would likely follow.
Likely US Responses
It's conceivable that a Ukrainian surrender would not be acceptable to the US and NATO. The NATO chief is on record stating that Ukraine's defeat would be tantamount to NATO's defeat.
Proportionate response options available to the West to stave off Ukrainian defeat include:
Prevent delivery of Iranian ballistic missiles by preemptively attacking Iranian missile storage and transshipment hubs. This would be a reasonably effective option. If successful, it would significantly delay a Ukrainian collapse. The effectiveness of the US strikes would depend on the extent to which Iran has distributed and secured its storage facilities.

Supplying Ukraine with missiles with a range similar to the missiles provided by Iran, including the 300-kilometer range variant of HIMARS rockets, delivery of which the US has withheld so far. However, longer-range weapons in the hands of Ukrainians would cause more pain to Russia but not prevent Iranian ballistic missiles from degrading Ukrainian infrastructure.
A disproportionate and escalatory US response would be to prevent deliveries and set up a no-fly zone over Ukraine. This could prevent, not just delay, a Ukrainian collapse. However, it would represent a grave escalation with unpredictable consequences since it would involve direct US participation in the conflict, leading to US casualties.
Vijainder K Thakur is a retired IAF Jaguar pilot. He is also an author, software architect, entrepreneur, and military analyst. VIEWS PERSONAL
Reach out to the author at vkthakur (at) gmail.com