Turkey recently hosted its 16th International Defense Industry Fair (IDEF 2023) in Istanbul from July 25 to July 28, 2023, featuring a range of defense companies showcasing their latest hardware.
Despite the limited presence of US defense companies at the event, one notable participant was Lockheed Martin, a US-based defense giant hoping to secure a multi-billion dollar contract with Ankara. 
NATO member Turkey is reportedly seeking to purchase a US$20 billion package of a new giant fleet and modernization kits for existing fighter aircraft from Lockheed Martin, the manufacturer of the F-16 Fighting Falcon.
The Turkish authorities requested to buy this comprehensive package in October 2021. The potential deal entails the acquisition of 40 F-16 fighter jets alongside approximately 80 modernization kits intended for their existing aging F-16s aircraft.
During the IDEF-2023 exhibition in Istanbul, the US-based company presented a model of the F-16 jet adorned with the Turkish flag. Featuring F-16 Block 70 fighters, the company's booth showcased a scale model of the jet equipped with an array of weaponry.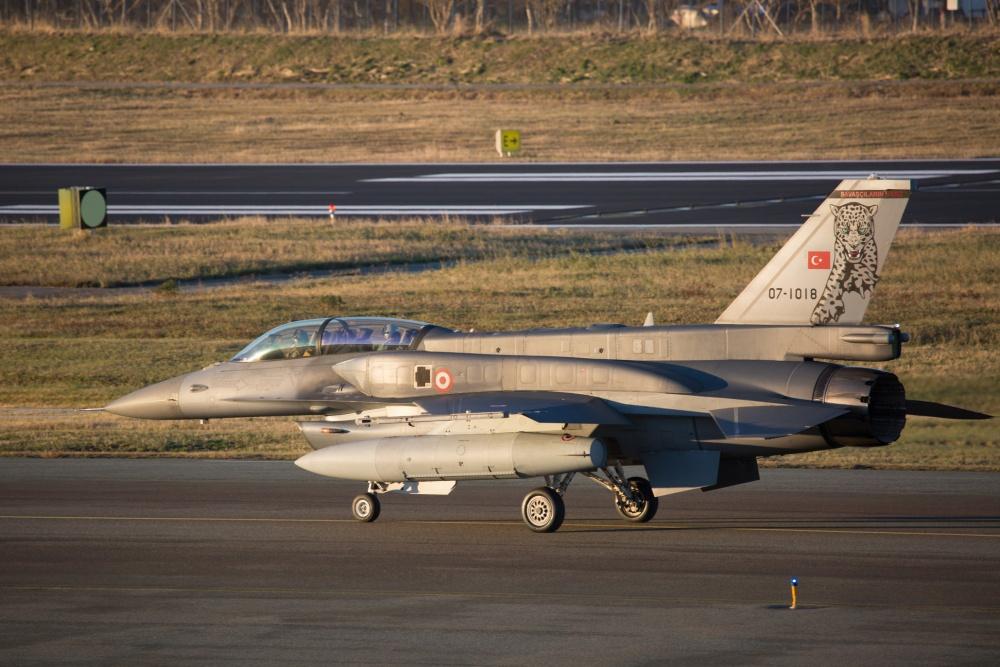 However, the deal has encountered prolonged objections from US lawmakers due to concerns about Turkey's potential use of the US-provided fighters. 
In 2022, Greece accused Turkey of over 10,000 airspace violations, and Turkey has threatened areas in Syria occupied by Kurdish groups, which are considered allies by the United States. 
In July, the Biden administration announced its intention to transfer F-16 fighter jets to Turkey, following Ankara's approval for Sweden to become a NATO member.
The Biden administration is reportedly engaging in discussions with lawmakers who oppose the sale as they seek assurances that any potential sales to Turkey will not be used in a hostile manner towards other NATO allies, including Greece, with whom Turkey has shown belligerence in the past.
Turkey had a previous plan to upgrade a substantial part of its F-16 fleet with advanced F-35A stealth fighters, aiming to leverage domestic industry participation in the program. 
But Turkey's procurement of Russian-made S-400 air defense systems led to its removal from the Joint Strike Fighter program in 2019. 
Following this development, Turkey began exploring options to acquire additional F-16s, entering into discussions for a batch of 40 F-16s. However, no deal had materialized until the recent announcement.
Chinese Companies Overshadow US
The International Defense Industry Fair commenced in 1993 and has been organized by Turkey's Ministry of National Defense. In its latest edition, the fair was held at the Tuyap Fair and Congress Center.
This weapon fair represents the largest gathering within Turkey's defense industry and ranks fourth largest globally, attracting prominent participants and exhibitors from the international defense sector.
During its 2023 edition, the 16th International Defense Industry Fair (IDEF) in Istanbul witnessed a remarkable surge in the presence of Chinese companies, surpassing the number of their US counterparts by a significant margin. 
A total of 104 Chinese firms actively participated in the event, seeking lucrative business prospects in Turkey's thriving defense production and export sector. 
Additionally, these companies capitalized on the opportunity to engage with foreign military and defense procurement delegations at the fair. 
Hava ve füze savunmamıza güç katacak, hava tehditlerine geçit vermeyecek yeni milli teknolojilerimiz;
🔹GÖKBERK
🔹GÖKDEMİR
🔹GÖKSUR
🔹GÜRZ
ülkemize hayırlı olsun.#IDEF2023'te lansmanını yaptığımız #ASELSAN mühendisliğinin👏 en ileri teknolojiye sahip bu çözümler, beka meselesi… pic.twitter.com/hde8XdSxLI

— Prof. Dr. Haluk Görgün (@halukgorgun) July 26, 2023
The event saw a total of 1,461 companies participating, with more than half representing foreign firms from 55 different countries. However, Chinese companies dominated the event, and their presence significantly overshadowed booths from all other countries. 
Most of the Chinese companies at the event focused on armor and helmet production and sales and supplying production machinery, raw materials, and semi-finished parts for these items.
Another significant segment of Chinese companies focused on electro-optics, particularly for drones and other imaging products like thermal and infrared equipment.
Over the years, Turkey has made significant strides in developing its in-house capabilities for producing advanced weapon systems.
As a result, the foreign defense company representation has shifted from merely showcasing their own weapons platforms to actively engaging in the supply of components and subsystems to bolster Turkey's thriving defense industry, the report said. 
Furthermore, some NATO allies have placed tacit and implicit export restrictions on their dealings with the Turkish defense industry.
These measures, stemming from diplomatic and geopolitical concerns, have inadvertently created an opening for Chinese companies to explore new avenues for cooperation.
Given Turkey's position as a NATO member, these restrictions have prompted some foreign firms to recalibrate their engagement, making way for Chinese enterprises to seek a foothold in the Turkish defense market. 
Chinese companies have two essential options to enhance Turkish production capacities: offering finished products at competitive prices or supplying raw materials and semi-finished goods. 
Nonetheless, experts think that while Turkey may find avenues for cooperation with China in the defense sector, there are inherent limitations to the extent of such collaboration.
The crucial factor lies in effectively compartmentalizing and determining which specific segments within the defense industry can be subject to cooperation and to what degree.