Turkey has been trying to re-negotiate a deal to acquire F-35 stealth fighter jets from the US after it was kicked out from the Joint Strike Fighter program over its purchase of the Russian S-400 systems.
Even though the two NATO allies (the US and Turkey) have been engaged in talks to reach a mutual understanding, there has been no progress.
Turkey has an aging Air Force, dominated by the old F-16 Falcons that are in dire need of repairs and upgrade. With the recent purchase of Rafale by arch-rival Greece, the Balance of Power in the region has tilted away from Ankara, further adding to its woes.
In the backdrop of Turkey's need for an advanced aircraft, last week, the CEO of Turkish Aerospace, the company that is manufacturing Turkey's next-gen fighter, said that Turkey and Pakistan were working together on a fifth-generation fighter.
In an interview with journalist Rana Mubashir on Pakistan's Aaj News, Temel Kotil mentioned a fifth-generation fighter project. However, more details about the project were not revealed.
Turkey is also in the process of building its own modern fighter jet; called TF-X that it claims would be comparable with the F-35. Recently, it unveiled a full-scale mock-up at Singapore Air Show, in a first such move in Asia, as previously reported by the EurAsian Times.
However, it is not clear whether it will cooperate with Pakistan on the same project or build another fighter.
Other officials also took part in the interview, including Pakistan Air Force Air Vice-Marshal Rizwan Riaz, who is the pro-rector for research, innovation, and commercialization at the National University of Sciences and Technology (NUST), the country's top scientific institution.
"This is a fifth-generation fighter aircraft on which Pakistan and Turkey are now cooperating," Riaz said. This is not the first time that Turkey has talked about collaboration with Pakistan in developing a combat aircraft.
In December last year, the head of the Turkish Defense Industry Committee Ismail Demir said in an interview with CNN Turk that "Our doors are open for cooperation in this direction. In particular, we are talking about cooperation with countries such as Azerbaijan and Pakistan, and we propose to unite efforts in this direction" while talking about fifth-generation aircraft.
Turkey is attempting to co-develop fighter jets and missiles with Pakistan, a partnership that might provide Turkey with valuable Chinese military technology, according to many experts that The EurAsian Times has quoted.
A Turk-Pak F-35
"The name of this one [jet] is Turkish-Pakistani fighter," Kotil remarked, pointing to a miniature model of a stealth aircraft. This is the fifth generation of the family."
Kotil stated in the interview that he needed more engineers for the fighter project and that he was looking for them in Pakistan. Kotil said he wanted to have "100 engineers" working on the fighter project at NUST by the end of the year, and that he would be relocating operations from Turkey.
Previously, Turkey had inaugurated a mega engineering compound facility for design, development and manufacturing of the TF-X fighter jet.
It is expected to take its first flight in the next three years and a prototype has already been unveiled. If Pakistan collaborates on the same project, the role to be played by it would have to be carefully negotiated.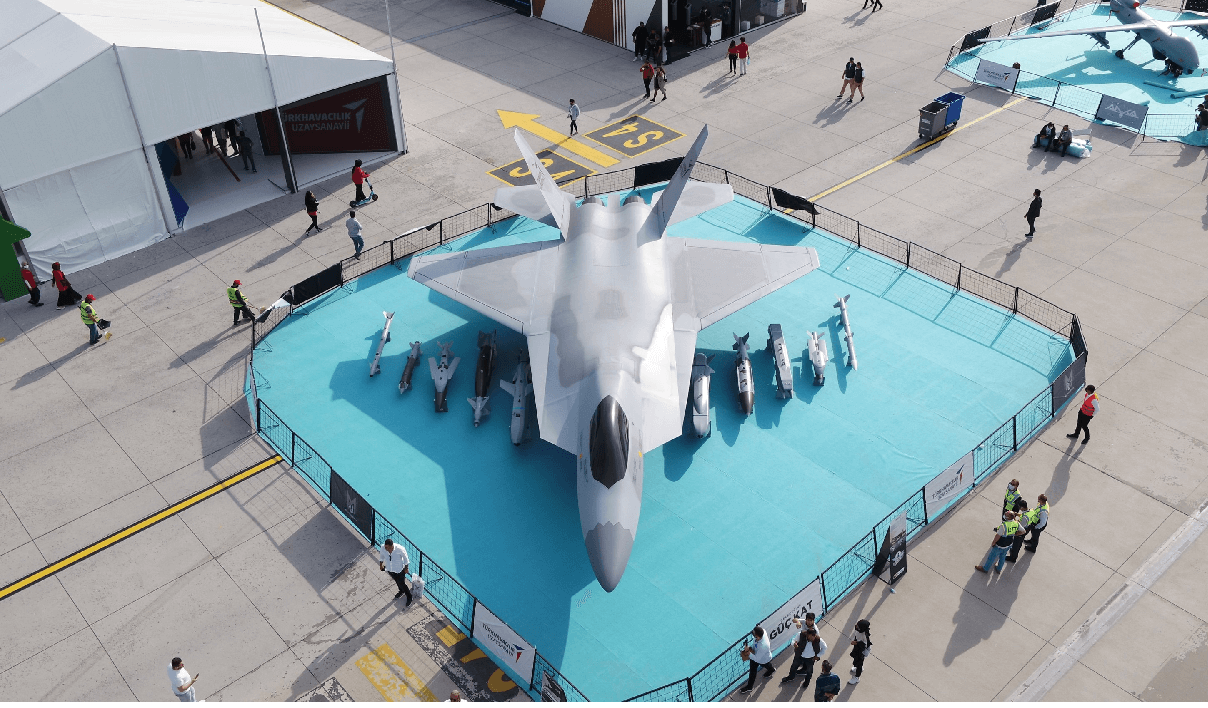 Bloomberg had earlier noted that the cooperation with Pakistan appears to be aimed at bringing "Turkey closer to some of China's military technology."
For decades, China has been Pakistan's most important strategic benefactor, assisting Islamabad in the development of fighter jets, missiles, warships, tanks, and submarines. With the American refusal to give away the F-35s and the F-16s, Turkey could be seeking sophisticated Chinese technology through Pakistan.
However, that precedent might not go down well with the United States and NATO allies that remain in a tense back and forth relationship with China. There could be many contingencies related to the prospect of a close NATO ally seeking Chinese technology.
The Turkish Aerospace is collaborating with the BAE on the TF-X project which could further create a problem in getting Chinese technology on board.
Turkey-Pakistan: Comrades in Arms
Turkey and Pakistan are close allies and have strong military cooperation. In fact, Kotil has referred to his own fifth-generation fighter as the "first big fighter of the Muslim world" which is the strongest basis of its allyship with Pakistan.
Last year, Turkey and Pakistan signed a formal agreement to boost defense cooperation by undertaking joint manufacturing of arms. Turkey is currently developing Ada class corvettes for Pakistan under the MILGEM project while carrying out upgrades to its Agosta-90B submarines.
Further, it is also arming Pakistan with deadly torpedo countermeasure systems.
Turkish Aerospace Industries (TAI) and Pakistan's Space and Upper Atmosphere Research Commission (SUPARCO) recently inked a collaboration agreement to develop space and satellite projects.
Turkey and Pakistan also announced last year that they were set to jointly produce the 'Medium Altitude-Long endurance' Anka drones after the success of Ankara's drone industry.
Turkey and Pakistan share the common vision of assuming military leadership in the Islamic world. Turkey also supports Pakistan on the Kashmir issue against India and has been vying for a lead role in the Islamic world over Saudi Arabia and Iran.