Since the High Mobility Artillery Rocket System (HIMARS) was delivered to Ukraine last year, it has been touted as a "game-changing" weapon wreaking havoc on the Russian military, striking with deadly accuracy. 
As the Ukrainian military continues to shell Russian positions from the frontlines, the official handle of Ukraine's defense ministry took to Twitter to post an ominous message from a HIMARS handler, who apparently goes by the name "Captain HIMARS" in the video.
Ukraine has attracted eyeballs with its unique and consistent social media campaigns and information warfare against Russia since last year. From issuing warnings to invading Russian troops to asking for military aid from its friends in NATO, the 'Defense of Ukraine's' Twitter handle has done it all.
However, the recent video is significant as it appears during Russia's incessant missile attacks against Ukraine. The Ukrainian message to Russia accompanying the video reads: "A friendly reminder from Captain HIMARS… To whom it may concern. P.S. There hasn't been a single HIMARS system destroyed so far. Want to know why?"
Standing in front of a HIMARS as it launches its lethal Guided Multiple Launch Rocket Systems (GMLRS) rockets at an unknown location, Captain HIMARS ridicules Russian claims about destroying several HIMARS in an automated voice. The sky appears to be pitch dark, with clouds of smoke and flying debris filling the background.
A friendly reminder from Captain HIMARS…
To whom it may concern.

P.S. There hasn't been a single HIMARS system destroyed so far. Want to know why? pic.twitter.com/5hPz9Xu35d

— Defense of Ukraine (@DefenceU) May 3, 2023
The video begins with a launch, creating a loud explosive sound. Captain HIMARS starts by saying, "Russian soldier! My name is Capt. HIMARS. I stand by my words. I don't strike the barracks in sectors from where I get coordinates for armored vehicles and ammo depots."
Next up, the frame changes and the video proceeds with Captain HIMARS walking inside what seems to be a shelter or a bunker. Turning around, he signals for the HIMARS to come inside with an affirmative and confident wave. The HIMARS, apparently steered by another soldier, complies.
The message continues as the vehicle enters the bunker, "You're constantly being lied to that there are barely any HIMARS left. Take a look at the conditions under which we store HIMARS. These are military facilities built during the Soviet Union period. They can even withstand nuclear strikes. Since the beginning of the war, not a single HIMARS system has been destroyed."
The frame of the video changes again and focuses on Captain HIMARS again, who is now standing outside this shelter or bunker. With a walkie-talkie in his hand, he assertively points toward the camera and says, "Russian soldier! "Keep sending me target coordinates so that death does not fall from the skies on you."
After making his point, he puts the walkie-talkie closer to his mouth and commands, "Fire." The video shifts again to the HIMARS launching a GMLRS.
The video also has an email flashing on the screen. The email "capt.himars@gmail.com" all along. The timing of the video is significant as it comes when Ukraine is preparing for a massive counteroffensive.
HIMARS- The Weapon Of Choice Against Russia!
The clear message given by Captain HIMARS is a counter to Russian claims, made on multiple occasions, stating that they have managed to obliterate several HIMARS operating inside Ukraine.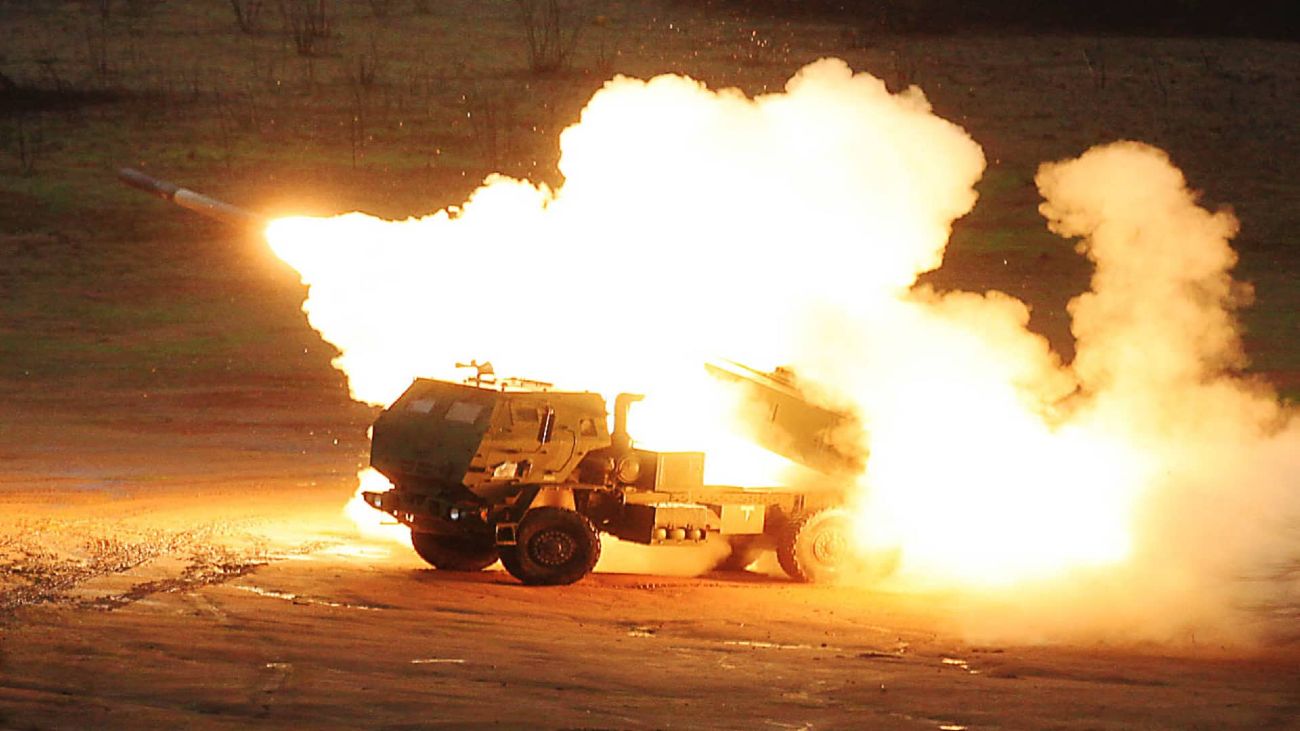 For instance, shortly after the HIMARS started operating in Ukraine, Russia claimed in July that it had obliterated four of them. Such claims have been repeated several times since.
In fact, on September 1 last year, many Twitter and Telegram accounts reported that Russia allegedly claimed to have destroyed 44 Ukrainian HIMARS. These reports began to circulate in the media following the appearance of a map in the background behind Russian defense ministry spokesman Igor Konashenkov in the briefing, which stated: "44 HIMARS" in Russian.
⚡️The Ministry of Defense of the Russian Federation has announced today at a briefing the destruction of 44 HIMARS out of 20 that are in service in Ukraine, – according to open sources. pic.twitter.com/GbY39eY7gl

— FLASH (@Flash_news_ua) September 1, 2022
By January this year, the Russian MoD claimed to have destroyed 27 HIMARS. However, the Pentagon contends it has shipped just 18 of the 38 HIMARS pledged for Kyiv. The remaining HIMARS are yet to be purchased using financing from and contracts with the Ukraine Security Assistance Initiative (USAI).
HIMARS has been projected as a "game changer" by Ukrainian officials ever since it was delivered sometime in late June or early July last year.
HIMARS is one of the many systems delivered by the United States to Ukraine that allowed the Ukrainian Armed Forces to gain some decisive victories, especially in the counteroffensive launched in September and October last year that led to recapturing of Kherson.
HIMARS consists of an armored truck with six Guided Multiple Launch Rocket Systems (GMLRS) 227-millimeter GPS-guided missiles. Each rocket has a range of 50 miles, a top speed of Mach 3, and a payload capacity of 200 pounds of high explosives. Typically landing nine feet or less from the target, GMLRS uses a GPS guidance system.
The Ukrainian military has hailed the HIMARS MLRS as a game-changing system in its conflict with Russia. It helped compensate for Ukraine's weak air force by enabling the military to quickly carry out precision strikes at standoff distances, somewhat (but not entirely) negating the need for air power.
Using long-range HIMARS rockets, Ukrainian forces destroyed hundreds of Russian positions and ammunition storage facilities away from the front lines. Using these deadly MLRS, the defensive forces could push the Russians farther away from the frontlines.
And although Russian commanders initially expressed their reservations about the system, they have become suspicious of it since it began to devastate Moscow's strongholds. In  Kyiv, the system enjoys a 'cult status' and is regularly used by the troops to tease the Russians.
While the Russians quickly learned how to adapt to the HIMARS shelling, they have been constantly looking to destroy these systems. To safeguard their prized HIMARS from Russian missile and UAV strikes, Ukraine has moved these systems inside Soviet-era nuclear bunkers and replaced them with dummies of HIMARS to fool the Russians.
As the Ukrainian counteroffensive begins in the coming days or weeks, the HIMARS will likely become even more significant for the Ukrainian troops.
Contact the author at sakshi.tiwari9555 (at) gmail.com