The Ukrainian Air Force spokesperson, Yuriy Ihnat, has alleged on national television that Russia's air defense had reportedly shot down its own three helicopters and two aircraft on May 13. 
On May 13, a series of crashes occurred almost simultaneously in Russia's Bryansk Oblast involving Russian military Mi-8 helicopters and Su-34 and Su-35 fighters. The incidents resulted in the loss of all crew members on board. 
Eyewitnesses shared accounts of the events on social media, and the Russian state media reported on the crashes. However, the Russian authorities did not issue an official statement regarding the incidents or provide details about the number of aircraft lost.
Ihnat explained that the downing of the Russian aircraft marked a "black day for Russian aviation." 
In response to whether Russia's air defense forces could have shot down their own helicopters and planes, Yuriy Ihnat acknowledged the possibility. 
He stated, "It turns out so," and mentioned that there is already an ongoing analysis to determine responsibility. Ihnat said that discussions are underway in Russia regarding the appropriate actions to respond to the incidents. 
These discussions involve considering potential measures such as firing and punishing those responsible for the situation. The aim is to hold accountable those deemed responsible for the downed aircraft. "It's nice to read such news from the enemy," Ihnat expressed.  
The Air Force spokesman noted that the strike group consisting of helicopters and airplanes downed in Bryansk Oblast was allegedly en route to attack Ukrainian settlements in the northern region using guided bombs.
In addition, Ihnat claimed that the number of downed Russian aircraft could potentially be five instead of four. He stated, "They are talking about a third helicopter, so five in total, probably." 
The Air Force spokesperson emphasized that the incident occurred as the Russian aircraft encountered difficulties while intending to bomb civilian areas in Ukraine, specifically targeting peaceful regions.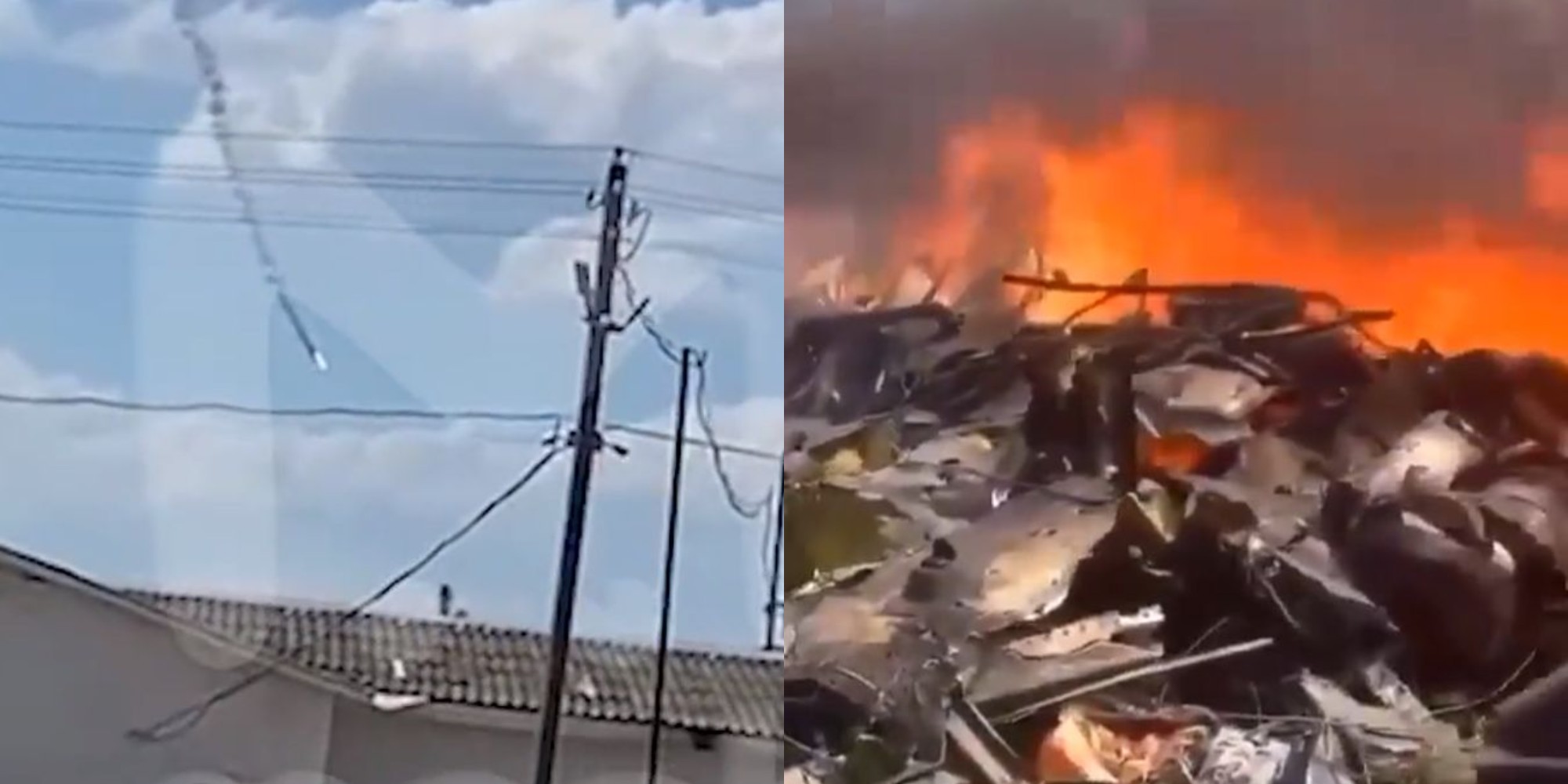 Wagner Head Offers A Similar Hypothesis
Similar to Ihnat's remarks, the head of Russia's Wagner private army also indicated the possibility that the four Russian military aircraft, which crashed near the Ukrainian border, might have been shot down by Russia's own forces.
According to the state news agency TASS report, emergency services sources indicated that the crashes involved a Su-34 aircraft and one helicopter. 
Vladimir Rogov, the head of a Russian collaborationist organization in Ukraine's Zaporizhzhia province, also claimed that four aircraft had crashed. 
Similarly, the Russian newspaper Kommersant reported that a group of military aircraft, comprising two Mi-8 helicopters and Su-34 and Su-35 fighters, crashed in the Bryansk Oblast.
Wagner head Yevgeny Prigozhin said that if a circle is drawn encompassing the locations where the four planes crashed, it would have a diameter of 40 kilometers (25 miles), with all the crash sites lying within this circular area. 
Prigozhin suggested that one could explore online to determine the type of air defense weapon that could potentially be located at the center of this circle and then speculate on possible scenarios based on this information.
Wagner's mercenary boss, whose forces are actively involved in an ongoing and protracted battle for the city of Bakhmut, clarified that he does not possess insider information regarding the crashed aircraft's situation. 
However, he has consistently voiced criticism of the Russian military's strategy in Ukraine. Additionally, Prigozhin has accused the Russian military of allegedly neglecting to provide Wagner with the necessary ammunition for their operations in Bakhmut.
Meanwhile, despite conducting military operations deep within Russian territory, Ukraine consistently refrains from acknowledging its involvement. 
Many unofficial Russian accounts suggest that Ukraine might have had access to detailed intelligence regarding the planned Russian mission. 
Some military analysts also speculated that Ukraine may have deployed its air defenses closer to the border, particularly in regions like Chernihiv, in response to the increasing use of long-range bomb attacks by the Russians. 
These bombs can be launched from a considerable distance, effectively functioning like missiles.
Yuriy Ihnat had previously stated that the Russian military was modifying FAB-500 high-explosive aerial bombs into cruise missiles.
These converted bombs are utilized from distances beyond the reach of Ukrainian air defense systems, making them a challenging threat for Ukraine to counter.