India has evacuated the diplomatic staff from its consulate in Kandahar, Afghanistan amid intense fighting between the Taliban and Afghan security forces.
Afghanistan Calls On India, Russia & China To Help Fight Terrorism In The War-Torn Country
While New Delhi says "safety and security of its personnel are paramount", India's overall Afghan policy has drawn criticism from certain quarters with a former Indian diplomat calling it "short-sighted" and "lacks depth".   
Meanwhile, responding to some reports that India has shut down its Afghan missions, Arindam Bagchi, spokesperson of the Ministry of External Affairs (MEA) said, "The Consulate General of India in Kandahar has not been closed. However, due to the intense fighting near Kandahar city, India-based personnel have been brought back for the time being." 
Apart from its embassy in Kabul, India runs three consulates in the South Asian nation — Kandahar, Mazar-e-Sharif, and Herat.
Terming it as a temporary measure, Bagchi said that the security situation of Afghanistan is being closely watched by India. India's embassy at Kabul and another Consulate at Mazar-e-Sharif are still operating.
Our response to media queries on the Indian Consulate in Kandahar:
https://t.co/aQ0YPgl6Vf pic.twitter.com/DAPT3kYdM4

— Arindam Bagchi (@MEAIndia) July 11, 2021
India Giving Weapons To Afghan Forces?
Pakistan's Inter-Services Public Relations Director General Maj Gen Babar Iftikhar maintained that Islamabad has played a key role as a facilitator in the Afghan peace process while accusing India of using Afghanistan as a base against Pakistan.
In an interview with Pakistan's ARY News, Maj. Gen. Iftikhar claimed that investments done by India in the past decade seem to be "sinking", reported The Dawn.
"If they had made these investments with sincerity, they would have no need to be frustrated. But because they were concentrating on using Afghanistan to harm Pakistan, they could see their entire investment sinking," said Maj. Gen. Iftikhar.
He also alleged that India's "propaganda" against Pakistan's "positive role in the Afghan peace process" was not gaining any traction.
Pakistani daily, The Express Tribune, reported India has delivered ammunition to Afghanistan. It claimed an Indian Air Force (IAF) C-17 aircraft reached Kandahar on Saturday with 40 tons of 122mm artillery shells.
Not Taliban, ISIS Or Al-Qaeda, But China Is Haunted By Another Small 'Islamic Outfit' In Afghanistan
The daily cited Afghan media outlet Tolo News to claim that Indian security officials had reached out to many groups and leaders in the country, believed to be outside the "influence of Pakistan and Iran".
India's Afghan Policy 
Speaking about what should be India's future course of action vis-a-vis Afghanistan, veteran diplomat and foreign policy expert Phunchok Stobdan told The EurAsian Times,
"India should have had a more nuanced, multi-pronged engagement with every fraction of the Afghan society. We don't know whether the Taliban will do anything against Indian interests. Taliban is watching us very carefully now, how we behave, and if India's behavior is to support the Afghan government militarily, then they will become hostile towards us."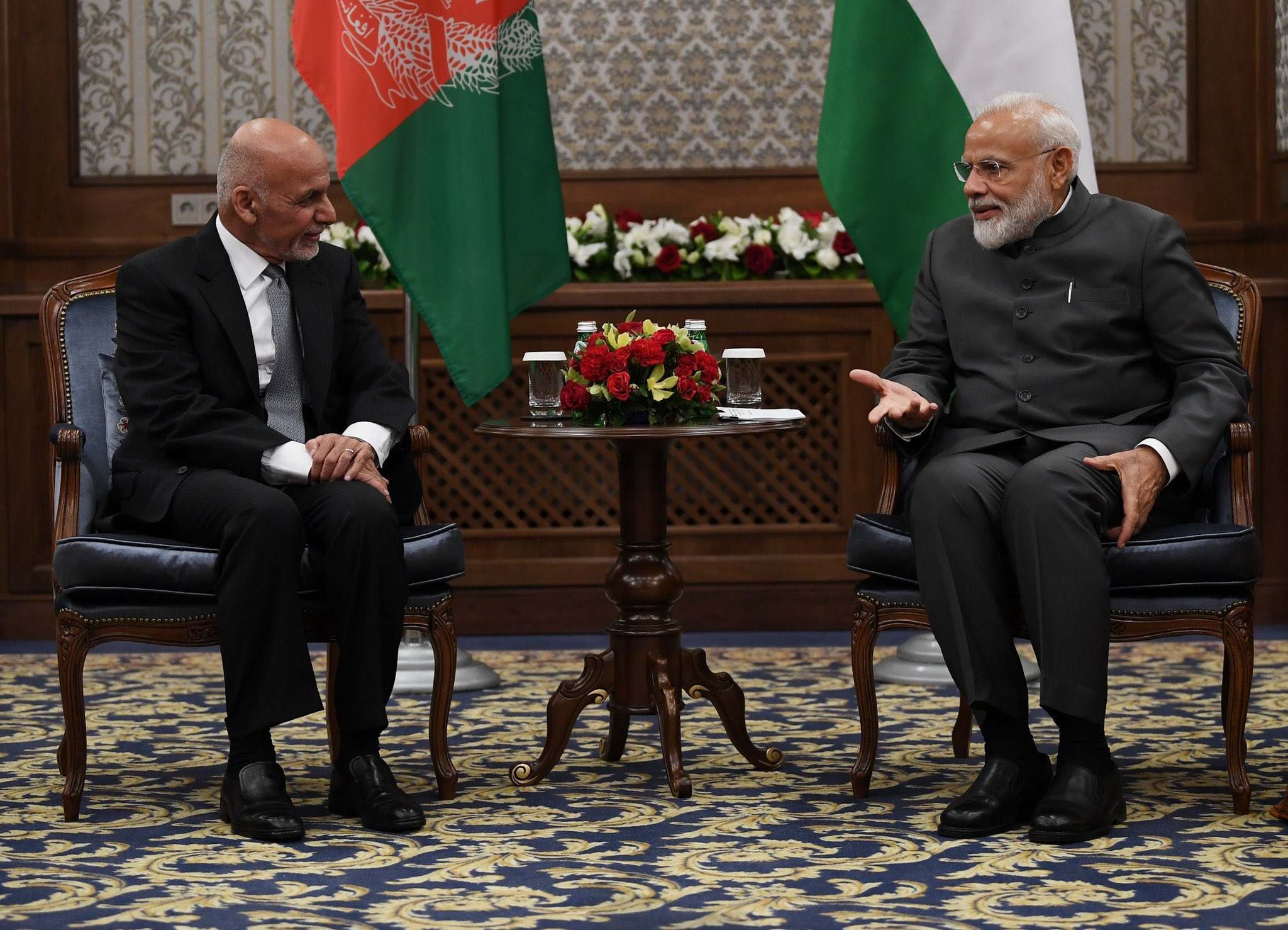 On the reports by the Pakistani media that an Indian aircraft had been supplying ammunition to Kabul, Stobdan said, "The aircraft that went to evacuate our staff… Pakistan is saying that we are supplying weapons. It's a game that we have to play, it's like a football game or a cricket game, if you want to be a player in the game, then you have to take care of every aspect of it."
Stating the evacuation of Indian personnel from Kandahar as a precaution, the veteran diplomat said, "It's more of a precautionary measure that we have taken, to not harm our people.
At the diplomatic level, there is an engagement with the Taliban, and the Taliban are not stupid, they have withstood many difficulties but there can always be problems because the Taliban in itself is an unguided force.
There may be many stray elements within Afghanistan which may like to harm us, or Pakistan might exploit the interests against us; Kandahar is not very far from the border."
Mentioning that in 1996, India helped the Northern Alliance in Afghanistan, the former ambassador to Kyrgyzstan said, "We defended the anti-Taliban forces in 1996 when I.K. Gujral was the prime minister. From there onwards, everything went wrong."
Foreign Secretary @harshvshringla was pleased to welcome Ambassador @FMamundzay of Afghanistan. Ambassador briefed FS on the security situation in Afghanistan. FS assured our Afghan friends of India's long term commitment towards peace and prosperity in Afghanistan. pic.twitter.com/DqsBbwrTnF

— Arindam Bagchi (@MEAIndia) July 6, 2021
"It is possible that the Afghan govt and the Taliban may get together and attack Pakistan, that is the music played by Pakistan all the time. And the Pakistanis do not do this, because they hate the Afghans, they do it because of India. They kill the Afghans in the name of India. That's their game."
"Our policy should not be conditioned by what Pakistan does. Either we win or Pakistan wins, that approach has a limitation, a limitation today we are facing. We should have had a far-bigger approach for Afghanistan. 
"India-Afghanistan policy should go back to 7000 years, and it is not about containing Pakistan, Pakistan is a very small aspect of our thinking. When you realize that the most ancient Hindu temple dating back to the Vedic age is in Afghanistan, then the policy becomes something else. 
"Instead, we do some road-building, Parliament building, that tomorrow the Taliban will occupy it, or the Pakistanis might destroy it… so it is not a very mature foreign policy decision. These are done by people with shallow knowledge about the game that we play, it should be far more nuanced, far more full of wisdom.
Another Shocking news for #India. Afghan Taliban seized the Salma Dam in Herat Province, #Afghanistan. The Salma Dam near the Iranian border was built with Indian investment.#AfghanPeaceProcess pic.twitter.com/YEGEJK0cFL

— Taj Wali Khan (@WaliKhan_TK) July 9, 2021
"I spent one billion there, two billion there, and six billion there, but now three billion will go in one minute. You claim so many Afghans watch a lot of Bollywood films, but the entire Pakistani people also watch Bollywood films, so how do you make an entire foreign policy based on Bollywood films watched by the citizens? We suffer from some kind of a delusion, that all these gimmicks will work, these gimmicks don't work".
"Our Afghan relations are okay, only because we do not have a border. If we had a border with Afghanistan, they would have been the worst neighbor. Imagine you have a Hindu country Nepal, and you do not have a good relationship. So the analogy here is that our foreign policy is based on short-sighted thinking, our Afghan policy should have more depth."
The China Factor
China, it seems, wants to expand its sphere of influence in Central Asia although Beijing has also expressed concerns over the rapidly deteriorating security situations in Afghanistan due to what it sees as a "hasty US decision".
Chinese Foreign Minister will be on a state visit to Turkmenistan, Tajikistan and Uzbekistan, beginning July 12. According to The Global Times, the visit may give China and the three countries, all close neighbors of Afghanistan, an opportunity to coordinate on matters of regional security.
#Taliban have captured Nawabad, neighbourhood of Ghazni city and sources claim that they are now advancing deep into #Ghazni city that is just 148.9 km away from kabulpic.twitter.com/odVpjBItNI

— Syeda المسلمہ (@SyedaZ_) July 12, 2021
There is also a possibility of China extending financial and technical help to the neighbors of Afghanistan in safeguarding their border areas in view of the ongoing conflict in Afghanistan.
Many Chinese experts have termed the US withdrawal as "irresponsible and hasty", and believe that China is now being looked at as a viable coordinator of multilateral frameworks in dealing with the issue.
According to Yang Jin, an associate research fellow at the Institute of Russian, Eastern European and Central Asian Studies at the Chinese Academy of Social Sciences, Beijing respects Afghanistan's history as well as present conditions, and seeks "to help but not interfere, which is also what separates China from the US and makes China a mediator, or a "guarantor of security" in the region".