Taking a leaf out of Ukraine's experience in its war with Russia, Taiwan is considering buying the National Advanced Surface-to-Air Missile System (NASAMS) from the United States.
Taiwan's defense minister Chiu Kuo-cheng cited the missile's success rate in intercepting Russian missiles, which has inspired Taipei to view the Air Defense (AD) platform as a possible counter to Chinese fighter bombers, drones, and land-attack cruise and ballistic missiles. 
Reuters reported Chiu saying the NASAMS would "upgrade its air defense capabilities." "This work must be done in accordance with the enemy situation. We have seen from the Russia-Ukraine war that these weapons definitely have good performance," Chiu added. Chiu made the island's Parliament statement in response to a question about Taiwan buying NASAMS.
With warnings about Taiwan becoming "another Ukraine" by the same US-led coalition strategically at odds with Russia is now taking a hardline on China, Taipei has also drawn its lessons from the war. It is seeking the same weapons Kyiv was armed with by the West, with the Patriot Surface-to-Air Missile (SAM) systems and the High Mobility Artillery Rocket System (HIMARS) being two others.  
However, the report clarified that Taiwan had not received any official notification from the US about selling NASAMS. The US, Taiwan's primary foreign source of weapons, formally makes notifications to the island about the arms Washington is willing to sell.
There has been an unprecedented persistence in tensions in the Western Pacific, with the US and NATO enhancing cooperation with Taiwan, Japan, and South Korea against a rival China-Russia-North Korea grouping.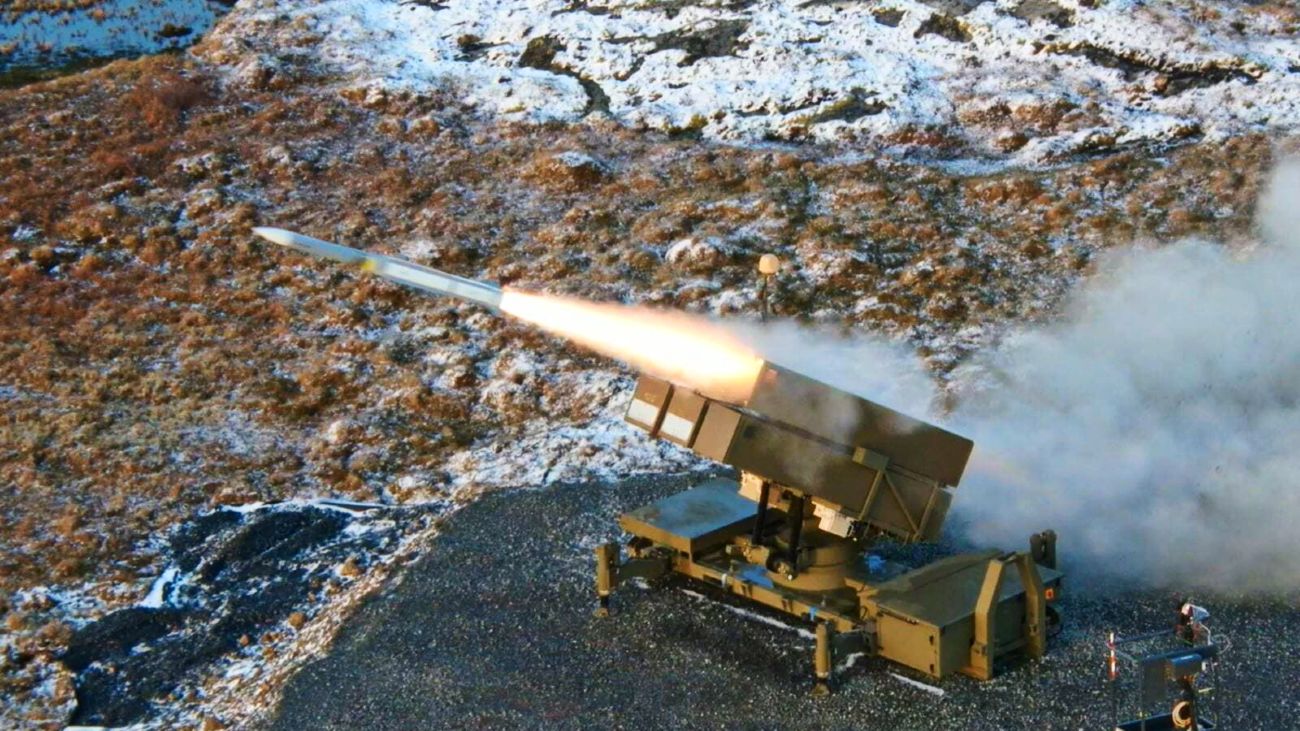 Tensions High In The Western Pacific
China has responded by increasing its military aircraft flights into Taiwan's Air Defense Identification Zone (ADIZ) and sending warships near its waters to exercise sovereignty over the island and increase political pressure on its leadership to accede to the mainland. 
The US is legally bound to arm Taiwan to defend itself, despite a lack of formal diplomatic relations. China routinely denounces such arms sales. 
NASAMS Succeeded In Ukraine
Developed by the USA's Raytheon and Norway's Kongsberg, US officials have reported a 100% success rate in intercepting Russian missiles. Russia often fires volleys of cruise missiles, ballistic missiles, and drones like the Kh-101, Iskander, Kalibr, and Geranium-2 kamikaze drones into civilian-military targets in Kyiv. The platform uses the AIM-120 Advanced Medium Range Air-to-Air Missile (AMRAAM) in a SAM role. 
The short to medium-range ground-based air defense system protects against drones, missiles, and aircraft, which both Canada and Lithuania have also bought, or are buying for Ukraine. 
Interestingly, Chiu's statement came just a day before the US announced a new $1.3 billion military aid package for Ukraine, which included four NASAMS. NASAMS have been in service in Ukraine since November 2022, delivered at the height of Russia's mass missile fires on Ukraine's energy infrastructure. 
A report in CNN quoted Ian Williams of the Center for Strategic and International Studies (CSIS) Missile Defense Project, saying that the NASAMS has had a "100 percent success rate." On the other hand, Ukraine's Soviet-era Buk M1 and S-300 missiles have an 80 percent success rate in hitting Russian cruise missiles. 
However, a EurAsian Times report analyzed how the rising shootdowns of Russia's missiles played into its strategy to exhaust Ukraine's Western-supplied SAMs.
Patriot Missile
The same applied to Patriot missiles, which had previously been reported to have claimed a Russian Khinzhal hypersonic cruise missile. The claim, however, was never conclusively proven. 
The highly capable Patriot PAC-3 missiles can seriously threaten Chinese aircraft, possibly drawing China's ire in May over the US basing the platform on its Miyako island. The island lies close to Taiwan in its northeast. 
Ukraine has become a testing ground for the modern military equipment arriving in Kyiv from its allies in the West, especially the United States. China, on its part, has been keenly watching the combat performance of the Western military equipment against Russia's formidable military force.
HIMARS
Taiwan is also awaiting the arrival of 29 HIMARS platforms by 2026, following a 2021 deal with the US to buy 11 launchers. 
It decided to buy 18 more in 2022 after the Ministry of National Defense (MND) scrapped its plan to buy 40 M109A6 "Paladin" self-propelled howitzers after Washington said the guns could not be delivered on time due to insufficient production capacity. 
The platform has seen limited tactical success in Ukraine, striking Russian supply lines and ammunition depots that forced a tactical withdrawal from Kherson in November last year. However, Russia has also claimed to have destroyed an equal number of HIMARS, including the actual platform, and intercepted the rockets with its Buk and S-300 air defense systems. 
Taiwan may use the weapon to hit incoming Chinese amphibious vessels and tanks on the sea, attempting to undertake a ground invasion.