In view of rising Chinese threats, Taiwan is acquiring advanced weapons and equipment from the US. As a part of this, Taipei has reportedly made last-minute changes in its defense budget for the fiscal year 2022 to earmark funds to acquire US-made anti-submarine helicopters.
Taipei Times has reported that the Ministry of National Defense has expressed its desire to acquire the MH-60R 'Romeo', also known as Seahawk helicopters. This came as the self-governing island, which Beijing claims as part of its territory, approved a defense budget of $16.89 billion for FY 2022.
This reflects a 4 percent hike from the previous fiscal year which also represents 2.1 percent of its expected Gross Domestic Product (GDP) for 2022, Defense News reported.
Taiwanese officials were quoted by several media outlets as saying that the island is working towards procuring 10 MH-60Rs in a staggered way, divided over a period of many years. It also wishes to acquire other weapons including the Mk 54 torpedoes, Hellfire air-to-surface missiles as well as guns.
"Following the approval of the budget, any requested items not already budgeted for will require ministerial action", Tsu Tse-min, the government's cabinet comptroller was quoted as saying. "The ministry would have drawn money from other programs to pay for those items", he explained.
The MH-60R Romeo choppers are expected to replace Taiwan's aging fleet of naval helicopters, including the Sikorsky S-70C(M) and the Hughes MD500 helos. These two types of rotorcraft, which have been in service since 1980, are also meant for anti-submarine operations.
MH-60 'Romeo' 
MH-60R Romeo is a multi-mission helicopter manufactured by Sikorsky Aircraft. It is considered the world's most advanced maritime helicopter. The rotorcraft replaces the SH-60B and SH-60F helicopters in the US Navy's fleet and combines the capabilities of these aircraft.
The MH-60R can be deployed for a range of missions, including anti-submarine warfare (ASW), anti-surface warfare (ASuW), search-and-rescue (SAR), naval gunfire support (NGFS), surveillance, communications relay, logistics support and personnel transfer, and vertical replenishment (VERTREP).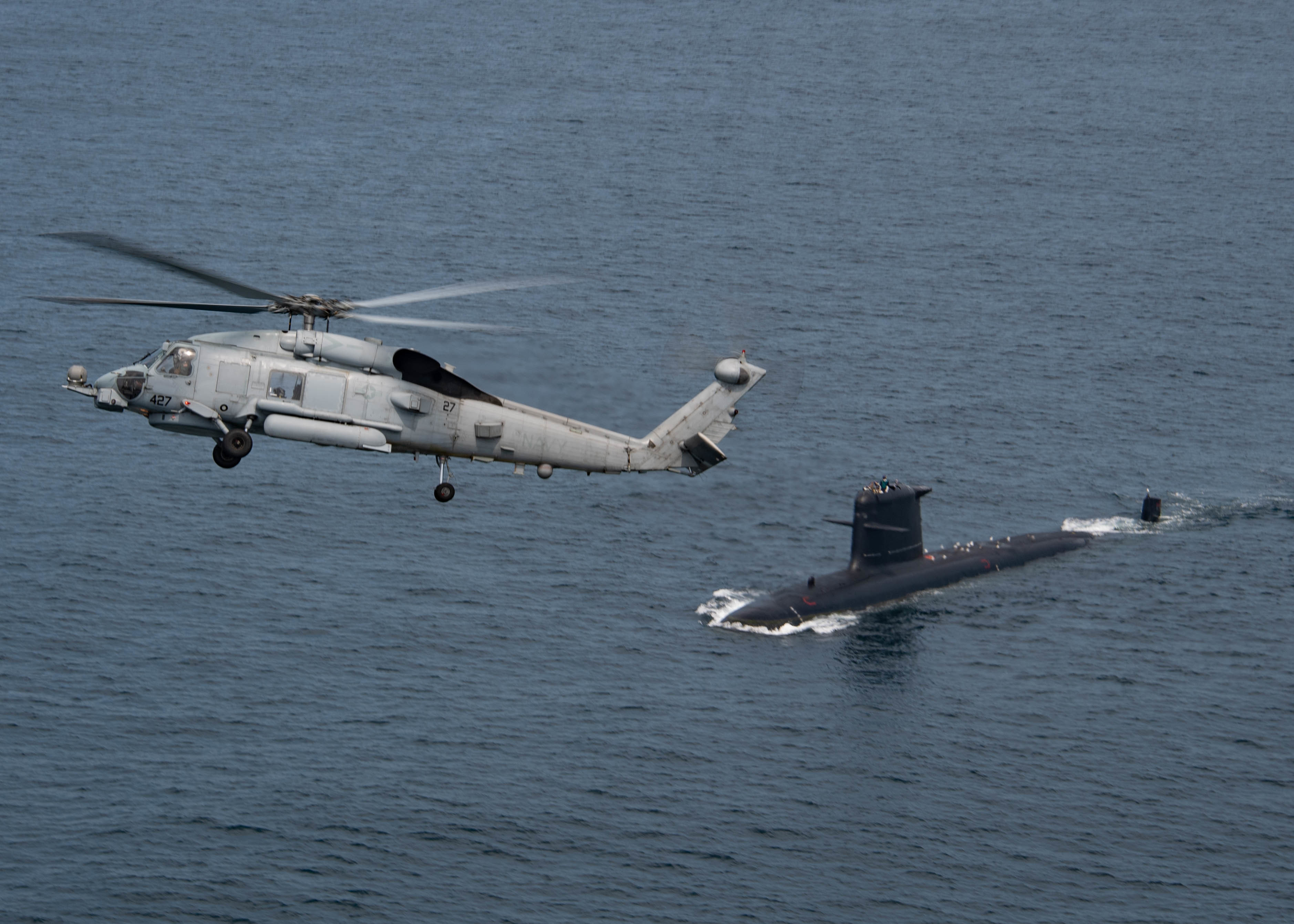 The helicopter is equipped with a 2,721.55kg (6,000lb) cargo hook for vertical replenishment missions. For anti-surface warfare missions, the helicopter can be equipped with a range of weapons on the four weapons stations, including AGM-114 Hellfire anti-surface missiles.
For anti-submarine warfare, the MH-60R can carry up to three ATK mk50 or mk46 active /passive lightweight torpedoes. A pintle-mounted 7.62mm machine gun can be used for self-defense.
US' Arms Deals With Taiwan
In 2015, the US Department had signed a deal to sell 10 MH-60Rs to the self-governed island under the countries' Foreign Military Sales program. However, Taiwan at that time had to let go of this purchase as it faced budget shortfalls and also had other priorities.
If the current demand by the island to procure these Romeo helicopters is approved by the US, this would be yet another acquisition after additional fighter jets and the General Atomics MQ-9 Sea Guardian drones, Defense News stated. 
As EurAsian Times recently reported, the US had in 2019 approved the sale of 66 Lockheed Martin F-16 Block 70 fighter jets to Taipei for an estimated $8 billion. With this, the number of Taiwan's 'Fighting Falcons' will increase to 200, the largest fleet of F-16 fighter jets in Asia.
Written by Kashish Tandon/EurAsian Times Desk