South Korea's newest light fighter jet, the FA-50, appears to be preparing for combat as part of the South Korea-US joint military drills that kicked off on August 21. The exercises aim to test combat readiness against a supposedly belligerent North Korea.
South Korean officials told the media that the South Korean Air Force conducted air defense drills to increase its battle preparedness as tensions over North Korea's ongoing missile launches remain high.
The officials said the defensive counter-air maneuvers were conducted across 12 units nationwide as part of significant ongoing combined exercise drills between South Korea and the United States.
The drills codenamed Ulchi Freedom Shield (UFS), are primarily believed to enhance their joint response to North Korea's evolving nuclear and missile threats.
The annual drill between the militaries of South Korea and the US "is based on an all-out war scenario … is aimed at bolstering their joint readiness posture amid heightened tensions from North Korea's missile tests and hardening rhetoric against the allies," the South Korea-based Yonhap News Agency reported.
As part of South Korea's air defense drills, some 20 aircraft were mobilized, which included F-35A, F-15K, KF-16, and FA-50 fighter jets. The Republic of Korean Air Force (ROKAF) said in a statement that the aircraft practiced to combat the threat of cruise missile launches and airspace violations by hostile aircraft.
📢공군, UFS 연합연습 시작과 함께「방어제공훈련」실시
– 공군, 적 항공전력 복합 침투상황 대응능력 향상 목적
– 총 12개 부대, 항공기 20여 대 및 천궁 등 방공무기 참가#대한민국 #공군#UFS #방어제공훈련#을지자유의방패 pic.twitter.com/aziie9jXKe

— 국방부 트위터 대변인 (@ROK_MND) August 21, 2023
The primary goal of this exercise was to train both the fighters and the air defense and missile defense troops to track and intercept missiles and shoot down aircraft using surface-to-air missile systems, such as the mid-range Cheongung.
However, the participation of the FA-50 aircraft in these air defense drills is significant, as it hints at integrating this light aircraft into future combat operations. Moreover, the FA-50 pilots were trained alongside the best fighter jet pilots in the world, including the fifth-generation stealth aircraft. This is not the first time an FA-50 has taken part in military drills to deter North Korea.
In July last year, the US and South Korean air forces conducted their first combined air drills involving F-35A stealth fighters. The four-day drill that infuriated Pyongyang also, however, saw participation by FA-50 fighters alongside South Korea's F-35A, F-15K, KF-16, and FA-50 jets, along with US' F-16 and F-35A jets.
The FA-50s participated in several joint military drills between the US and South Korea last year. In fact, in May this year, the FA-50s took part in drills that simulated a scenario where North Korea launched an offensive along the land border and started firing its long-range artillery putting the larger Seoul area in its line of fire.
As part of these drills, three FA-50s flew a group flight overhead while three KF-16 fighters continued their overhead streak and dropped flares as part of a strike package. The FA-50, first inducted into service by the RoKAF in 2014, is an indigenously-built light combat aircraft, unlike the other fighter jets that comprise the Korean air fleet.
All other aircraft in the South Korean arsenal that regularly take part in the joint South-Korea-US military drills are of the US-origin, either license produced or acquired by the US. However, only the FA-50 has been produced in-house by South Korea.
The aircraft is likely to be used in combat, despite having no combat experience, as evidenced by its participation in ever-growing air drills.
The FA-50 is an efficient supersonic advanced light attack platform. The FA-50 jet has detection capabilities similar to those of the KF-16 fighter thanks to the sophisticated radar. Moreover, the FA-50 can carry up to 4.5 tons of weapons onboard, including some of the best and most lethal missiles like the AIM-9 Sidewinder, AGM-65 Maverick, GBU-38/B Joint Direct Attack Munitions, etc.
The aircraft's lightweight, lethal weaponry, advanced avionics package, excellent flight control systems, and day and night combat capability would make it a significant asset in an aerial battle. The South Koreans seem to prepare their pilots for the job when required.
Meanwhile, the FA-50s are also making headlines in the other part of the world, far away in Poland, where they recently flew for the first time.
Polish FA-50s Getting US Targeting Pods
Two FA-50 light fighters completed their first flight over Warsaw on August 15, marking the first instance of the South Korean aircraft flying in European skies. The first two FA-50GF jets, recently delivered to the Polish Air Force, performed an aerial display above Warsaw after taking off from Mińsk Mazowiecki Air Base.
The aircraft flew in formation with Poland's MiG-29 fighter jet, seamlessly shifting as the MiG-29 left the formation, in an impressive demonstration of their capabilities. Poland is acquiring 48 FA-50 aircraft from Korea in what is a bid to modernize its military and bolster its airpower.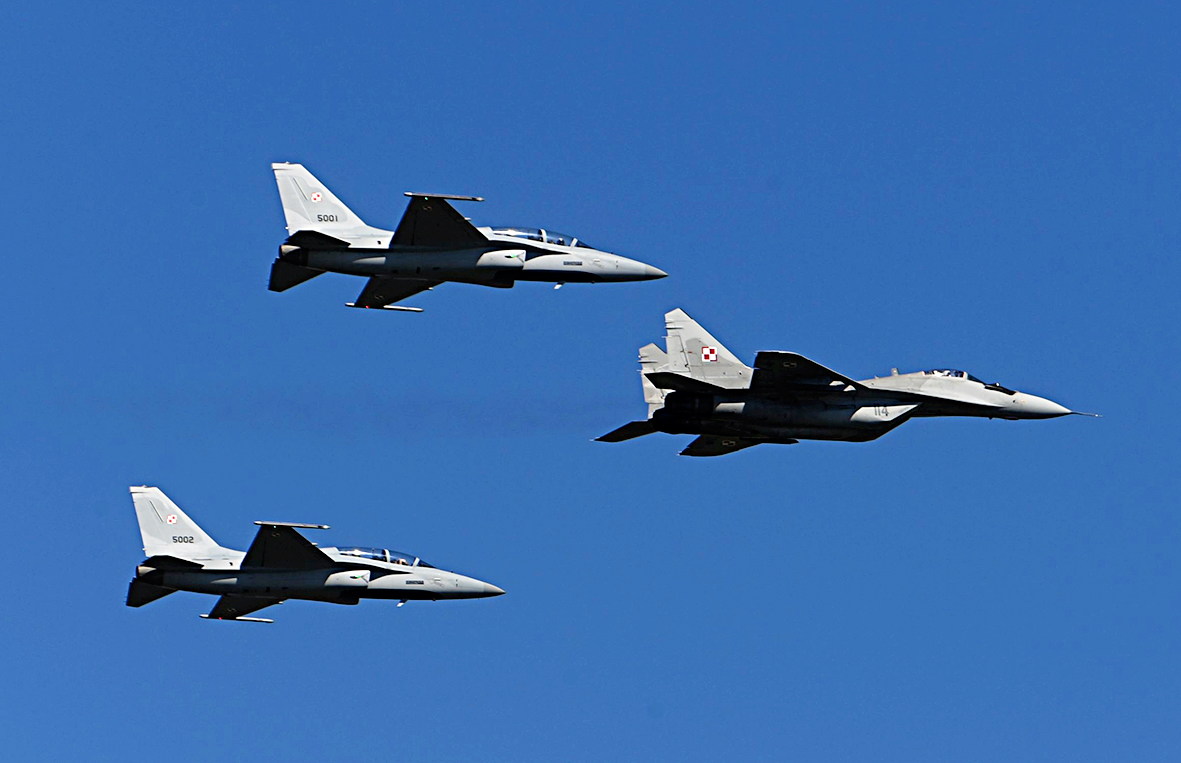 In a recent development, Poland and the United States have signed an intergovernmental contract (Letter of Acceptance, or LOA) for Sniper advanced targeting pods made by Lockheed Martin, according to recent media reports.
According to the Polish Ministry of Defense's Armament Agency, the 34 new AN/AAQ-33 Sniper advanced targeting pods (ATP) will be installed on the FA-50 light attack aircraft. Poland is expected to receive these pods between 2024 and 2028.
BREAKING:

Poland signs a deal with the U.S. to buy 34 AN/AAQ-33 Sniper advanced targeting pods (ATP) for the 48 FA-50 light attack aircraft Poland bought from South Korea.

The pods help to detect, identify & engage targets outside range of enemy air defenses

Price? USD 110 mln pic.twitter.com/LEL4dgqPMp

— Visegrád 24 (@visegrad24) August 20, 2023
This development is significant, as it comes after Korean Aerospace Industries (KAI) announced that among the 48 aircraft contracted by Poland, a majority of 36 will be tailored to meet the specific requisites of the Polish Air Force.
Sniper ATP, which Poland reportedly seeks from the US, is a proven electro-optical targeting system housed in a single, lightweight pod. It manages the trickiest air-to-air and air-to-ground precision targeting, intelligence, surveillance, and reconnaissance missions throughout the land, sea, and air domains. Thus, it would be expected to bolster the aircraft's combat capability.
Regarding intelligence, surveillance, and reconnaissance, Sniper ATP is projected by Lockheed Martin as the best in the world. The company has so far made deliveries of more than 1,500 pods globally.
The Sniper ATP is interoperable across various platforms such as F-2, F-15, F-16, F-18, A-10, B-1, B-52, Harrier, and Typhoon aircraft. With the acquisition by Poland, the FA-50 will be added to that list of Sniper ATP-fitted jets.