On August 15, skies over Warsaw witnessed the successful maiden flight of two FA-50 light fighters manufactured in South Korea. A significant development on August 17 swiftly followed this event, as the US government approved Germany's historic acquisition of the Arrow 3 defense system. 
This development underscores the accomplishments of two non-European arms manufacturers in Europe. 
Korea Aerospace Industries Ltd. (KAI), the sole military aircraft manufacturer in South Korea, announced that their FA-50 light fighters made their debut in Europe. 
Commemorating Polish Armed Forces Day on August 15, the first two FA-50GF jets, recently delivered to the Polish Air Force, performed an aerial display above Warsaw after taking off from Mińsk Mazowiecki Air Base. 
In a notable display of capability, the aircraft flew in formation alongside Poland's MiG-29 fighter jet, smoothly transitioning as the MiG-29 left the formation. 
The air parade in #Warsaw.

🇵🇱 sky witnessed i.a. the new FA-50, F-16 multi-role combat aircraft and drones. More than 90 aircraft, including APACHE, BLACK HAWK, AW-101, AW-149, C-295M CASA, Gulfstream G550, M-346 BIELIK, EF-2000 EUROFIGHTER TYPHOON. https://t.co/Rtzkd1ysww

— Poland in the EU (@PLPermRepEU) August 15, 2023
Polish President Andrzej Duda stressed the significance of security for any nation, stating, "Through modernization with the latest weapon systems, the Polish military will possess an unmatched and strong defense capability."
On the other hand, KAI's CEO, Kang Goo-young, remarked, "Having been a recipient of foreign fighter jet aid in the past, South Korea has now rewritten its aviation narrative," emphasizing the global reach of KAI and its commitment to enhancing the aerial defense equipment. 
Following its inaugural flight in Poland, the FA-50 is poised to participate in the upcoming Radom Airshow scheduled for August 26-27. 
Furthermore, two additional units, FA-50GF No. 3 and 4, are scheduled for delivery in September, culminating in a projected total of 12 aircraft by year-end.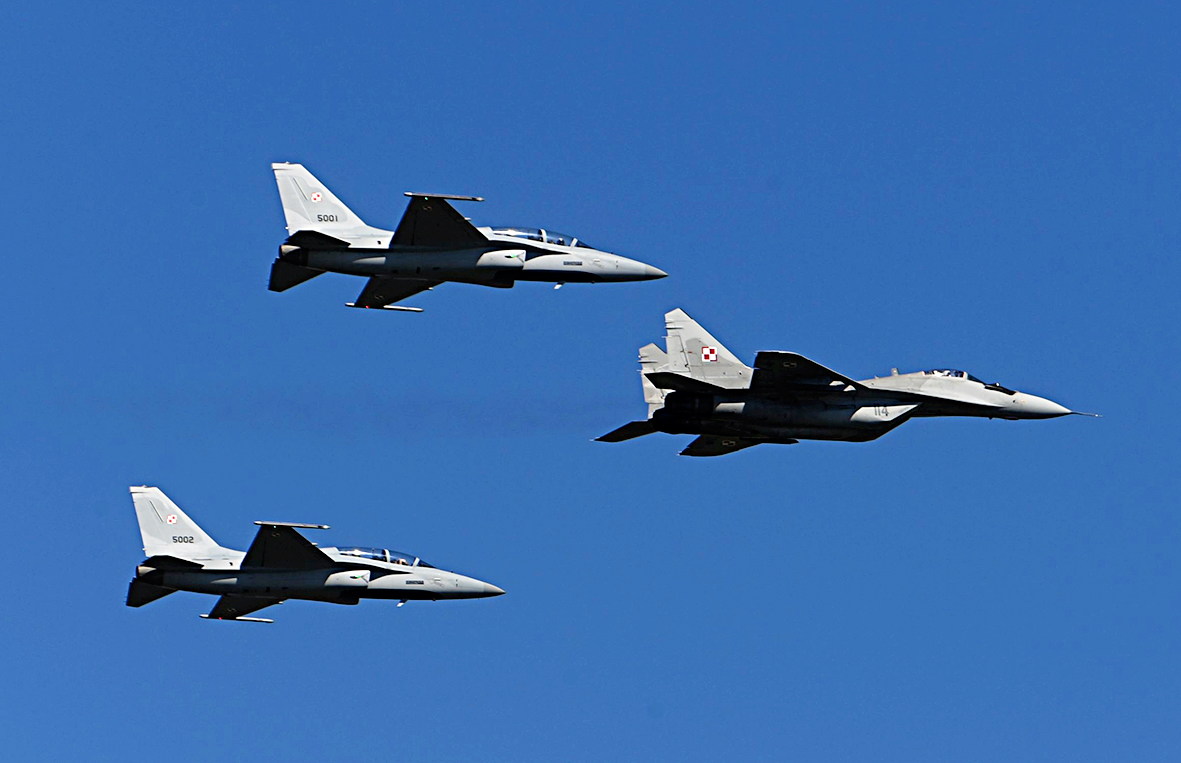 KAI also confirmed that, among the 48 aircraft contracted by Poland, a majority of 36 will be tailored to meet the specific requisites of the Polish Air Force. 
This bespoke version, the enhanced FA-50PL, is slated for deployment from late 2025 through 2028. The FA-50PL model introduces several improvements that set it apart from the FA-50GP version. 
These enhancements encompass an extended operational range facilitated by an aerial refueling capability, an upgraded active electronically scanned array radar system, and the capacity to carry air-to-surface and air-to-air weaponry.
Poland solidified its position as the largest purchaser of Korean defense systems. This was accomplished through contracts amounting to $14 billion to acquire 180 K2 main battle tanks, 212 K9 self-propelled howitzers, and 48 FA-50 light fighters.
US OKs $3.5B Arrow 3 Sale To Germany
On August 17, the United States government approved Israel's proposal to export the jointly developed Arrow 3 missile defense system to Germany. This transaction represents Israel's largest-ever single defense deal.
According to a statement from the Defense Ministry, the US Department of State informed Defense Minister Yoav Gallant and other senior ministry officials about the approval for the sale of the Arrow 3 system. 
The system is jointly developed by the Israel Missile Defense Organization and the United States Missile Defense Agency, with manufacturing conducted by Israel Aerospace Industries.
Following Russia's Special Military Operation in Ukraine, Germany has taken proactive steps to strengthen its defense capabilities. Berlin has been actively working to procure US-Israeli Arrow 3 system for more than a year to enhance its security.
Senior defense officials from Israel and Germany are now set to sign a letter of commitment in the coming weeks. 
The US government has approved the historic procurement of the Arrow 3 defense system to Germany. The IMOD, German Federal MOD and Israel Aerospace Industries will sign the landmark $3.5 billion defense agreement, marking Israel's largest ever defense deal. 🚀🇮🇱🇺🇸🇩🇪 pic.twitter.com/OMcGkUk3f5

— Ministry of Defense (@Israel_MOD) August 17, 2023
This agreement will involve an initial payment of approximately $600 million from Germany to Israel. The payment aims to facilitate the establishment of manufacturing and production operations as a preliminary step before the contract is formally signed.
The finalized contract, initially reported at $4.3 billion but later adjusted to $3.5 billion by the ministry, is expected to be officially signed by the end of 2023.
The timeline for the signing hinges on securing the necessary approvals from both countries' parliaments. The Arrow 3 missile defense system is anticipated to be delivered in the final quarter of 2025, with operational service expected to commence by 2030.

Currently, the Arrow 3 stands as Israel's most sophisticated long-range missile defense system.
Arrow 3 is designed to intercept ballistic missiles outside the Earth's atmosphere. It features a compact and innovative design. It can destroy long-range threats, including those carrying weapons of mass destruction, far away from the targets.
The Arrow 3 can reportedly strike targets up to 2400 kilometers. Ongoing efforts are directed toward developing an even more advanced system known as the Arrow 4.