South Korea concluded its largest-ever defense expo last weekend. The Seoul International Aerospace and Defense Exhibition 2021 (ADEX 2021) that began on 19 October, saw the participation of several countries and big companies such as F-35 maker Lockheed Martin, Airbus, and Boeing.
A vibrant effort to give a boost to economies recovering from the COVID-19 pandemic was also visible at ADEX 2021 as next-generation fighter jets, drones, and other weapons were displayed for potential sales.
There were at least 440 companies from 28 countries exhibiting 79 types of aircraft and 68 types of ground equipment. It was reported that around 300 government, military, and defense acquisition officials from 45 different countries were expected to attend the event.
The 2021 edition of the event was the largest in terms of participation since it was launched in 1996. The five-day exhibition that took place at the Seoul Air Base came amid lingering regional tensions between the two Koreas and the growing Sino-US rivalry.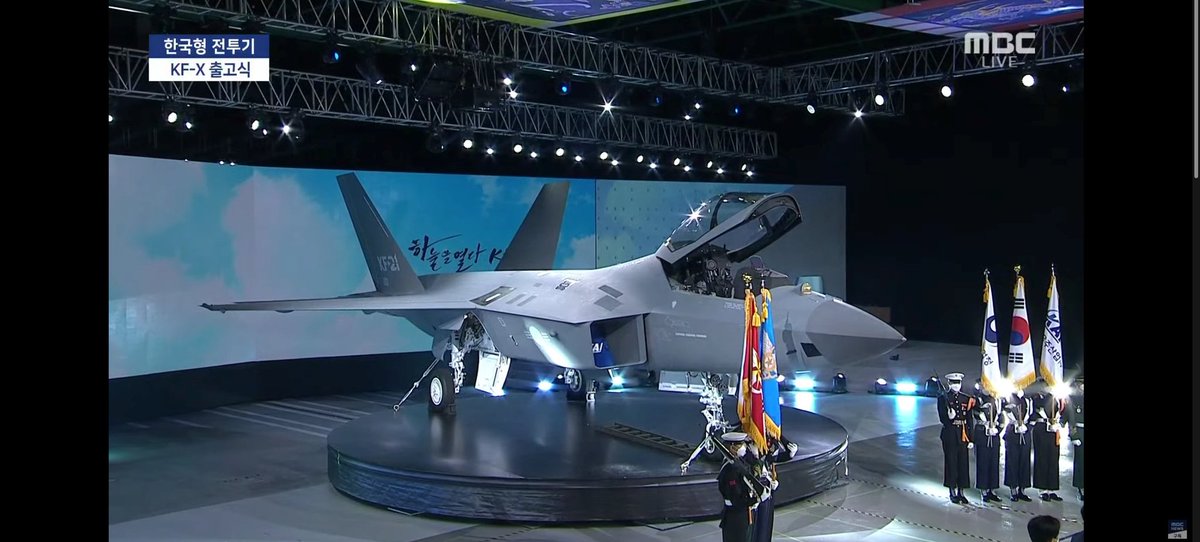 The Republic of Korea (ROK) flaunted several of its indigenous weapons at the show. Korean Aerospace Industries (KAI), one of the stars of the South Korean defense industry, put a full-size mock-up of its KF-21 Boramae on display.
This is a 4.5 generation fighter aircraft that is expected to evolve beyond the 5th generation. It has been jointly developed by South Korea and Indonesia. A pair of virtual reality simulators for the KF-21 were also on display.
KAI also showcased its new unmanned aircraft concepts. These include an unmanned Light Armed Helicopter (LAH), a light attack aircraft-based loyal wingman aircraft called FA-50, as well as potential manned-unmanned teaming (MUM-T) capabilities for the homegrown Surion Marine Attack Helicopter (MAH).
Locally developed unmanned aerial vehicles (UAVs) such as LIG Nex1's KD-200 heavy lift concept were highlights of the event. The KD-200 plans on adopting a hydrogen fuel cell propulsion system. It will be designed to transport operationally relevant loads of up to 200 kg.
The same company unveiled a new powered cruise-missile development, Chun Ryong (Sky Dragon) as well. The development of this missile is being undertaken with the government-owned Agency for Defense Development.
Big names from the Western defense industry such as Lockheed Martin, Boeing, General Atomics (GA-ASI) and General Dynamics were also pushing their weaponry to South Korea and other countries at the exhibition.
Lockheed Martin F-35
Amid tensions with North Korea, South Korea displayed its US-manufactured F-35As at the expo. This was the first time this fifth-generation jet was unveiled to the general public ever since the aircraft was first delivered to an Air Force unit in South Korea in 2019. During the 2019 exhibition, only a mock-up of the warplane was on display.
The F-35A is a conventional take-off and landing (CTOL) type aircraft that comes with one of the most advanced avionics suites on any fighter jet. The likes of Kaiser, BAE Systems, Elbit Systems, Raytheon, and Honeywell have provided technology for avionics dealing with communication, navigation, imaging, side stick, and throttle controls, etc.
For weapons, the F-35 has two parallel bays, each fitted with hardpoints, in front of the landing gear. Munitions like joint direct attack munition (JDAM), CBU-105 wind-corrected munitions dispenser (WCMD) for the sensor-fused weapon, joint stand-off weapon (JSOW), Paveway IV guided bombs, small diameter bomb (SDB), AIM-120C AMRAAM air-to-air missile, and Brimstone anti-armour missile can be fitted into the internal carriage.
The external carriage can be equipped with Joint Air-to-Surface Stand-Off Missile (JASSM), AIM-9X Sidewinder, AIM-132 ASRAAM, and Storm Shadow cruise missile.
In 2019, North Korea had severely criticized Seoul's acquisition of American F-35 stealth fighter jets, saying it would force Pyongyang to develop and test "special armaments" to destroy the new weapons.
"There is no room for doubt that the delivery of 'F-35A', which is also called an 'invisible lethal weapon', is aimed at securing military supremacy over the neighboring countries in the region and especially opening a 'gate' to invading the north in time of emergency on the Korean peninsula," a North Korean statement had said.
Earlier this month, North Korea had test-fired a ballistic missile from a submarine. The communist nation also opened a defense exhibition of its own, where leader Kim Jong Un said his country's military developments were for self-defense and accused South Korea of destabilizing the peninsula with an arms build-up, Reuters reported.
Airbus A400M
A press release by Airbus had stated that its stand at ADEX 2021 would feature scale models of the long-range A350-1000 widebody airliner, the H125 and H160 helicopters, the highly flexible OneSat satellite, and A400M military airlifter.
The A400M is a military transporter whose cargo bay can transport up to nine standard military pallets, as well as 58 troops seated along the sides. This amounts to 120 fully equipped troops seated in four rows. The aircraft can airdrop paratroops and their equipment via parachutes or gravity extraction.
"Airbus is a key partner for South Korea's aerospace industry, well-illustrated by the company's strong and growing industrial footprint in the country," the company's statement said.
"Today, components produced by Korea Aerospace Industries (KAI), Korean Air Aerospace Division (KAL-ASD), and small and medium enterprises such as AeroSpace Technology of Korea (ASTK), are installed on Airbus' various commercial aircraft product lines, while Airbus and KAI are partners on the Korean Utility Helicopter (KUH) and Light Civil Helicopter/Light Armed Helicopter (LCH/LAH) programs, with the first LAH targeting to enter service for the Korean army by 2023," Airbus added.
Boeing's 'Slam Eagle'
Boeing displayed a model of its F-15K Slam Eagle, stating in a pamphlet that "Boeing looks forward to partnering with the ROK to deliver an affordable, highly capable F-15K upgrade solution that maintains the peace and ensures victory."
The F-15K Slam Eagle is a multi-role fighter aircraft manufactured by Boeing especially for the ROK Air Force (ROKAF). In June 2002, the ROKAF signed a $4.2bn contract with Boeing for 40 F-15K Slam Eagle fighter jets.
The aircraft has a glass cockpit that accommodates two crew members: a pilot along with a weapon systems officer (WSO). The cockpit's display suite is from Kaiser Electronics. It employs three flat panel color displays and four multi-purpose displays. There are two upfront control panels, a wide field of view head-up display (HUD), and a joint helmet-mounted cueing system (JHMCS) onboard the warplane.
The fighter jet is capable of carrying a variety of air-to-air weapons. These include a 20mm cannon, AIM-9 Sidewinder infrared-guided air-to-air missiles, Raytheon-created AIM-7 Sparrow radar-guided air-to-air missiles, AIM-120 advanced medium-range air-to-air missile (AMRAAM), and the AGM-130 missile.
Along with the Slam Eagle, Boeing was also expected to put its Chinook Ch 47F on display. 
GA-ASI Reaper Drone
GA-ASI talked about its display highlight — the Remotely Piloted Aircraft Series (RPAS) — in a tweet. The series features some of the most advanced and versatile drones in the weapons market today. These include the turboprop-powered, multi-mission MQ-9A "Reaper" drone, its variants- MQ-9B SkyGuardian and SeaGuardian, the quick-response reconnaissance drone Avenger, and the MQ-1C Gray Eagle combat drone.
Day 2 at #ADEX 2021 – highly-skilled pilots can command the #RPAS through civil airspace via the certifiable ground control station.

See it at booth A64. pic.twitter.com/IOaXpPGhER

— GA-ASI (@GenAtomics_ASI) October 20, 2021
The biennial event was definitely a grand show of South Korea's indigenous power as well as the prowess of industry leaders.