In response to Iran's harassing and seizing commercial ships in the Strait of Hormuz, the United States has intensified its presence in the region and dispatched additional fighter aircraft, including F-16 Fighting Falcons.
As part of a comprehensive strategy to deter further Iranian aggression, the US military stationed F-16s in the region and deployed A-10s, known for their close air support capabilities. 
In addition, the Defense Department has recently revealed its intentions to further reinforce the military presence by deploying F-35s, an advanced fifth-generation fighter aircraft renowned for its cutting-edge technology and stealth capabilities, along with the USS Bataan amphibious assault ship and Marines to the region in the upcoming weeks.
But among the formidable assets deployed to the region, one F-16 fighter jet stood out due to a unique aspect. 
In the recently released Department of Defense photos, tail number 2137 was adorned with three distinctive green stars, capturing the attention of both onlookers and military enthusiasts.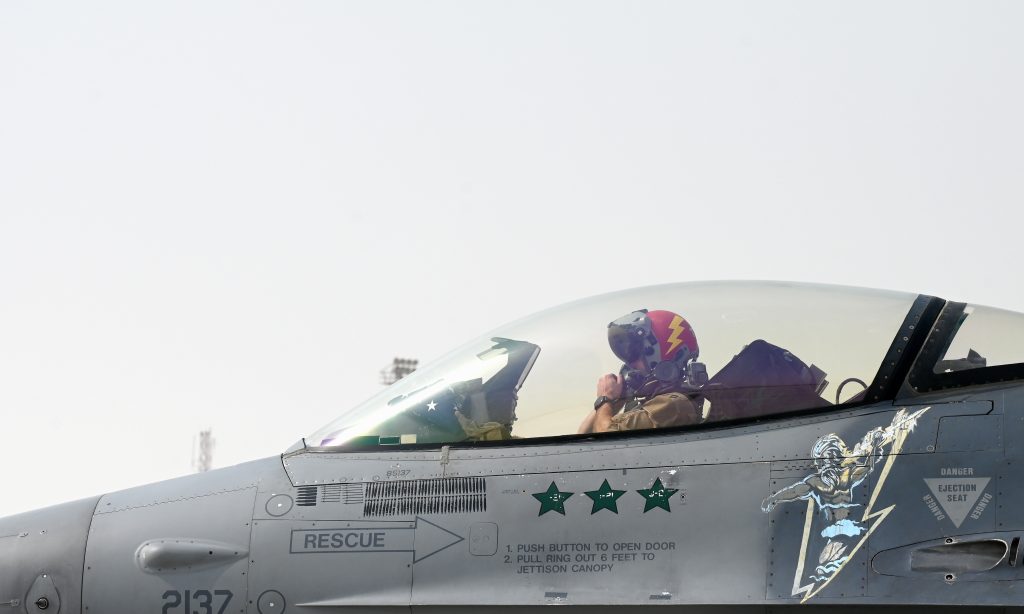 This particular F-16 is part of the 555th Expeditionary Fighter Squadron, which had been forward deployed to CENTCOM from Aviano Air Base in Italy. 
The markings on tail number 2137 are special because they signify a remarkable accomplishment in air combat during a NATO mission over Bosnia and Herzegovina in 1994. 
In that one mission, the aircraft achieved a triple kill, making it one of the most impressive achievements in recent decades.
It is 'rare' for the US military to have an aircraft in active service that has successfully achieved an air-to-air kill.
US pilots have not faced challenges from enemy fighters in a long time, but there have been several incidents involving Chinese fighters buzzing American planes.
That said, the last instance of an American air-to-air kill of a manned enemy aircraft occurred in 2017 during a tense incident over Syria.
In this particular engagement, a US Navy F/A-18 Super Hornet engaged and shot down a Su-22 Syrian fighter, which the US asserted was conducting bombing runs on its Kurdish allies, the Syrian Democratic Forces.
Notably, before this 2017 incident, there had not been a recorded instance of US pilots shooting down a manned enemy aircraft since 1999, underscoring the rarity of such occurrences in recent times.
F-16 With Three Aerial Kills 
As mentioned, the kill markings on tail number 2137 represent one of the most impressive achievements in air combat witnessed in recent decades. 
During a NATO mission over Bosnia and Herzegovina in 1994, this specific F-16 accomplished a rare and remarkable feat – a single-mission triple kill. 
The mission also marked the first instance of a US Air Force pilot achieving a triple kill in a single mission since the Korean War.
Air Forces Central (AFCENT) spokesman Col. Mike Andrews told Air & Space Forces Magazine, "I can confirm that the 555 Expeditionary Fighter Squadron (Triple Nickel) has tail 2137, which is the specific F-16 that has 3x Air-to-Air kills over Bosnia."
The impressive hat trick of kills occurred on February 28, 1994, during Operation Deny Flight, a NATO mission aimed at enforcing a UN no-fly zone during the conflict in the Balkans.
The mission involved then-Capt. Robert Gordon "Wilbur" Wright flying an F-16 aircraft as part of the 526th Fighter Squadron based in Aviano.
The incident, famously known as the Banja Luka incident, unfolded when six Serbian J-21 Jastreb fighters were observed attacking a factory.
In response to the threat, two US Air Force F-16s from the 526th Fighter Squadron, based in Aviano, sprang into action and engaged the aggressors.
Captain Wright's F-16 took down three Serbian J-21 fighters within minutes, making it a hat trick of kills. He launched an AIM-120 AMRAAM missile and two AIM-9 Sidewinders to accomplish the historic feat. 
Another F-16, piloted by Captain Stephen L. "Yogi" Allen, also contributed to the mission's success by shooting down a fourth J-21 on the same day. Furthermore, a fifth Serbian J-21 was lost during the encounter, although the US does not record it as a kill for a US fighter.
This incident also holds particular significance in NATO's history as it was the first-ever combat action by the alliance since its formation in 1949.
Nonetheless, while the F-16 in question has historical importance, its deployment in a potential conflict zone is not new, as it was previously spotted serving in Afghanistan as well.