As intense combat rages in Eastern Ukraine, the Russian Armed Forces claimed to have destroyed several high-value targets, including Ukrainian S-300 air defense systems with its famed ZALA Lancet kamikaze drone.
Over the past day, the Russian Armed Forces said they destroyed four S-300 launchers in the Kherson region and a Gepard self-propelled anti-aircraft gun of the Armed Forces of Ukraine with the help of Lancet loitering ammunition.
During the strikes, 14 servicemen of the Armed Forces of Ukraine were killed, and ten were injured, a representative of the region's emergency services told reporters.
"Yesterday, four S-300 launchers and a Gepard self-propelled anti-aircraft gun were destroyed near the city of Kherson by strikes from Lancet unmanned loitering ammunition, 14 servicemen of the Armed Forces of Ukraine died, ten were injured," he said.
Not just that, according to video evidence that surfaced on social media on April 26, the Lancet suicide drone also hit a Ukrainian 9A330 TLAR of the Tor air defense system. The Twitter account 'Ukraine Weapons Tracker' published a video of the attack and noted that it was the first confirmed loss of this air defense system.
Russia has extensively deployed its Lancet drones alongside the Shahed-136 acquired by Iran to carry out ground-based kamikaze strikes on high-value targets inside Ukraine. According to recent assertions made by Ukrainian officials, Russia first sends the Shahed drones near Ukrainian Surface-to-Air missiles (SAM) as bait to gauge their exact location.
S-300 TEL gets lanced.

Reportedly in the Kherson region. pic.twitter.com/iGurZzz7mh

— Chebureki Man (@CheburekiMan) April 27, 2023
Once the location of the enemy SAMs is established, the Lancet loitering munitions are sent to obliterate the target.
Russian forces have started using a new tactic to destroy Ukrainian SAMs.

Shahed/Geran drones fly towards Ukrainian SAMs and act as bait. This reveals the location of the SAM, which are then destroyed by Lancet kamikaze drones – Ukraine press director Alexei Dmitrashkovsky. pic.twitter.com/CjvJ5GYieF

— LogKa (@LogKa11) April 25, 2023
However, the news about the destruction of S-300 air defense systems in Kherson also caught the attention of military experts who believe that Kyiv's armed forces may have tweaked their strategy a little bit, which brought the long-range air defense system closer to the frontlines.
Indian Air Force Veteran and an avid Russia watcher, Squadron Leader Vijainder K Thakur, said – "It appears that Ukraine is moving its long-range AD systems close to the battlefront, most likely to thwart painful blows glide bomb attacks on military hardware & troops gathering for an offensive."
He added, "Military prudence would have dictated that the S-300 launchers be deployed out of the Russian Lancet-3 kamikaze drone's range of 40 kilometers. The fact that the Lancet-3 was still able to strike suggests a longer range."
However, the report published in TASS did not mention which variant of the Lancet kamikaze drone was deployed to carry out these attacks. Thakur further added that the drone deployed by Russia could be an upgraded Lancet-3 variant known as the Izdeliye-51.
Last week, the Lancet-3 also struck a Ukrainian patrol boat on the Dnieper River, with Russian observers claiming that Ukraine was planning a landing across the river which was thwarted by the drone attack. On its part, Russia takes great pride in the capability of its Lancet drones that continue to wreak havoc on Ukrainian positions before an impending counteroffensive.
Russia's Lethal Lancets!
The Russian Lancet-3 is a lightweight loitering munition with a three-kilogram warhead and a 40-minute endurance. It is a progression of the flying-wing KYB Kub (Cube) loitering munition, which underwent military testing in Syria in 2019.
With a launch weight of 12 kilograms and a rail-mounted catapult device, the Lancet-3 can attack targets up to 40 kilometers away.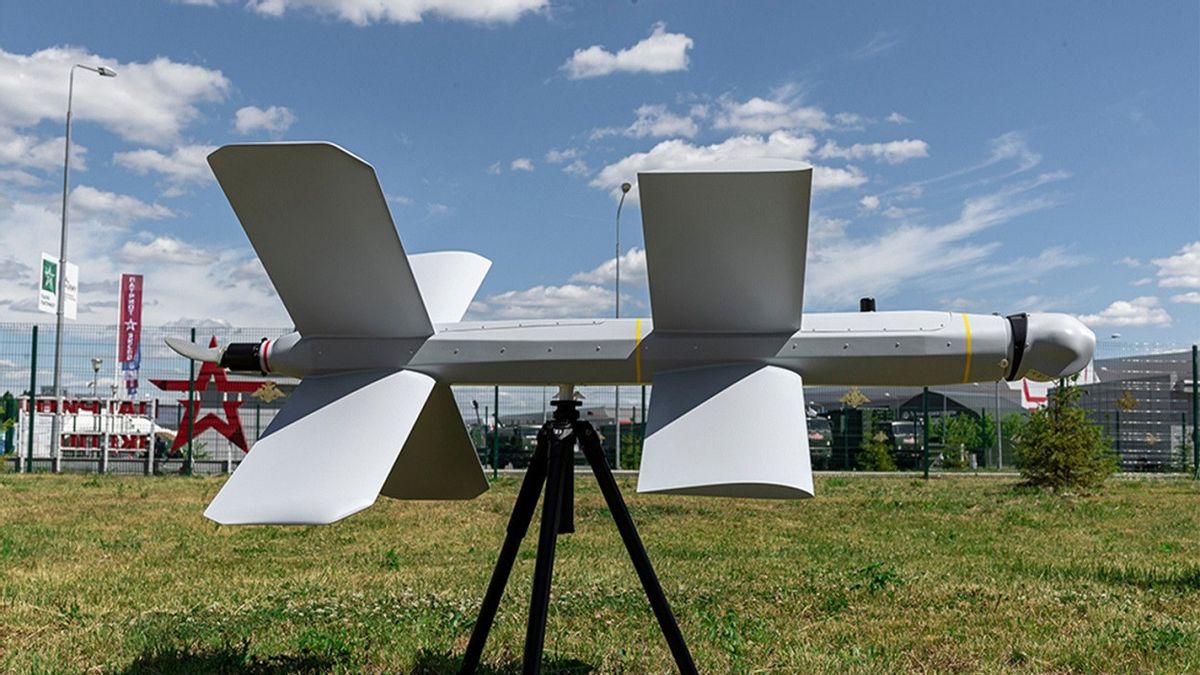 The Lancet's primary missions are those of reconnaissance and attack. A drone's initial flying path can be guided visually or through GPS data. Using electro-optical guidance and a TV guidance unit, the drone is manually controlled during the terminal phase as it approaches its target. This enables real-time trajectory modification and drone target guidance.
Such suicide drones can hover in the air and swoop down on the target at up to 300 kilometers/hour to hit it where it is most vulnerable. Moreover, Russia claimed that the Lancet kamikaze drone had a first-of-its-kind anti-laser jamming technology that made it immune to many anti-drone systems.
In July last year, Russia first released footage from the video feed of its Zala Lancet-3 loitering munitions flying into Ukrainian targets in what was believed to be the first direct camera footage from such UAVs. These drones examine their targets from a distance before coming in quickly.
The media reports from earlier this month also suggested that Lancet-3 UAVs were solely responsible for the destruction of 45% of NATO artillery, including M777 howitzers.
Although the exact figures cannot be verified, the video evidence that regularly surfaces on social media suggests that the Lancets are responsible for several successful Russian attacks.
With speculations that Russia's missile stockpiles are dwindling, the use of kamikaze drones could only be expected to increase as a spring offensive and a Ukrainian counteroffensive seem to be on the anvil.