The Russian military has intercepted two British-origin Storm Shadow missiles, two Tochka-U tactical missiles, and 14 HIMARS and Uragan rockets in the past 24 hours, RuMoD Spokesman Lieutenant-General Igor Konashenkov told a briefing.
"Anti-aircraft defense facilities intercepted two Storm Shadow cruise missiles, two Tochka-U tactical missiles and 14 rockets launched with HIMARS and Uragan multiple rocket launchers in the past day," Konashenkov said.
Meanwhile, on June 3, an image showcasing a Ukrainian Air Force Su-24 Fencer armed with two Storm Shadow cruise missiles started circulating on social media, generating significant attention.
The emergence of the image in question represents the first visual confirmation of a Ukrainian Su-24 aircraft being equipped with Storm Shadow missiles. 
Thomas Newdick, an aviation and defense writer, has made a noteworthy observation regarding the recently circulated photograph. 
He points out that the image confirms that Ukraine has successfully integrated the Storm Shadow missiles on both the Su-24M striker variant and the Su-24MR reconnaissance jet.
Newdick's observation also suggests that this integration might be due to the relatively limited availability of FENCER airframes, emphasizing the Ukrainian Air Force's strategic decision to equip different variants of the Su-24 with this advanced weaponry.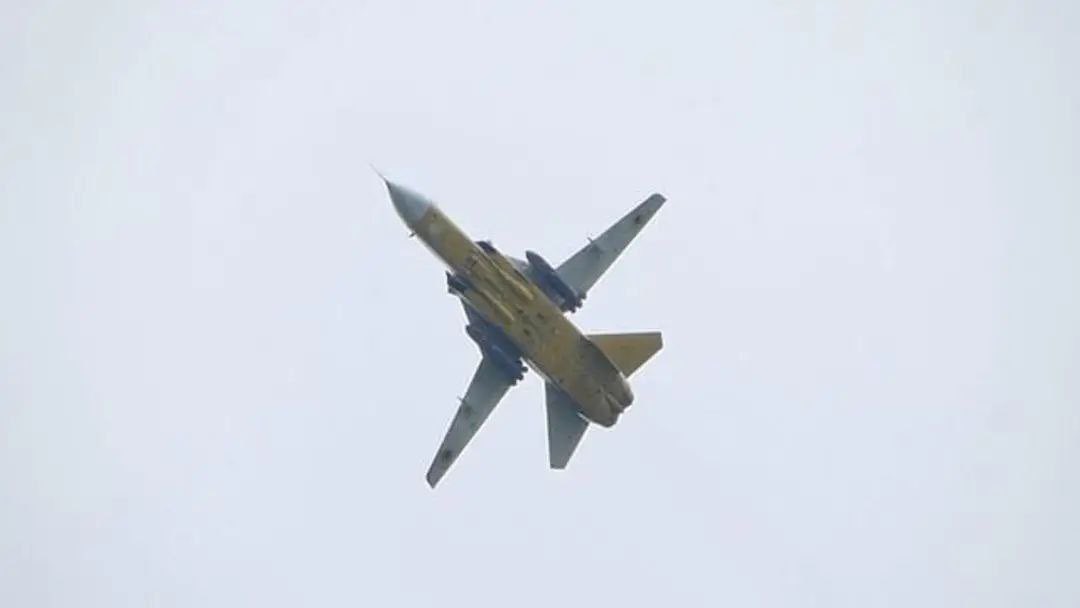 Such adaptation showcases the Ukrainian military's efforts to optimize its existing resources and enhance its operational capabilities.
The Ukrainian Air Force's Su-24 aircraft are actively utilizing Storm Shadow missiles, provided by the United Kingdom, against Russian positions. 
This transfer of these long-range cruise missiles to Ukraine was officially announced in May, making the UK the first country to provide Kyiv with such advanced long-range weaponry. 
The UK Defense Secretary, Ben Wallace, hailed this donation as Ukraine's "best chance to defend themselves against Russia's continued brutality," confirming the transaction on May 11.
This support from the UK underscores their commitment to assisting Ukraine in countering Russian aggression and reinforcing Kyiv's defensive capabilities in the ongoing war. 
The Storm Shadow cruise missile, developed jointly by the UK and France, is a long-range weapon featuring stealth capabilities. Launched from an air platform, it boasts an impressive firing range of over 250km (155 miles). 
However, this range falls just short of the desired 185-mile capability of the US-made Army Tactical Missile Systems (ATACMS), which Ukraine has long sought.
Storm Shadow Against Russia 
In the latest attack, on June 2, Ukraine reportedly launched Storm Shadow missiles targeting the port of Berdiansk utilized by the Kremlin for grain exports. 
Video footage on social media captured the precise moment when a suspected Storm Shadow missile struck the facilities at the port. 
The impact resulted in a massive plume of smoke rising from the affected area within the port situated in the Russian-controlled Zaporizhzhia region along the Sea of Azov. 
According to Vladimir Rogov, a Russia-installed official in Ukraine's Zaporizhzhia region, three to six Storm Shadow missiles reportedly struck the city.
Ukrainian fighter jets have been actively launching Storm Shadow missiles, targeting various locations such as supply depots and command posts in Luhansk, as well as strikes on Berdyansk.
Explosion in the seaport of occupied #Berdyansk. pic.twitter.com/yGERGLXDYd

— ukraine_defence (@ukrdefence) June 2, 2023
Defense experts have interpreted these strikes on Berdyansk as a crucial component of Ukraine's shaping strategy leading up to their highly anticipated counter-offensive. 
These targeted attacks on strategic locations reflect Ukraine's tactical approach to weaken and disrupt the enemy's capabilities in preparation for a larger-scale operation.
In a recent statement by Ukraine's defense ministry, it was claimed that Britain's long-range Storm Shadow missiles had achieved a 100% success rate in hitting their intended Russian targets. 
The ministry's tweet attributed this information to Ukraine's Defense Minister, Oleksii Reznikov, confirming the effectiveness of these missiles in accurately engaging and striking the targets as identified by the General Staff. 
George Barros, a Russia analyst at the Institute for the Study of War (ISW), a think tank based in Washington, had earlier predicted that Ukraine's possession of the Storm Shadow missiles would have a significant and detrimental impact on the morale of Russian forces, as well as on the officers and commanders operating within Ukraine. 
The introduction of such advanced and capable weaponry into the conflict zone is likely to create a sense of unease and concern among Russian military personnel, potentially undermining their confidence and effectiveness.
Contrary to Ukraine's assertion of successful hits with the Storm Shadow missiles, Russian forces have consistently claimed that they have effectively intercepted and shot down these long-range missiles supplied by the UK. 
These conflicting statements reflect the information warfare and propaganda efforts by both sides in the ongoing conflict. Thus, without independent verification and credible proof, determining the authenticity of these statements can be difficult.