Western media speculates that US President Joe Biden may soon announce a transfer of Abrams tanks to Kyiv amid calls for cutting-edge Western tanks in Ukraine. However, Russia has already sent a stern warning against any such adventurism.
Russian ambassador to the United States Anatoly Antonov warned on January 24 that transferring the Abrams tanks to Ukraine would be seen as another "blatant provocation" against Russia and that the Russian military would destroy the equipment.
"If a decision to transfer to Kyiv M1 Abrams is made, American tanks without any doubt will be destroyed as all other samples of NATO military equipment… If the United States decides to supply tanks, it will be impossible to justify such steps using arguments about 'defensive weapons.' This would be another blatant provocation against the Russian Federation. No one should have illusions about who is the real aggressor in the current conflict," Antonov said, as quoted by the embassy on Telegram.
Anatoly Antonov's warning came in response to Western media reports suggesting that the White House was inching closer to a decision to send the Abrams tanks to Ukraine. Some reports stated that up to 50 Abrams battle tanks could be delivered to Kyiv.
In addition, German publication Der Spiegel also reported on January 24 that the country has finally made up its mind to send its Leopard 2 tanks to Ukraine to help bolster the country's war effort. It was earlier reported that the country was buying time and basing its decision on Washington's decision on the Abrams.
Further, these speculations are significant as they come just days after the NATO allies failed to convince the United States and Germany at the Ramstein Air Base meeting to announce the delivery of their respective battle tanks for Ukraine.
For several weeks, Ukrainian officials have been calling for US Abrams and German Leopard 2 Main Battle tanks (MBTs) to mount a ground offensive against Russians.
Until now, the Biden administration has stopped short of announcing the delivery of its most advanced MBTs to Kyiv for fear of escalation with Russia. However, sophisticated armored vehicles like the Bradley and the Stryker have been included in the military packages announced earlier this month.
That's why the Abrams tank doesn't want to go to Ukraine. He doesn't like winter. pic.twitter.com/v5chFYotNa

— Avia.Pro – News, events, media (@avia_pro) January 21, 2023
Additionally, Western military experts have emphasized that the Abrams tanks could be unfit for use in the conflict in eastern Ukraine if the US supplies them. A recent viral video on social media demonstrated how just a few centimeters of snow restricted the mobility of the Abrams battle tanks.
Besides, even if the tanks are delivered to Ukraine, supply lines for their particular fuel, routine maintenance, spare parts, transportation, and training could be interrupted by the Russians in the battle.
So far, these reasons have been used to justify withholding the Abrams tanks from Ukraine. However, the Biden administration may be softening to the possibility of finally getting over its policy inhibitions and sending a strong message to the Russians, even at the cost of provocation.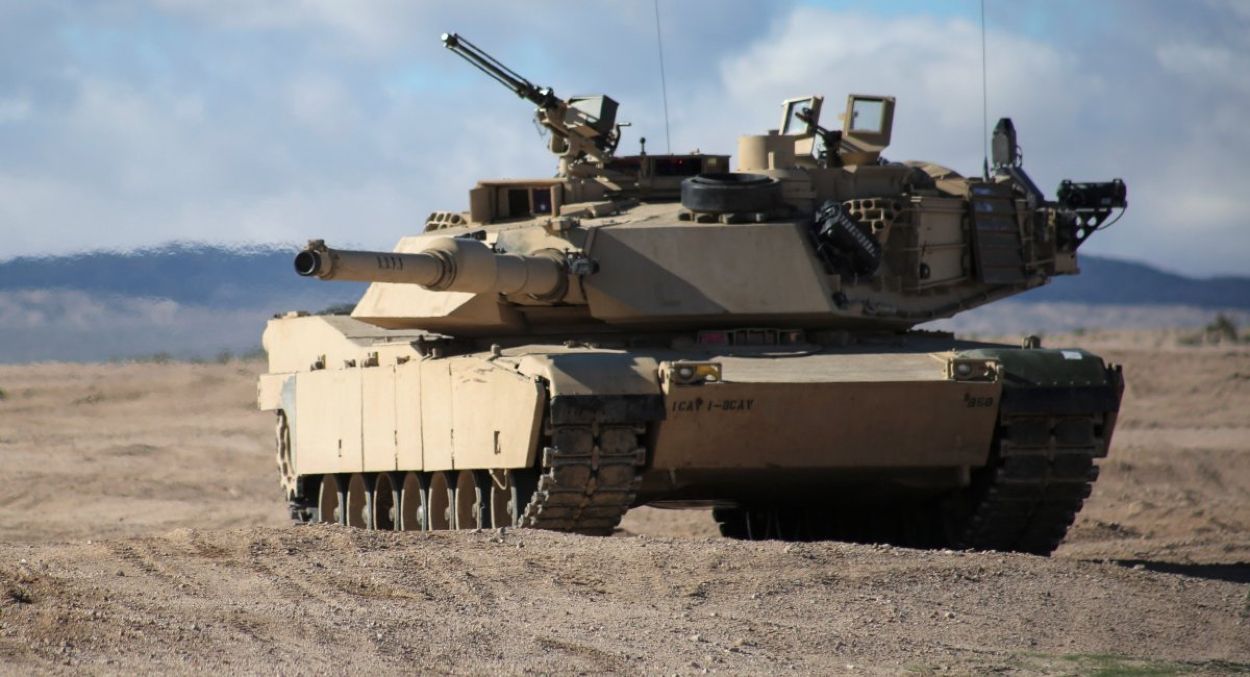 Abrams Could Finally Be Headed To Ukraine
Currently, uncertainty surrounds which exact M1 Abrams variants or sub-variants may be earmarked for Ukraine. However, the US would likely send the previous M1A1 or M1A2 variants.
The US cleared the sale of M1A1 Abrams tanks to Poland last month, requesting to buy at least 116 Abrams tanks on top of the Abram tanks ordered in 2020. The Polish government could set aside a few tanks for Ukraine if necessary.
The Abrams tank is equipped with advanced composite armor, which offers effective defense against hostile fire and IEDs. To safeguard the crew from the possibility of the tank's ammo exploding if the tank is destroyed, fuel and ammunition are stored in separate compartments.
The Abrams is equipped with an inbuilt computerized fire control computer that allows the gunner to engage targets by simply "pointing and shooting." The Abrams can attack targets at great distances, day or night, and even in bad weather, thanks to this capability and a powerful sensor package.
These tanks feature 120mm main guns, although they have different armor, sensor, communications, and other equipment setups. There are thousands of M1 tanks in storage with the US Army.
Pentagon's top spokesperson US Air Force Brig. Gen. Patrick Ryder said at a press conference, "The M1 one is a complex weapon system that is challenging to maintain, as we've discussed. That was true yesterday. It's true today [and] it will be true in the future."
It is pertinent to note that American officials have frequently expressed concerns that the Abrams are too complicated to use and requires a lot of fuel owing to the gas turbine propulsion of the M1.
This essentially means that the troops will have to spend a significant amount of time training on these advanced systems, and they will not be ready for use at least weeks or months from now.
"The Abrams tank is a very complicated piece of equipment. It's expensive, and it's hard to train on. It has a jet engine. I think it's about three gallons to a mile of jet fuel. It is not the easiest system to maintain," Colin Kahl, the Pentagon's top policy official, told reporters last week. "It may or may not be the right system."
Besides German Leopard-2 tanks and the US Abrams, the UK has also decided to send its cutting-edge Challenger MBTs to Ukraine. While they may not be absolute game-changers, even a modest number of these tanks and other weapons could help Ukrainian forces in their upcoming offensive and defensive operations.
Contact the author at sakshi.tiwari9555 (at) gmail.com