On August 12, the Russian Ministry of Defense claimed that Kyiv had attempted to target the Crimean (Kerch) bridge using a converted 10-meter-long 'monster missile,' S-200; however, the attack was thwarted as Russian air defense systems detected and intercepted the missile.
The Russian Ministry of Defense claimed that on August 12, around 13:00 Moscow time, Kyiv attempted to strike the Crimean bridge using an S-200 anti-aircraft-guided missile that had been converted into an offensive configuration.
Russian air defense systems promptly detected the Ukrainian missile and successfully intercepted it mid-air, stated the ministry, adding that no casualties resulted from the interception. 
Before this, Crimea's Governor, Sergei Aksyonov, confirmed that air defense systems near the Kerch Strait shot down two Ukrainian rockets with no damage to the Crimean bridge.
Following the missile attack, Russian officials in Crimea temporarily halted traffic on the Kerch Bridge, a crucial link between Russia and the Crimea Peninsula/ However, the bridge was later reopened for public transportation.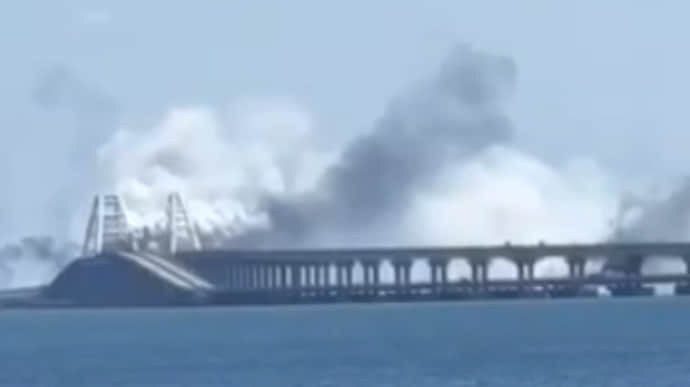 In the early hours of August 12, the Kremlin also announced that it had intercepted 20 drones swarming over Crimea, marking the third consecutive day of thwarted drone attack reports by Russian officials. 
Moscow, accusing Ukraine of escalating drone attacks on Moscow and Crimea, blamed Ukraine for the downed missile and drone activity.
The EurAsian Times couldn't independently confirm these claims' accuracy. While Kyiv hasn't officially taken responsibility for these attacks, Ukrainian officials have recently hinted that residents of Moscow should anticipate daily attacks.
Meanwhile, online videos have surfaced, capturing the sight of expansive clouds of white and black smoke billowing over the strategically significant bridge. 
The observed smoke in these videos could be attributed to the implementation of a smoke screen, a defensive tactic employed by Russian forces as part of their protective measures.
However, it is currently unclear whether the bridge has sustained any damage; however, Moscow has asserted that there has been no damage. The Crimean Bridge was erected after the annexation of the peninsula in 2014. 
This bridge has been subjected to various attacks, notably including assaults by drone boats in July, as well as an explosion in October 2022 that resulted in damage to the roadway.
S-200 'Monster Missile'
These attacks coincide with Ukraine's escalating deployment of modified S-200 missiles – a large 10-meter-long "monster missile" – surpassing the dimensions of the renowned Iskander missile to target Russian territory.
The S-200 system entered into active service during the late 1960s and was originally designed to primarily focus on countering high-altitude US bombers and reconnaissance aircraft. 
The deployment of this system often took the form of static batteries, each typically consisting of six single-rail launchers. 
These batteries were complemented by an extensive infrastructure, which included a long-range surveillance radar, a radar for target search and acquisition, a radar for missile guidance, and a range of supplementary support components.
Although publicly available information suggests that the modified S-200 missile possesses a range of approximately 300-400 kilometers, a high-ranking defense source, speaking to TASS, revealed that the utilization of modernized missiles from the Soviet-manufactured S-200 anti-aircraft missile system could potentially extend to engaging ground targets at a distance of up to 600 kilometers. 
Brynn Tannehill, a former naval aviator, previously pointed out, "Older air-to-air systems have been pressed into the S2S role before. Russia has expended a lot of older S-300 missiles in attacks on Ukraine for over a year. The S-300 was designed to have a limited S2S capacity."
She said, "Syria has used S-200s in a surface-to-surface role. However, unlike the S-300, it was never intended for such a role."
Tannehill further explained that the S-200 relies on a semi-active seeker, necessitating ground-based radar to illuminate targets for the missile to engage them effectively.
She noted that the missile lacks an onboard computer that can be reprogrammed, and it likely incorporates Soviet-era technology from the 1970s or early 1980s within its guidance system—reflecting a time when the Soviet Union lagged behind Western advancements in digital technology. 
The S-200 does feature an onboard Inertial Measuring Unit (IMU) that aids the missile in approximating its velocity and trajectory by analyzing acceleration. This IMU theoretically holds the potential to contribute to a surface-to-surface role for the missile.
In practice, employing surface-to-air (S2A) missiles for a surface-to-surface (S2S) role yields an excessively large Circular Probable Error (CEP), indicating that these missiles do not precisely strike their intended targets. 
This often leads to unintended casualties among civilian populations, underscoring the challenges associated with using S-200 missiles for accurate targeting in this context.