Russia has displayed the X-69 missile at the Dubai Air Show as part of its diverse exhibits for potential international customers. It is roughly in the same class as the Storm Shadow/SCALP-EG, AGM-158 JASSM-ER, or the German KEPD Taurus.
However, the air-launched cruise missile's unveiling suggests that Russia's arms production capacity has been unaffected because of the sanctions on its defense industry. It stands to reason that its scientific research and manufacturing base are intact and might only face minor obstacles in churning out war wares.
This is given the battlefield situation and Armed Forces of Ukraine (AFU) chief General Valery Zaluzhny's admission in an interview with The Economist that Russia sustained the upper hand in the war. 
US and European sanctions were aimed at stymying Russia's state-run armament industry and preventing it from continuing the war, succumbing before persistent Western arms supplies to Ukraine.
However, the opposite happened when Russia's decade-long effort to shield itself from sanctions began yielding dividends six months into the war when it was expected to run out of ammunition stockpile. 
Russia is Still Churning Out Arms
A post on X by Arms Show Tracker shared a picture of the X-69 with the sarcastic remark: "Russians is absolutely not running out of missiles. Kh-69 air-launched cruise missile launched at #DubaiAirShow23." Alluding to Russia's defense industry, it said, "If it's for export, it means production is online (sic)." 
Moreover, countries may not exhibit weapons at international arms exhibitions unless their industries are functional and meet potential orders. Claims about Russia's defense industry having reached a grinding halt were based on periodic pauses that Moscow took in its long-range air and sea-launched missile barrages on Ukrainian military, civilian-military, and power distribution infrastructure.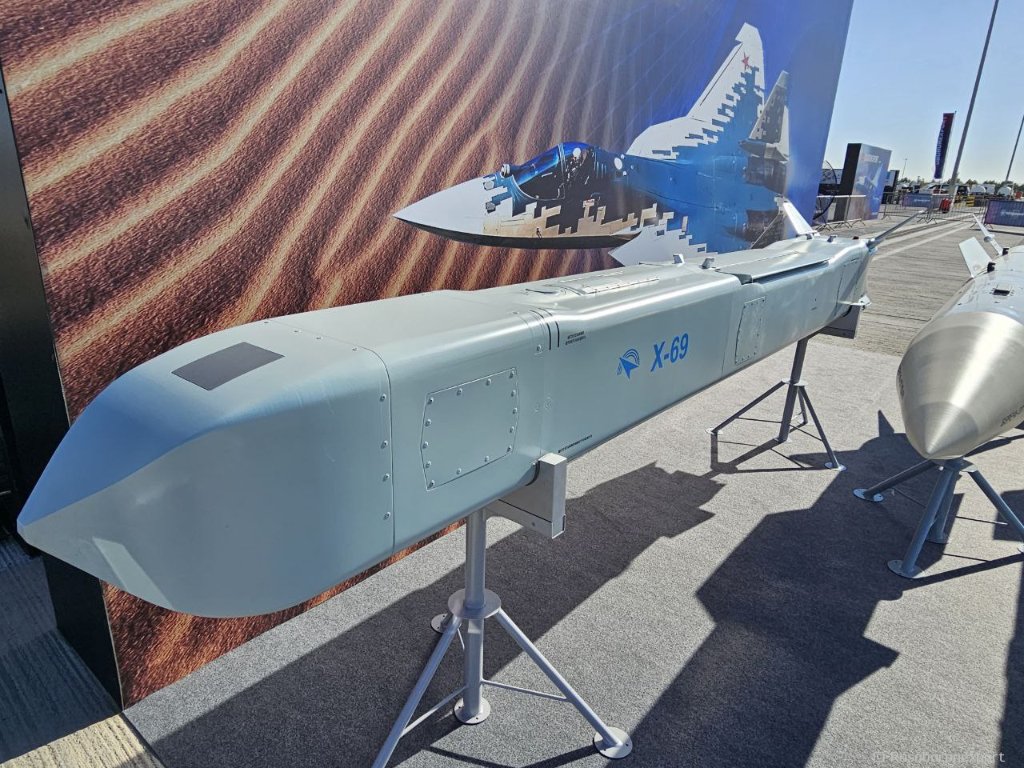 While tactical considerations of timing and predictability must have motivated the brief disappearances, certain industrial constraints for missiles and ammunition factories to catch up must have also weighed in on Russian planners.
But it now seems that its arms manufacturing has been far from permanently affected. The techno-industrial hiccups were natural, considering the multiple wide-ranging rounds of trade, technological, and commercial sanctions. 
A June 2023 report by the Center for Strategic and International Studies (CSIS) outlined how it was "unrealistic" to expect Russia to ever run out of missiles. "Sanctions and export controls can, at most, limit the quantity and quality of strike assets Russia can acquire.
Russian production of higher-end cruise and ballistic missiles will never fall to zero. Despite Western sanctions and export controls of key microelectronic components, Russia has found workarounds to continue producing missiles," the report said. 
X-69 Missile
The X-69 missile, meanwhile, is an effort to pack the destructiveness and precision of the Kh-101 and Kh-555 in a smaller and less observable size.
It has a flight weight of 770 kilograms, carries warheads of various types weighing 310 kg, and has a range of 290 km. The missile can be equipped with both penetrating high-explosive and cluster warheads.
It uses an inertial navigation system (INS) with course correction based on data from GLONASS navigation satellites during the cruising phase of the flight and an optical-electronic homing system "based on a reference map of the area recorded in the rocket's memory," said a report on Izvestia. It appears to be describing a map correlation/image referencing technology. 
The combination of these guidance and seeker technologies accord incredibly high accuracy to the missile, with a Circular Error Probability (CEP) of less than five meters.
Before launch, the missile can also be programmed to change direction and attack from a new angle while approaching the target. This can confuse medium and short-range air defense systems. 
Interestingly, prototypes of the missile were designated Kh-59MK2 in honor of a version tested in Syria from the Su-57 aircraft. In February 2018, Defense Minister Sergei Shoigu renamed the missile X-59, as it had technically fully matured and had evolved into an entirely distinct missile from its predecessor. 
The missile has a rectangular cross-section and reportedly comes with radar-absorbent material to make it stealthy. It helps the missile to be placed in the internal weapons bay of the Su-57 stealth fighter.
Also, this design reportedly helps in packing foldable wings, allowing the missile to maintain its stealth profile for some distance after it is launched from the aircraft.