Russia has unveiled its Tornado-S multi-target rocket system at the IDEX 2023 international arms show in Abu Dhabi to sell the weapon to Gulf nations.
The Tornado-S multi-target rocket system, similar to the US-made HIMARS, can strike opponent positions at longer ranges and inside enemy territories.
In a statement on February 20, Rostec State Corporation, which is marketing this weapon system to Gulf nations, explained the capabilities of the Tornado-S multi-target rocket system.
The Tornado-S control system unit enables each munition to have a unique flight assignment, allowing the combat vehicle to salvo attack several targets. Based on a strap-down inertial navigation system, the system can allocate a flight range and trajectory to each MLRS projectile.
The effective range of the precision-strike rockets is greater than 100 kilometers. Furthermore, the accuracy of Tornado-S projectiles is 15-20 times greater than that of the Smerch predecessor's munitions.
Due to its deployment in Ukraine, the weapon system has been in the spotlight in the past few months. The weapon system was billed as an effective counterbalance to the American HIMARS MLRS. 
The capabilities of the American HIMARS MLRS and the Russian Tornado-S were previously evaluated in an article by the EurAsian Times.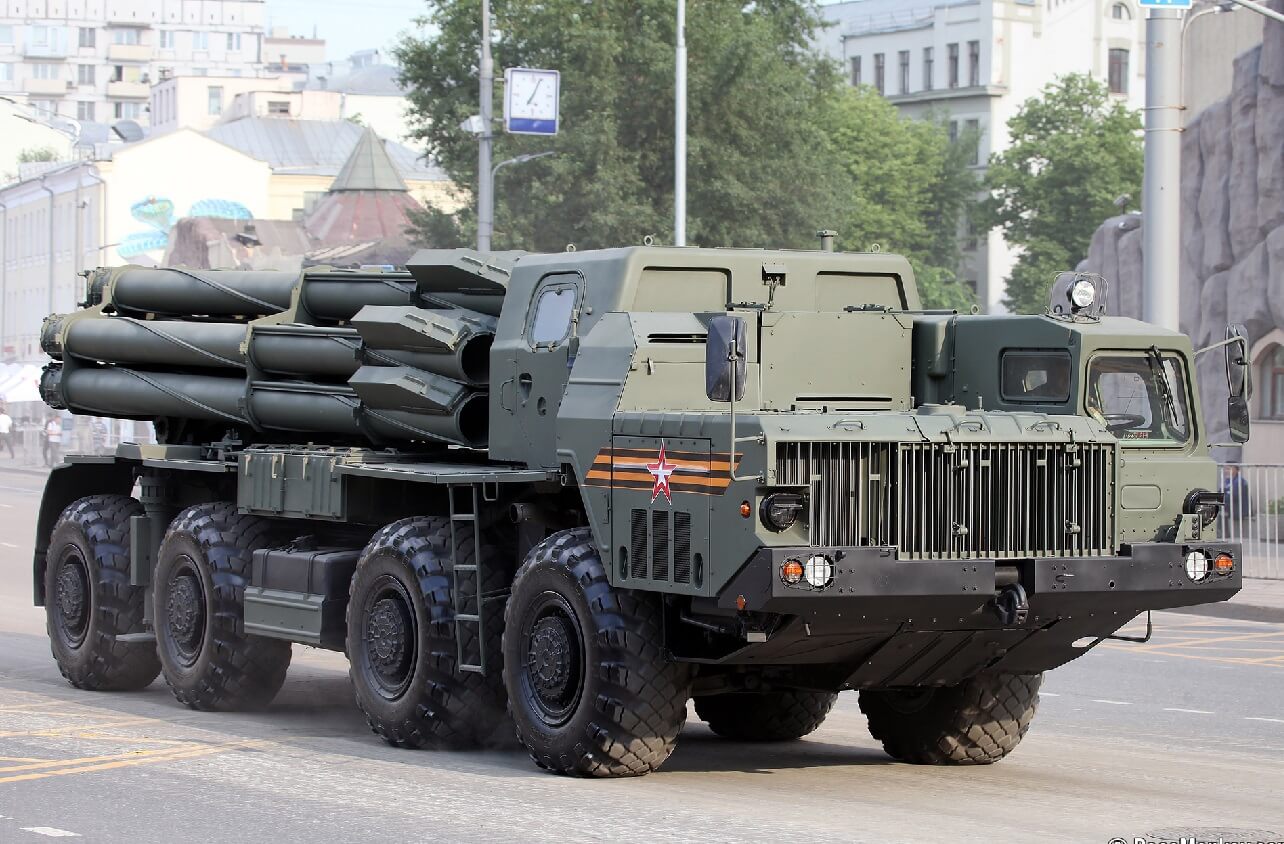 Yuri Knutov, a Russian military expert, previously described it as far more potent than HIMARS, claiming that it has a shooting range of 120 kilometers and can direct each missile individually. 
The 300-millimeter caliber MLRS Tornado-S, also known as 9K515 "Tornado-S," is a significant upgrade to the "Smerch" system. The weapon system has onboard control and communication systems and an automated guidance and fire control system.
The Tornado-S uses a brand-new guidance and fire control system (ASUNO) with several key enhancements. 
It has improved target designation, data exchange capabilities, and quicker and more precise estimates of aiming angles and other attributes. Besides that, technology for feeding data into missile homing heads has also been developed. 
Russia also displayed 122mm Tornado-S projectiles, which can destroy targets in mountainous terrain and beyond (including back slopes and gorges). 
Another Russian innovation showcased at the IDEX 2023 weapons expo is the 57mm 53-UOR-281U high-explosive tracer shell. The projectile uses a standardized combat module to engage airborne targets, unarmored hardware, and manpower. 
Russian Defense Presence At IDEX 2023
Russia has announced to display of more than 200 units of weapons and military equipment at the IDEX 2023 international defense exhibition in Abu Dhabi in the United Arab Emirates. 
The expo, which began on February 20 and will last until February 24, will feature products from some of Russia's top military-industrial firms. 
Russia will debut its high-precision Orsis sniper rifle of a 12.7mm NATO caliber, the MRO-A thermobaric flamethrower, the Chukavin sniper rifle from Kalashnikov, as well as several Shvabe scope sights at IDEX 2023.
Customers are also seeing the latest 305E air-to-surface guided missile in the Middle East for the first time, reported TASS. 
Almost 200 different pieces of military hardware, including armored vehicles, rocket and artillery systems, unmanned aerial vehicles, defense systems, munitions, and equipment, are included in the Russian exhibit. 
According to a Federal Service for Military-Technical Cooperation representative, foreign clients are interested in Russian air defense systems that have validated themselves in combat operations.
The official pointed out that Russia manufactures high-quality short-range and long-range air defense systems.
"Russian air defense equipment is rightfully considered the best in the world. In this regard, customers show interest in our air defense systems, which have already proven themselves during military actions," the official said.
Rosoboronexport also recently announced that it is looking at many possibilities for the joint creation of modern high-tech items, including a fifth-generation fighter based on the Checkmate light tactical aircraft.
This comes days after India received a similar offer from the Russian defense sector at Aero India 2023.
This indicates that the Russian defense sector, subject to harsh Western sanctions, is probably looking for a partner country to commence joint manufacturing of some weapon systems to reduce the overall production cost.