European defense consortium Airbus is staring at a shortage of orders, including for the Eurofighter Typhoon, when European countries are making new military purchases to combat potential Russian threats.
Airbus SE's defense unit revealed recently that the company has been planning to increase production of its Eurofighter jet and other important weapons systems but has been held back due to the inability of governments to commit to orders, Bloomberg reported.
The chief executive of Airbus Defense and Space, Michael Schoellhorn, predicted increased orders for aircraft, drones, and space-based goods in the upcoming years. However, he added that despite a renewed push by NATO allies to ramp up production, Airbus is yet to receive more orders that would allow it to do so.
"Currently, we don't have the orders to ramp up any further. We're waiting for orders to reconfirm that we can keep the lines running" for systems, such as its Eurofighter or A400 military transport aircraft, Schoellhorn said in an interview.
He added that Germany's restrictive stance on arms exports outside Ukraine is also responsible. Airbus is co-owned by German- French-Spanish European Aeronautic Defense and Space Company (EADS) and Britain's BAE Systems. Strict German arms export rules are, therefore, prohibitive for sales.
Schoellhorn said that even though the company can scale production even with handshake agreements, aircraft are not the priority currently, as the focus is on ammunition and tank production for Ukraine.
The company can create about 30 A400 aircraft annually but only produces nine currently, according to the CEO of the Airbus division. That would allow Airbus to ramp up quickly, allowing enough staffing time. However, it may not be as easy for the Eurofighter Typhoon.
He warned it may take longer to produce Eurofighters "because the industry has adapted to the very low demand signal that was there for many years." This is because the European Union, as a bloc, essentially believed it was past the phase of conventional war-fighting in the continent.
However, Russia's invasion of Ukraine shook European countries, especially in NATO, to increase defense spending and bolster their defenses. Schoellhorn said Airbus expects it will eventually receive orders for its Eurofighters, as air forces that use these jets will eventually require updated aircraft.
New customers for the aircraft could also start lining up. Earlier, reports indicated that Turkey was exploring the possibility of purchasing the Eurofighter Typhoon owing to the deadlock with the United States on procuring 40 new Block 70 F-16 jets.
Airbus is currently facing a shortage of orders for Eurofighters at a time when American defense giant Lockheed Martin is bagging one order after another in Airbus' traditional bastion, i.e., the European continent.
Lockheed's Outreach To European Market
Airbus describes the Eurofighter as the world's most modern swing-role fighter. The Eurofighter Typhoon was initially intended as a multi-national program to modernize the Air Forces of the European industrial partner nations.
The Eurofighter Typhoon is operational with the Air Forces of nine countries, including Germany, the United Kingdom, Italy, Spain, Austria, Oman, Saudi Arabia, Kuwait, and Qatar. However, the European continent is quickly swept off by the American fifth-generation fighter jet, the F-35 Lightning II.
The F-35 has consistently outperformed domestic competitors in the most recent fighter jet competitions across the globe, including the Dassault Rafale, Saab's JAS 39 Gripen, and the Eurofighter Typhoon created by Airbus, BAE Systems, and Leonardo. This has been possible despite the momentum building in Europe favoring "buying European."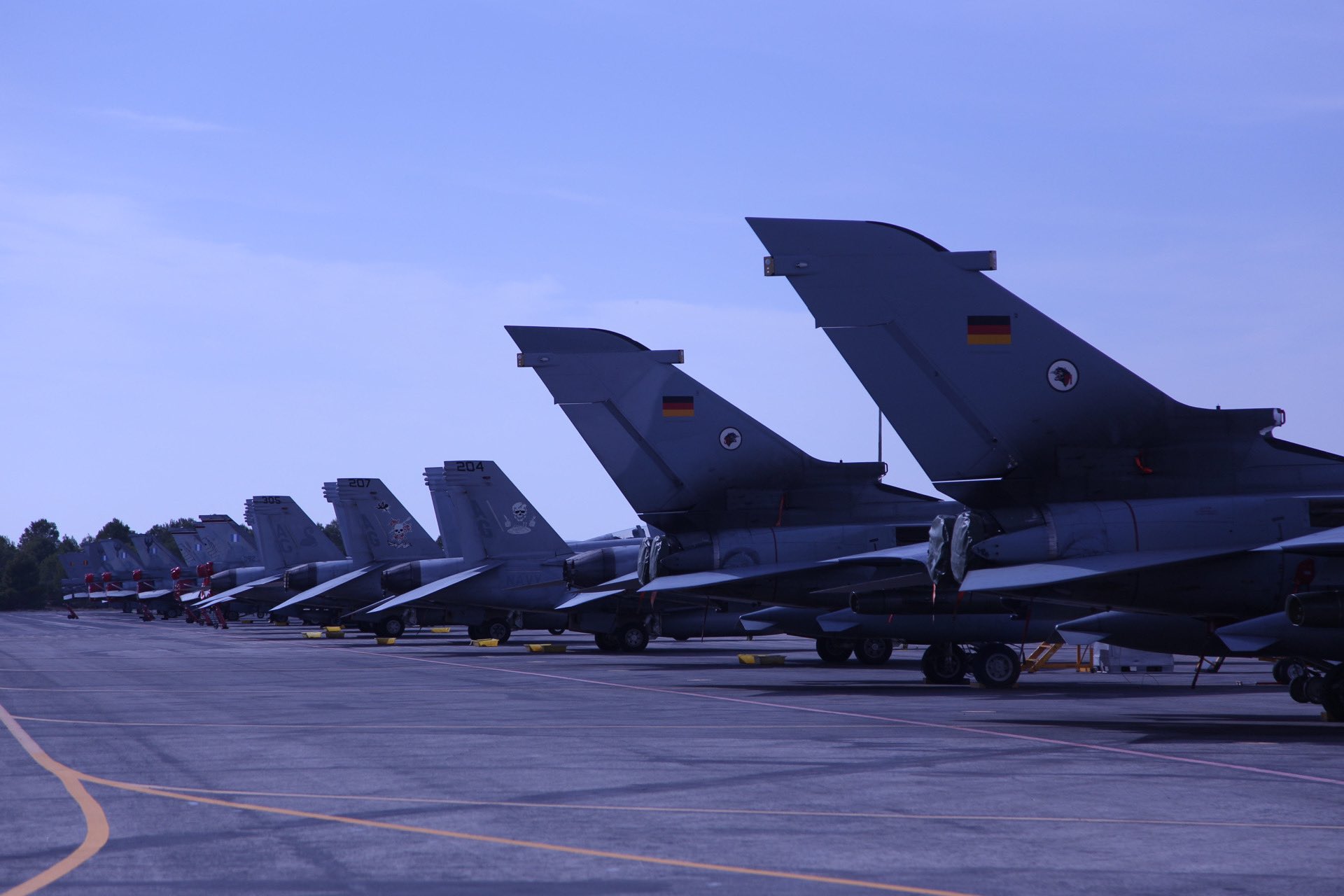 One reason is that stealth technology (a capability that the Eurofighters do not have) has emerged as a top priority for allies, especially for Germany and Finland, due to Russia's resurgence as a threat in Europe following its invasion of Ukraine.
Analysts believe that the F-35 Joint Strike Fighter's success is due to its high level of interoperability with allies and partners, particularly in NATO, as well as its assured upgrade roadmap.
They also pointed out that the jet's arrival in Europe was particularly well-timed because several countries were eager to update their fleets by the decade's end.
Further, several military analysts have observed a rising demand for a modern fifth-generation fighter jet. However, with European defense manufacturers unable to deliver, Lockheed Martin's F-35 has become popular.
In 2018, Belgium became the first European country to buy the F-35 aircraft. Poland soon followed it in 2020. One year later, in 2021, two countries, Switzerland and Finland, picked the F-35s to replace their respective aging fighters.
More recently, in 2022, Germany signed a deal to purchase the aircraft after a long period of dilly-dallying on the issue. In contrast, the Czech Republic submitted its letter of request to buy the F-35 stealth fighter in October 2022. Other European program participants include Denmark, Italy, the Netherlands, Norway, and the United Kingdom.
Some refer to this aircraft as a "de facto" European fighter. Lockheed Martin, on its part, expects that more than 550 F-35s will be deployed in Europe by 2030. This may not be too far-fetched as orders continue to line up for the F-35 Lightning II aircraft, the only fifth-generation fighter available for export currently.
However, the European continent's next-generation fighter jets, including the Franco-German Future Combat Air System (FCAS) and the UK-Italy-led Global Combat Air Program (GCAP), will not enter service until the mid-2030s.
Since these next-generation fighters are expected to replace Typhoons, the Air Forces that operate them might still need to place orders with Airbus to keep their fleets updated. And more importantly, the Eurofighter is expected to remain in service until 2040.
Contact the author at sakshi.tiwari9555 (at) gmail.com