Alarm bells rang out through India's defense establishment on April 14, 2022, as the Russian warship Moskva was sunk by Ukrainian Neptune missiles.
In the name of national security, India needed to immediately probe and uncover how one of the world's mightiest naval forces could lose such a prestigious warship? More so, at the hands of a so-called "underdog" like Ukraine. Furthermore, could India face a similar strategic threat from its own "underdog" neighbor Pakistan?
This was a debacle for Russia, one that India needs to urgently focus on to dissect and learn from. Large portions of India's arms and weaponry bear the "made-in-Russia" seal.
Russia has been India's largest supplier of arms and experts in New Delhi would be keenly watching the performance of Russian military hardware in the Ukrainian conflict.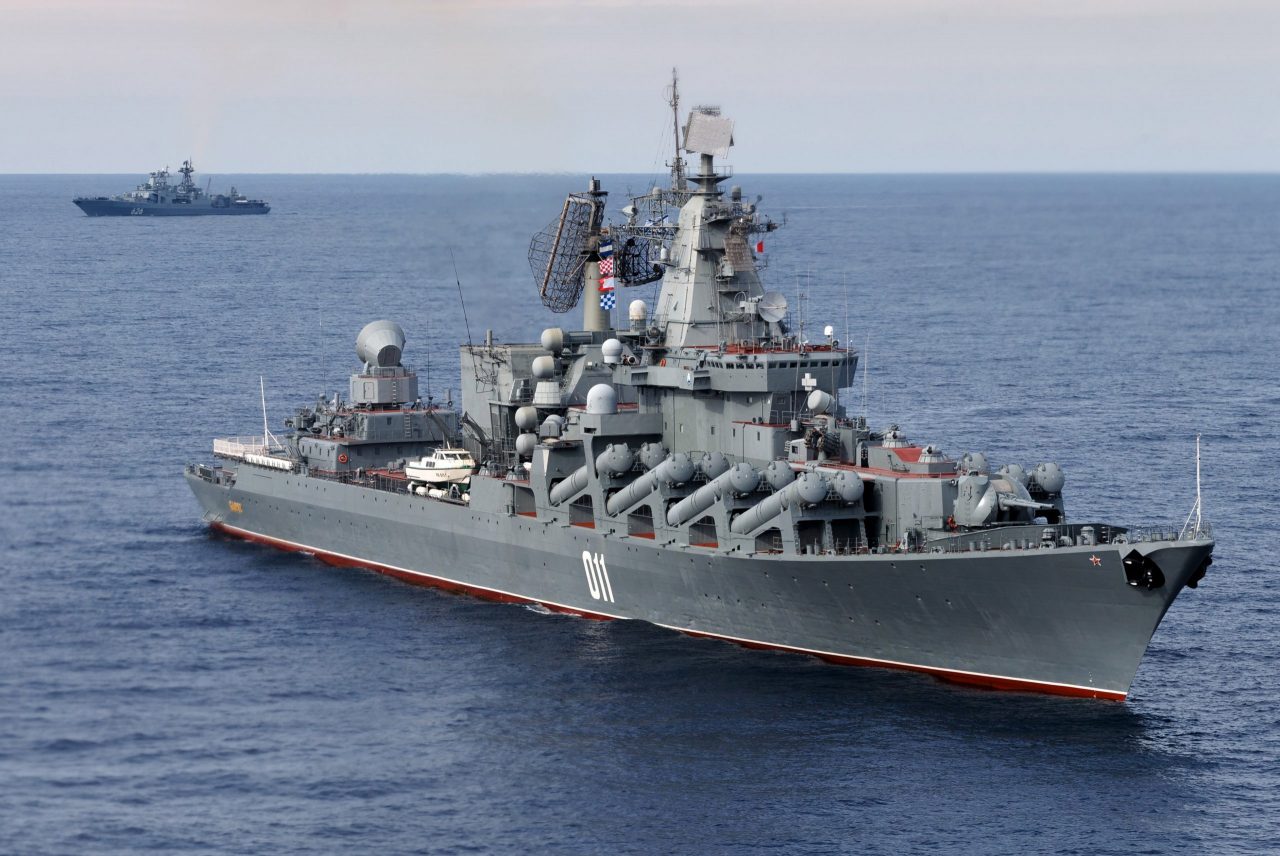 Pakistan's Harba Anti-Ship Missile
A valid question then arises — could India's military assets be susceptible to similar vulnerabilities that we see in the Russia-Ukraine conflict today? Can India's vulnerabilities be exploited by Pakistan, whose armory contains a fresh stock of 'Harba' anti-ship missiles?
This demands urgent strategic answers. India has begun scrutinizing the reasons behind the Moskva sinking, which will be tabled during the Naval Commanders Conference.
How was the Moskva brought down? The sinking of their great warship dented Russian morale, and tarnished their prestige despite the capture of Mariupol city in Ukraine, on April 22, 2022.
The first pieces of the puzzle were uncovered shortly. A report by Economic Times claimed that the Moskva "had anti-ship missiles and surface-to-air missiles, but was not equipped with Russia's latest generation Kalibr cruise missiles or hypersonic missiles."
Indian Navy warships are equipped with the best available technology, and now carry "Barak 1 and Barak 8 surface-to-air missiles, along with a close-in weapons suite (CIWS) to tackle aerial and cruise missile threats". India developed the Barak missile range in collaboration with Israel.
The understandable danger from an Indian perspective is that China and Pakistan could foment a two-front war on India. China has made considerable use of Pakistan as its proxy against India, stirring an already fiery political and military rivalry.
Given the escalating climate and Pakistan's stockpile of anti-ship missiles, India must derive critical lessons from the sinking of the Moskva, and aim to fortify its Naval fleet.
According to a report published in DefensePost, Pakistan has developed the Harba anti-ship missile, "a non-nuclear, fire-and-forget" weapon system.
Harba was developed from the Babur family of missiles by the state-owned Global Industrial Defence Solutions. The medium-range ship-launched cruise missile can strike land and sea targets up to 280 kilometers (174 miles) away, at speeds of up to 988 kilometers per hour (614 mph) in all weather conditions.
It uses a Digital Scene Matching Area Correlator camera, radar, and infrared seeker to follow and strike targets.
In March 2022, Pakistan showcased its anti-ship cruise missile Harba for the first time at the Doha International Maritime Defence Exhibition and Conference (DIMDEX) in Qatar. The missile was developed for the Pakistan Navy to create an indigenous anti-ship missile solution for its vessels.
With China helping to arm Pakistan's Navy to the hilt, as reported by EurAsian Times, India meanwhile, is working on its defensive strategy to protect its naval fleet in the event of a missile attack. Recently, India launched a ballistic INS Dhruv missile in 2021, operated by the National Technical Research Organisation (NTRO), to help deter a missile attack against India.
India's Crucial CHAFF System
India has reportedly devised a technology called the CHAFF system, developed by the Defence Research Development Organisation (DRDO).
According to reports, the Indian Air Force [IAF] and the Navy have tied up with the Defence Research Development Organisation [DRDO] for the CHAFF technology to shield warships and aircraft against missile attacks.
It is a critical defense technology that is used to protect fighter jets and naval ships from hostile radar threats. The significance of this technology lies in the fact that very little quantity of chaff material deployed in the air acts as a decoy to deflect the enemy's missiles and ensures the safety of the fighter aircraft or naval ships. CHAFF creates a metal particle cloud around the jet or the ship and deflects missiles from it.
Using precise satellite data on incoming missiles, the CHAFF system can help to protect Indian warships and aircraft from ballistic threats. The system releases a cloud of metalized glass or plastic rods that acts as a decoy, thereby confusing any incoming missiles, and serving as an impact point away from the warship. India is hard at work optimizing and deploying this technology within its air and naval fleets.
Nonetheless, among the learnings to be had from the Moskva sinking, speculation is still rife that the US had provided Ukraine with precise satellite coordinates, which enabled them to bombard the Moskvya with missiles.
Unfortunately, any weapons defense system would struggle against a torrent of attacks such as this, including the powerful Russian S-400. Therefore, India will need to quickly learn from Russia's mistakes if it is to be prepared for its impending threats such as this.
The writer is a former UP State Information Commissioner and writes on international issues. Views Personal
Mail us at: etdesk@eurasiantimes.com